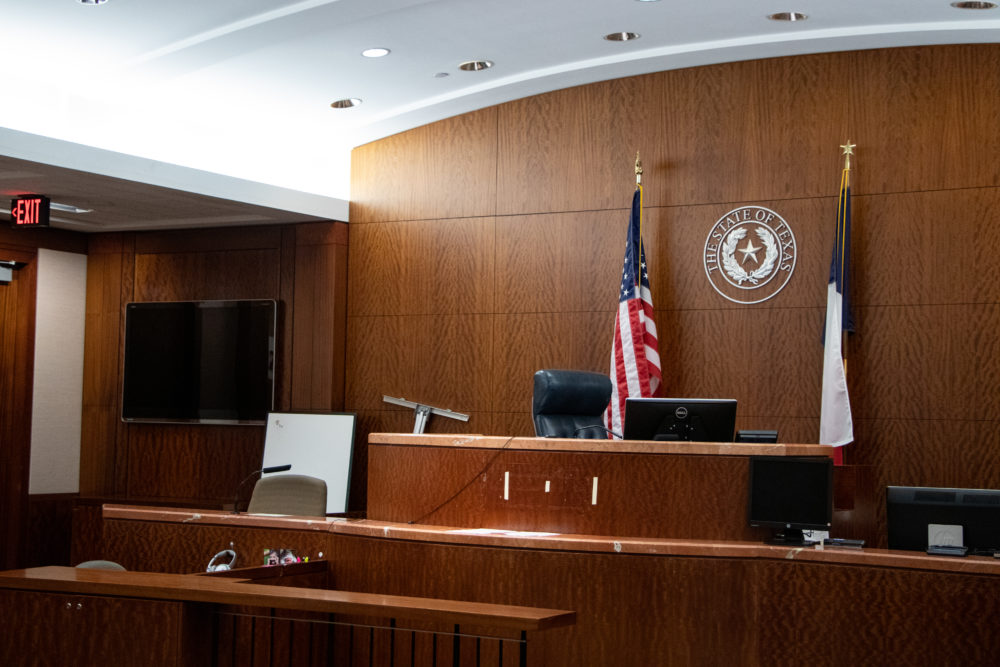 Two grandparents of Antonio "A.J." Armstrong Jr., who is accused of murdering his mother and father as they slept in their Houston home in 2016, are asking the Harris County District Attorney's Office to stop pursuing a conviction as their grandson faces a third capital murder trial in the case.
Armstrong's paternal grandfather, Keith Whitely, and maternal grandmother, Kay Winston, told reporters outside a Harris County courtroom Wednesday they support their 23-year-old grandson and believe he is innocent in the shooting deaths of Dawn and Antonio Armstrong Sr., who were killed in their Bellaire-area home during the early hours of July 29, 2016. They made their comments after a pretrial hearing in front of Judge Kelli Johnson, who declared mistrials in 2019 and again this past October after two juries were unable to reach a consensus on a verdict.
"We can't move on with our lives," Winston said while accompanied by Whitely and Armstrong Jr. "Our family has been through tremendous grief, anxiety and pain for the last six years. We lost our beautiful daughter and my son. Our family has been through so much hell behind all of this."
The office of Harris County District Attorney Kim Ogg, despite the pleas by Whitely and Winston, said in a statement Thursday to Houston Public Media that it will proceed with another trial. The DA's office did not specifically respond to the comments made by Armstrong Jr.'s grandparents.
Johnson ordered jury selection to begin Feb. 24, with a trial starting March 20, according to multiple news reports. Armstrong Jr., who was 16 at the time of his parents' deaths, would face a potential punishment of life in prison if ultimately convicted of their murder.
"We are pursuing this capital murder retrial and look forward to re-presenting the evidence in this brutal attack to get justice for the victims," the DA's office said.
One of Armstrong Jr.'s defense attorneys, Rick DeToto, told reporters Wednesday the pursuit of another trial is a "waste of taxpayer dollars" and a "waste of the court's time." Jurors in October could not reach a unanimous verdict after hearing more than 33 hours of testimony and deliberating for nearly 18 hours, according to Harris County court documents, which show the initial jury in 2019 heard more than 38 hours of testimony and deliberated for more than 19 hours.
DeToto previously told Houston Public Media that the 24 jurors who participated in the previous two trials were evenly split in terms of favoring a guilty or not guilty verdict.
"What evidence are they going to bring to this trial the third time, or is the district attorney's office attempting to bankrupt our family?" Winston said. "Or will they just keep on trying?"
Dawn and Antonio Armstrong Sr., the latter of whom was an All-American football player at Texas A&M University before a brief career in the NFL, both were shot in the head with a .22-caliber pistol owned by Armstrong Sr., according to a probable cause affidavit filed in court. Their son, Armstrong Jr., called 911 on the morning they were shot. He said he was in a closet in his third-floor bedroom and had heard gunshots coming from his parents' bedroom on the second floor on their home, court records show.
Responding officers found no signs of forced entry, or any open entry or exit points at the home, according to court documents, which show the murder weapon was left on a kitchen table on the first floor and was accompanied by a handwritten note that said, "I HAVE BEEN WATCHING FOR A LONG TIME. GET ME." No fingerprints or DNA were found on the gun, court records show.
Investigators also found a bullet hole on the ceiling of the second floor, which corresponded to a hole on the floor of Armstrong Jr.'s bedroom that was covered with a pile of socks, according to the probable cause affidavit. A pillow and comforter with .22-caliber bullet holes also were found in Armstrong Jr.'s closet, according to court documents, with prosecutors alleging the findings illustrated that Armstrong Jr. had practiced using his father's gun.
Among other arguments intended to establish reasonable doubt, defense attorneys in court theorized Armstrong Jr.'s estranged older brother could have committed the murders.
Winston said she thinks the case has been mishandled by the DA's office as well as the Houston Police Department.
"We have stood by our grandson's side every day since 2016," Whitely said. "Everyone in the family fully supports him and believes in his innocence."