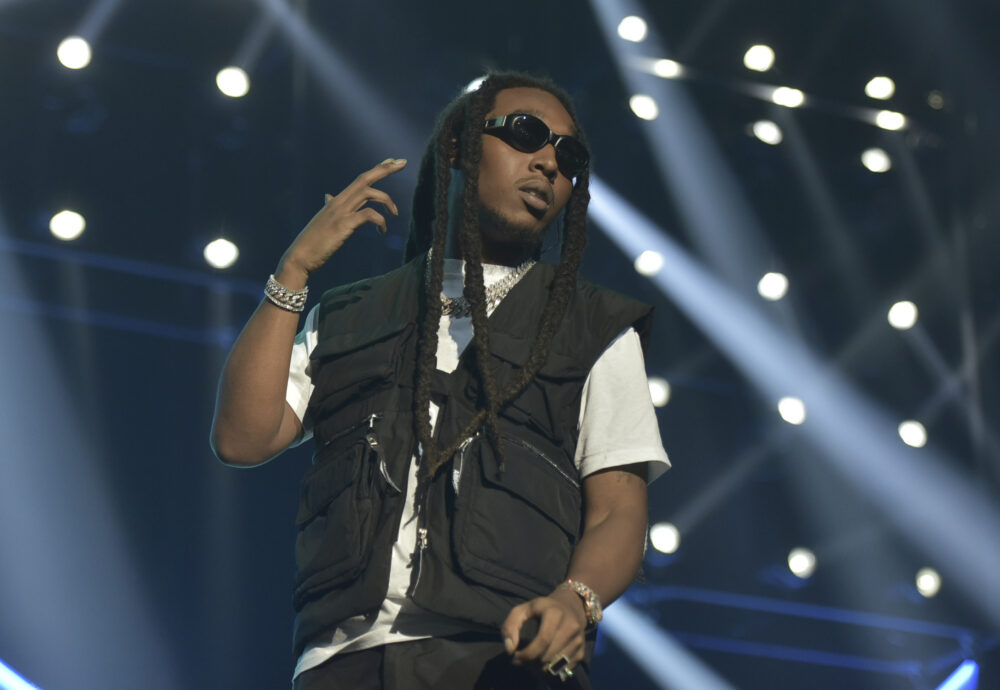 The Houston-area man accused of killing Migos rapper Takeoff posted bond and was released from jail Wednesday – three weeks after his defense attorneys successfully lobbied a judge to reduce his bail amount from $2 million to $1 million – according to Harris County court records.
Patrick Clark, 33, of Channelview, is charged with murder in the Nov. 1 shooting death of Takeoff, the 28-year-old musician whose real name was Kirsnick Khari Ball. Clark had been jailed since his Dec. 1 arrest and was originally being held on a $2 million bond, after prosecutors argued he was a flight risk because he had obtained an expedited passport and had travel plans to Mexico before his arrest.
But his bond was lowered to $1 million on Dec. 14 by Harris County Judge Josh Hill of the 232nd District Court. Clark's attorneys argued during a hearing that day that the original bond amount was excessive and unconstitutional and that he and his family could not afford to come up with 10 percent of the bail amount, which is required to post bond. Clark's father, Joseph, took the witness stand during the hearing and reportedly said his son had pre-existing plans to travel out of the country with family members, also offering to use their Channelview home as collateral in an arrangement with a bail bonds company.
"Neither Patrick nor his family posted the bond in this case," Letitia D. Quinones, a defense attorney for Clark, said in a Thursday statement to Houston Public Media. "A concerned citizen and family friend who believes in Patrick's innocence posted the bond on his behalf. Like any other defendant, Patrick is presumed to be innocent and has the right to bond."
A document detailing Clark's arrangement with a bail bonds company was filed Thursday in court, but its details were restricted by the court and not publicly available.
The Harris County District Attorney's Office, which is prosecuting Clark, did not immediately respond to a request for comment on his release from jail on bail.
Houston police have said Takeoff, part of the Atlanta-based rap trio Migos along with relatives Quavo and Offset, was an innocent bystander and unarmed when he was fatally shot in the back and head after a private party at 810 Billiards & Bowling in downtown Houston during the early hours of Nov. 1. Two other people also were injured at the time and transported to hospitals.
Clark, who has no prior criminal convictions in Harris County, is accused of firing multiple gunshots into a crowd and fatally striking Takeoff, according to court records. Police have said they identified Clark as the suspected shooter by using surveillance footage, cell phone videos and fingerprints from a wine bottle he is alleged to have held during the shooting and then discarded at the nearby House of Blues.
Clark resides with his parents in Channelview and is a Houston Community College student who also works as a disc jockey, according to a motion for reduced bail filed by his attorneys on Dec. 12. Shortly after his arrest, Clark listed no income in an affidavit of financial condition.
According to bond conditions ordered by Hill, Clark is required to remain under continuous house arrest and wear a GPS monitoring device "with the capability of notifying the court, law enforcement, Harris County Pretrial Services, defense counsel, and the Harris County District Attorney's Office immediately upon any potential violation, including but not limited to device tampering, failure to properly charge the device, or house arrest violations."
Clark's next court appearance is scheduled for March 9.
"He also has an obligation to comply with all the terms the court has laid out," Quinones said. "He intends to comply fully and will appear for proceedings whenever the court requires him to do so. We believe Patrick is innocent and at the appropriate time, the evidence will reveal that to be the case."