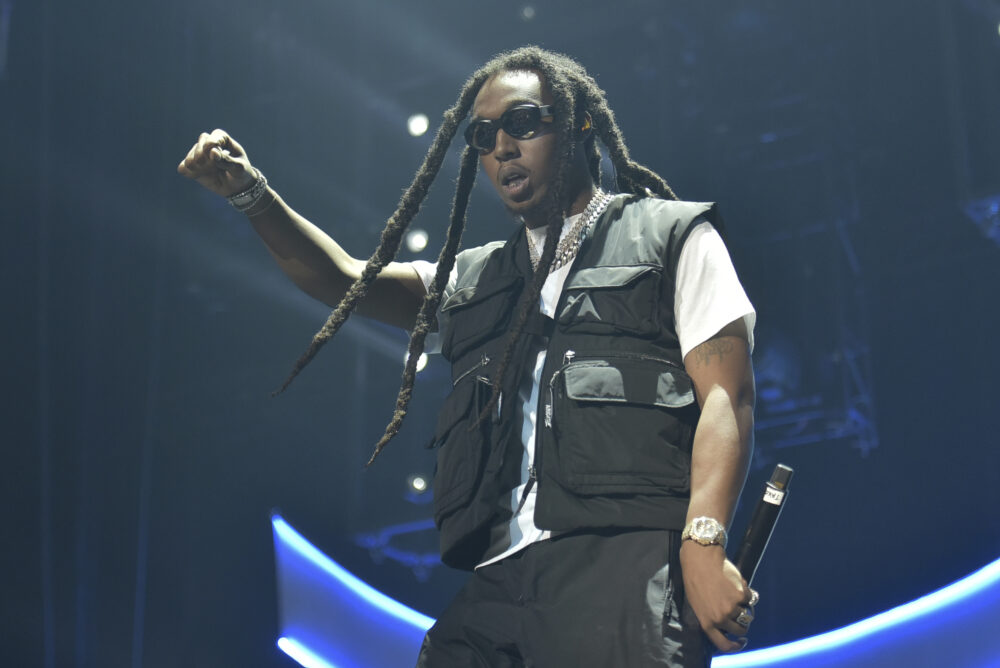 Attorneys for the man accused of killing Migos rapper Takeoff earlier this fall in Houston have asked a judge to reduce his bail from $2 million to $100,000 – claiming the current amount is excessive and a violation of his constitutional rights – even though he previously was determined to be a flight risk.
Patrick Xavier Clark, 33, obtained an expedited U.S. passport shortly before his Dec. 1 arrest and had a plane ticket to Mexico as well as more than $1,000 in cash on hand, according to documents filed in Harris County court. A judge subsequently set his bail at $2 million – twice the amount requested in a motion filed by the Harris County District Attorney's Office.
A bond hearing for Clark is scheduled for Wednesday morning. He is charged with murder in the Nov. 1 shooting death of Takeoff, the 28-year-old musician whose real name was Kirsnick Khari Ball.
In a Monday court filing, Clark's attorneys cited his "exceptionally strong ties to the community" as a lifelong resident of Channelview, a suburb east of Houston, and the median income in Harris County of $65,000 among their reasons for requesting a reduced bail amount. They argued the average resident would need nearly four years of income to come up with the $200,000 deposit required to post bond.
"To require such, would be penal in nature and unconstitutional as it would in essence hold Mr. Clark at a 'no bond,'" reads the motion for reduced bail. "... The defendant's family does not have the financial capacity to pay the required $200,000 down payment, therefore Mr. Clark is unable to make bail in such an amount. Due to these reasons, a bond in the amount of $2 million is excessive."
The attorneys for Clark, Letitia Quinones and Carl Moore, did not immediately respond to requests for comment Tuesday. The Harris County District Attorney's Office also did not immediately respond to a request for comment.
Houston police have said Takeoff, part of the Atlanta-based rap trio Migos along with relatives Quavo and Offset, was an innocent bystander and unarmed when he was fatally shot in the back and head after a private party at 810 Billiards & Bowling, 1201 San Jacinto St. Suite 321, in Downtown Houston. Two other people also were injured and transported to hospitals.
Clark, who has no prior criminal convictions in Harris County, is accused of firing multiple gunshots into a crowd and fatally striking Takeoff, according to court records.
Police have said they identified Clark as the suspected shooter by using surveillance footage, cell phone videos and fingerprints from a wine bottle he is alleged to have held during the shooting and then discarded at the nearby House of Blues.
Cameron Joshua, 22, also has been arrested and faces felony weapons charges in connection to the shooting after he was allegedly seen holding a gun and "racking the slide" in surveillance footage, according to county prosecutors. Court records show Joshua was convicted of grand theft in California a few days before the shooting in Houston and now faces charges of unlawfully carrying a weapon and felon in possession of a weapon, with the latter charge stemming from his Nov. 22 arrest.
Bail for Joshua, who also faces unrelated charges in Harris County for burglary of a motor vehicle and tampering with a government record, was set last week at $300,000. That is three times the amount being requested by the attorneys for Clark.
"I think there may be enough evidence to conclude that Cameron Joshua was present, but if anything, he was being shot at," his attorney, Christopher Downey, previously told Houston Public Media. "Cameron Joshua didn't shoot takeoff."
According to the motion for reduced bail filed by the attorneys for Clark, he lives with his parents in Channelview and is a Houston Community College student who also works as a disc jockey. He listed no income in an affidavit of financial condition filed in court, which says he is a part-time, self-employed DJ.
Clark's attorneys wrote in the Monday court filing that if he is released from jail on bond, his father would ensure he makes scheduled court appearances and Clark would surrender his passport. As part of Clark's current bond conditions as ordered by a judge, he is to be placed under continuous house arrest with a GPS monitoring device if he makes bail and is released from jail.