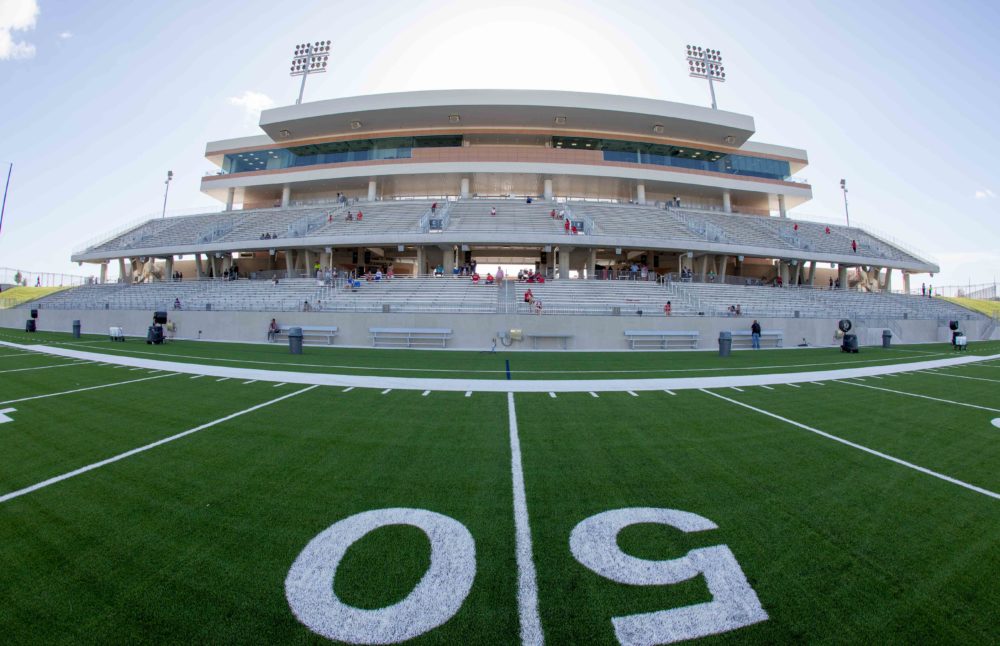 The former head coach of a prominent Houston-area high school football team – who resigned earlier this fall during an investigation into his conduct – faces criminal charges related to alleged inappropriate behavior with multiple students.
Lonnie Teagle, 39, the former coach at Katy Paetow High School, is accused of having an improper relationship with a student as well as indecency with a child with sexual contact, according to felony charges filed Nov. 14 in a Harris County court.
Teagle is alleged to have engaged in multiple incidents of inappropriate touching with two 15-year-old female students, including by spanking them over his lap in a room on campus, according to a probable cause affidavit filed in court. He also is accused of inappropriately touching and making inappropriate comments to at least three other female students, court records show.
Teagle was released from jail Monday on bond, according to court documents. The Houston-based attorney representing him, Sean Darvishi, declined to comment.
Court records show an investigation into Teagle revealed that similar complaints were made against him in October 2021 to Denton ISD in North Texas, where he previously worked. The complaints were that he complimented the anatomy of a female student and asked a group of female students for a back rub, according to court records.
Katy ISD, in an emailed statement Tuesday to Houston Public Media, did not answer questions seeking to determine when it learned of Teagle's alleged inappropriate behavior in Denton. Teagle was in his first year at Paetow, which won a state championship in 2021 under a different coach, and resigned this October after Katy ISD police launched an investigation into allegations made against him.
"The district takes all potential safety concerns seriously," Katy ISD said in its statement.
Teagle's alleged inappropriate interactions with the two 15-year-old students spanned from late August through the first week of September, starting with compliments, a discussion about giving massages and hugs, which "gradually went from grabbing her waist to grabbing her butt," according to court documents. Teagle also is accused of smacking the students multiple times on their hip and buttocks areas, pulling them onto his lap and rubbing one of the students on her inner thigh.
Court records show that one of the students told authorities that on Sept. 8, one day after the alleged spanking incident, that Teagle "brought them both Chipotle as an apology and that he formally apologized on September 9, 2022. After that, the inappropriate sexual contact from (Teagle) stopped."
On Oct. 12, one day after Teagle resigned, three more female students came forward with complaints about Teagle, who is accused of grabbing them by the hips and rubbing their thighs in addition to making comments such as, "I would date you if I were your age," according to court records.
"All three females stated they were scared to come forward due to the defendant's high status at the school," the probable cause affidavit states.