A backlog of cases in the Harris County criminal courts system continues to be a problem, with some members of the legal community pointing fingers amid an ongoing search for solutions.
The courts grinded to a halt in the aftermath of Hurricane Harvey in 2017 and the system has struggled to get back to full strength while also dealing with additional challenges over the years.
Flooding at the county courthouse in 2017 suspended trials and jury selections while displacing judges and attorneys. Although the downtown Houston building has been back in use for more than a year, it still has not been entirely repaired or returned to its capacity.
The case backlog was exacerbated by the COVID-19 pandemic, which prevented in-person trials for months in 2020 because of concerns about spreading the new coronavirus. The problem hit its peak in the late spring and early summer of 2021, when the county's criminal district courts had about 54,000 active cases pending. That number had been reduced some, to less than 42,000 as of the end of September 2022, according to data compiled by the District Courts of Harris County.
The logjam could be considered a contributing factor to the Houston area's rise in crime since the onset of the pandemic, which has largely followed a national trend, according to Houston Police Department executive chief Matt Slinkard. The more cases that are pending and the longer it takes to hold trials, more accused criminals are out in the community on bonds and the more opportunities they have to commit subsequent crimes.
"It takes every part of the criminal justice system working to make sure that we're having the greatest impact on violent crime," Slinkard said. "When you have issues with the jail population, issues with potential overcrowding, issues with not being able to hold trials, not being able to have grand juries, not having court, when those things are not operating in full swing, obviously you're going to have some additional factors that affect violent crime."
While blame for the case backlog cannot be pointed at a single government entity – such as elected officials, law enforcement, prosecutors and defense attorneys, court administrators and judges – they all share the responsibility of helping to reduce it.
Among those pending active cases, more than 34 percent are at least a year old. Harris County District Attorney Kim Ogg said the total case backlog is nearly 138,000 when factoring in inactive cases, in which charges have been filed against a defendant but the case cannot move forward, in some instances because the defendant hasn't been located and arrested.
Ogg believes that judges, who are back to operating at the courthouse, can do more to expedite the completion of cases and police departments can more quickly turn over evidence, such as footage from body-worn cameras. She added the latter issue is exacerbated by not having uniform video technology among her office and the various law enforcement agencies in the region.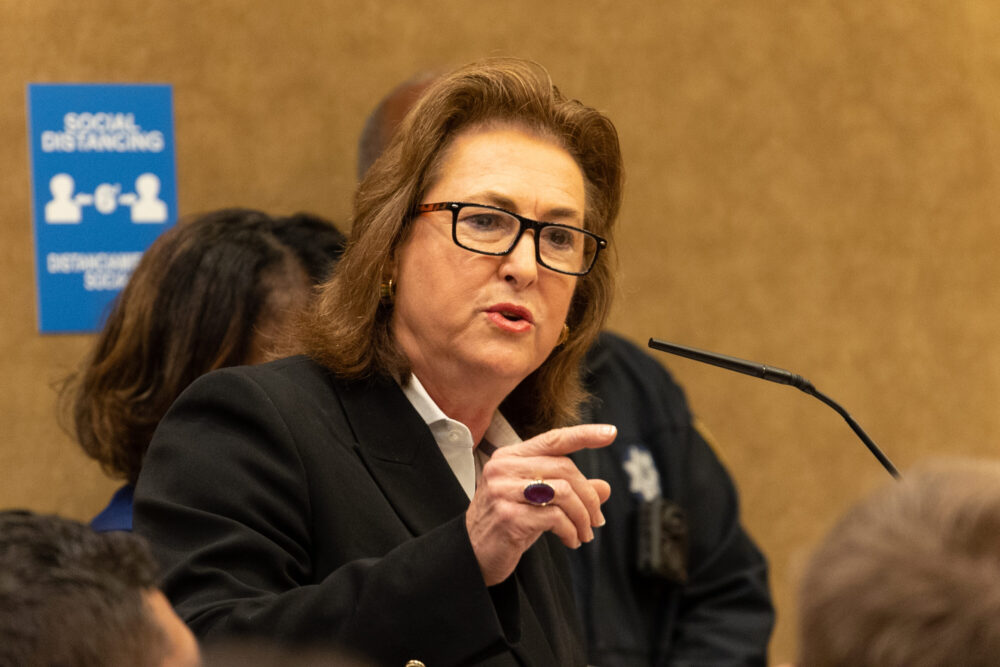 She also said reducing the backlog is a matter of allocating additional resources to the criminal justice system, and specifically to her prosecutors. The district attorney's office had 316 prosecutors as of mid-August – about 45 shy of its allocated capacity – and Ogg has unsuccessfully asked Harris County Commissioners Court to fund additional prosecutors.
"It's really critical to our public safety to have a courthouse that is fully functioning," Ogg said in August during a wide-ranging interview with Houston Public Media. "I've been trying to get our commissioners court to put their money into our courthouse and into law enforcement – traditional boots on the ground, prosecutors in our offices – to handle cases. That's how we're going to knock down crime and knock down our backlog."
Four members of the five-person commissioners court – Harris County Judge Lina Hidalgo along with commissioners Jack Cagle, Rodney Ellis and Adrian Garcia – declined interview requests from Houston Public Media to discuss the case backlog, crime trends in the region and the issue of bail reform and how it's impacting the upcoming November election. County commissioner Tom Ramsey, who did not specifically address the case backlog, said crime is the top issue facing the region and blamed the policies of Democratic leadership and decisions by the area's slate of mostly Democratic judges as having contributed to a rise in crime since the last midterm election in 2018.
RELATED: How rhetoric about bail reform is shaping the upcoming election in Harris County
County commissioners have funded the creation of an additional felony court in recent years along with allocating millions of dollars to hire more than a dozen associate judges and support staff in an attempt to help alleviate the case backlog. They also have spent money on video-processing software to help with evidence-gathering and sharing between attorneys in a case.
"The court has done everything they possibly can to be able to put in as much money, as many resources as possible, to help out," said Ana Yanez Correa, the interim director of the Harris County Office of Justice and Safety, which was created by commissioners court in 2019 and tracks data related to the county court system.
Lessening the load
Ogg pointed to some of her pre-trial diversion initiatives as having had a positive impact on the case backlog, such as her decision not to prosecute cases involving misdemeanor marijuana possession and offering treatment to defendants with mental health issues who have been accused of low-level crimes.
The county's misdemeanor bail reform under the ODonnell Consent Decree – a federal court case in which it was determined that Harris County's cash bail system penalized defendants for being too poor to pay predetermined bail amounts and therefore violated their constitutional rights – seems to also have helped limit the backlog as well as the population at the Harris County Jail.
"Today, our jail is beyond capacity because of the number of people jailed on felony-level violent charges," Harris County Sheriff Ed Gonzalez said in a Sept. 8 news release from the Office of Justice and Safety. "If not for misdemeanor bail reform, we would struggle even more to find space for violent offenders who need to be in jail."
Murray Newman, a former prosecutor and current defense attorney who is the president-elect of the Harris County Criminal Lawyers Association, said the district attorney's office could help further alleviate the backlog by better prioritizing the cases it pursues. He added that Ogg in some instances has focused on cases of high public interest even in the absence of sufficient evidence to win those cases.
The latter sentiment was echoed by Lori DeAngelo, a Republican judicial candidate and former prosecutor for the DA's office. She said high turnover under Ogg, who attributed attorney departures in part to high caseloads and inadequate pay, has left the office "with a lot of inexperienced prosecutors" who are not as adept at trying cases and deciding which ones to pursue.
Regarding Ogg's claim that some cases have lagged because of the slow release of body-worn camera footage by law enforcement, Slinkard of the Houston Police Department said his officers respond to requests for footage "in a matter of hours or days, not weeks or months."
"They are the single most powerful entity within the system," Newman said of the DA's office. "Their power isn't absolute, but it is bigger than anybody else's. So when that same entity starts trying to blame everybody else for the backlog, anybody who's involved in the day-to-day practice of criminal law starts laughing. Because the key to this backlog is the prosecutors."
Correa, with the county's Office of Justice and Safety, said all parts of the criminal justice system are critical to helping to continue reducing the backlog, which in turn could help lower crime.
Slinkard said in August that violent crime in the Houston area was down this year compared to last year, while the murder rate has been flat.
"If people are serious about developing a solution that will address the backlog, that will address the jail overcrowding, that will address crime, we have to stop pointing fingers," Correa said. "We have to as a team – judges and prosecutors and the defense and the courts – all have to come together to try to figure out where can we become more efficient and what can we do collectively as a county to minimize the challenges that natural disasters have cost us."