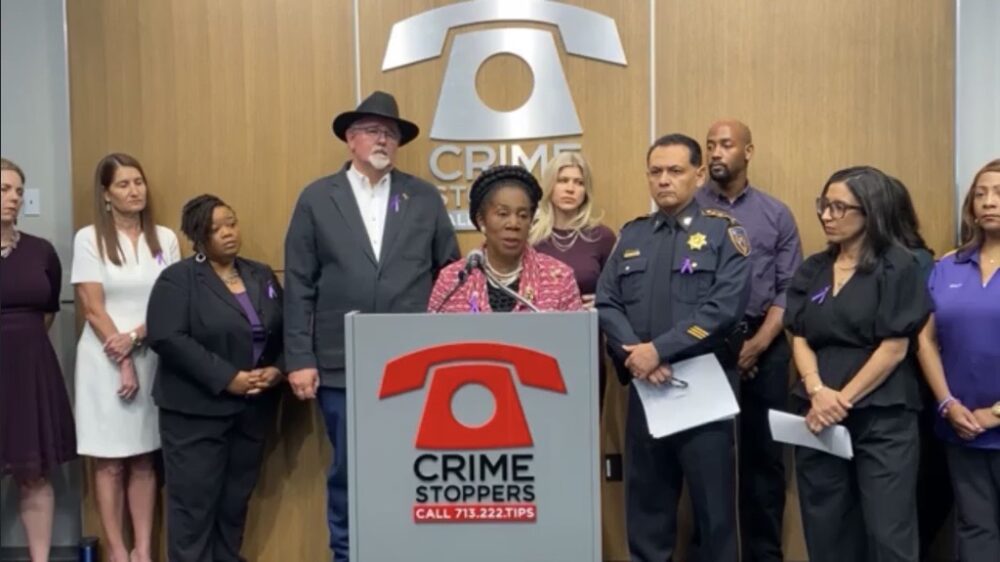 October is Domestic Violence Awareness Month, and in the first eight months of 2022, Houston Police Department has responded to 51 domestic violence-related homicides in Houston.
Crime Stoppers of Houston began its "Day of Unity" on Monday to kick off its community outreach initiatives to provide support to victims and connect advocates. Harris County Sheriff Ed Gonzalez along with Crime Stoppers, representatives, commissioners and dozens of advocates stood in unity as domestic violence offenders were named Monday morning.
At the morning press conference, Crime Stoppers announced top fugitives wanted for domestic violence-related charges.
"Domestic violence is bigger than life. It takes your life away," U.S. Representative Sheila Jackson Lee said. "...No child, a boy or girl, should grow up to a life of domestic violence. No child that is born should be designated that your life will end because of a violent, a domestic violence act."
Harris County saw a 40% increase in domestic violence homicides from 2019 to 2020. Family violence homicides in Texas grew by nearly 80%, and more than half involved a gun. Houston police said strangulation calls increased 130% as well.
"I think that we need to recognize that we're facing a phenomenon that is going to take a massive community collective effort," Jackson Lee said.
In 2021 Harris County Health and Relationships study found that of their survey participants impacted by domestic violence, almost 52% reported an increase since the COVID 19 pandemic. Texas has long seen three times the number of family violence deaths since 2017, with rates of family violence increasing across all three counties.
"Take any sheriff, any deputy, any constable, any police officer, anyone involved in protecting our community," Jackson-Lee said. "Any firefighter and they will tell you the number of calls that they have to go to dealing with domestic violence. The police will tell you many frightening situations where the woman involved."