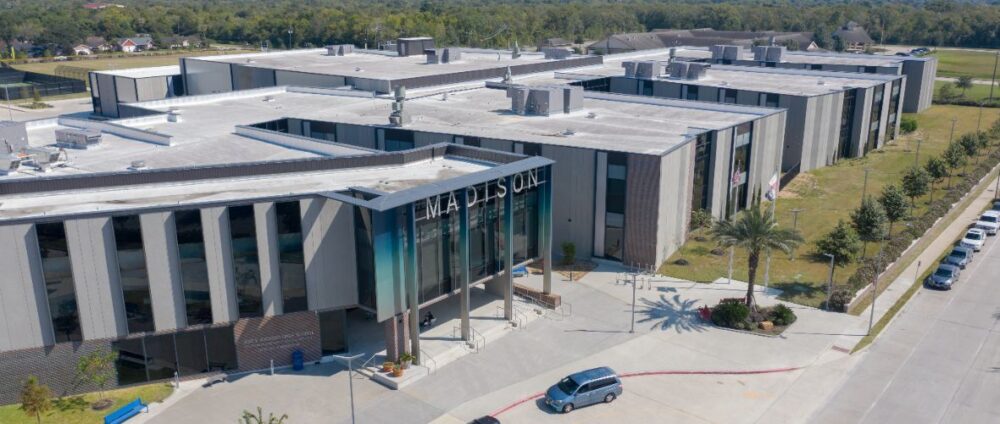 Two students at a Houston high school are facing felony charges of making a terrorist threat after allegedly telling a classmate they planned to "shoot up the school" during lunchtime, according to Harris County court documents.
Cornell Santell Thomas, 18, and Damian Arias, 17, both were arrested last Wednesday, Sept. 14, and are being charged as adults. Court records show that both were released from jail Tuesday on bonds totaling a combined $120,000, and among other bond conditions ordered by judges, Arias is required to be under continuous house arrest and Thomas must remain at home between the hours of 6 p.m.-5:30 a.m.
Prosecutor Nancy Ta of the Harris County District Attorney's Office told reporters outside the courtroom Tuesday that a classmate of the two students at Madison High School reported the alleged threat to campus police.
"The threat was made in a classroom to a classmate telling the student not to go to school on Friday (Sept. 16), because there was going to be a school shooting on that day," Ta said. "That classmate did the right thing, immediately reporting to the school officers. We were lucky enough to be at this stage and stop that from happening."
Arias and Thomas allegedly said they planned to bring a gun to the Madison campus, place chains around the exit doors so they could not be opened and then "shoot up the school," according to court documents. Arias is alleged to have said he was going to "ask his uncle Rick for a gun and bring it to school on Friday and do it during lunch, since there are two police in the cafeteria," court records show.
Making a terroristic threat, a third-degree felony, is punishable by up to 10 years in prison, according to Ta.
Natalie Ganem, the Harris County public defender representing Arias, according to court documents, did not respond to a voicemail and email seeking comment. A woman who answered the phone at the law office of Brennen Dunn, who is representing Thomas, said the office declined to comment.
Houston ISD, in an emailed statement, did not answer questions seeking to determine how it responded to the alleged threat and whether any disciplinary actions have been taken against Arias or Thomas.
"HISD takes these situations very seriously, as the safety of students and staff is our top priority," the district said. "However, due to an ongoing HISD Police investigation and the Family Education Right's Privacy Act (FERPA), we are unable to provide additional details regarding this matter."
The incident at Madison was one of multiple false alarms or threats of violence made at Houston-area high schools last week, prompting the FBI's Houston office to release a statement saying it is aware of the incidents and is working with local, state and federal law enforcement to investigate and respond to such threats.
Police rushed to HISD's Heights High School on Sept. 13 in response to an active shooter call that proved to be a hoax, while Aldine ISD increased security at its schools after unsubstantiated social media threats were made against Eisenhower High School. A Klein Forest High School student was arrested, charged with a felony and expelled over a false bomb threat on Sept. 15, according to Klein ISD officials, while Hightower High School in Fort Bend ISD was locked down Sept. 16 after a student showed up to school with an airsoft gun.
Less than four months ago, 19 schoolchildren and two teachers were massacred by a lone gunman with an assault rifle at an elementary school in Uvalde, a town west of San Antonio.
"Especially in the post-Uvalde stage, school shootings are a thing," Ta said. "It happened. Multiple people were killed. It is serious, because we want to prevent that from happening, prevent kids from being killed."
As part of their conditions for release from jail, Arias and Thomas are required to wear electronic monitors and refrain from having contact with each other. They also are required to stay at least 200 feet away from Madison, a school in Southwest Houston.