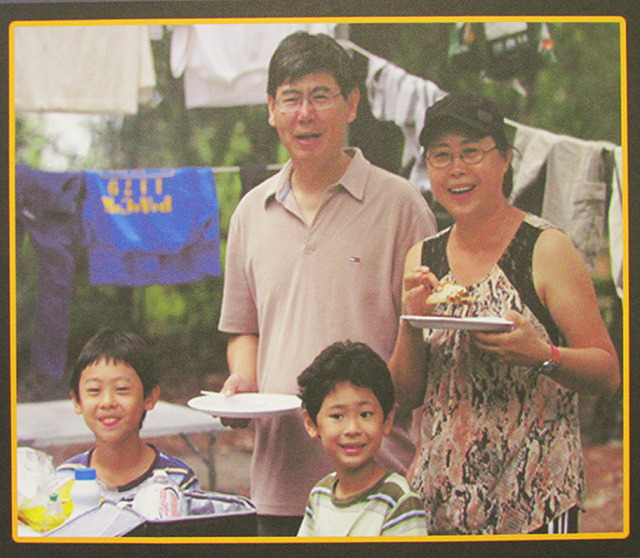 More than eight years after a family of four was executed at their home in a suburb northwest of Houston, a man has been arrested and charged with capital murder in connection to their deaths.
Feng Lu, 58, was charged Sunday and subsequently arrested after arriving in San Francisco on a flight from China, according to a Tuesday tweet by Harris County Sheriff Ed Gonzalez. He said Lu is being held at the San Mateo County Jail in California until his extradition to Texas.
Lu is accused of murdering former coworker Maoye Sun, a fellow native of China, along with Sun's wife, Mei Xie, and their two sons, Timothy and Titus, who were 9 and 7 years old at the time of their deaths in January 2014. All four family members were shot in the head inside their home on Fosters Creek Drive in Cypress, according to Harris County court documents.
No defense attorney for Lu is named in county court documents related to the case.
The handle of a gray-and-black Coach purse found in the laundry room of the home contained a mixture of DNA "believed to belong" to Xie and Lu, who had allegedly told investigators he did not know Maoye Sun's wife or children or where the family lived, court records show. Lu had voluntarily provided a saliva sample to an FBI agent earlier during the murder investigation, according to court documents.
RELATED: Shooting deaths of four family members remain a mystery
Court records also show that Lu and Maoye Sun had worked together at Cameron International, a Houston-based oil well services company that since has been acquired by Schlumberger. Lu allegedly told investigators he had asked Sun to provide a recommendation for a promotion he was seeking in the spring of 2013 and was under the impression that Sun did not grant that request, according to court documents. Lu subsequently resigned from the company, court records show.
Court documents show an FBI investigator also discovered that Lu allegedly purchased a Glock 17 9mm handgun and 50 rounds of ammunition from a Houston gun store on Jan. 23, 2014 – two days before the murders – and returned the weapon without its barrel on Feb. 4, 2014, the same day the Harris County Sheriff's Office held a news conference asking for information about the deaths. Lu allegedly told an investigator he had returned the gun without the barrel because it had been removed by his wife, who allegedly disputed that claim in a subsequent interview with an investigator, according to court documents.
Bullets found at the scene had design features that were physically similar to the ammunition allegedly purchased by Lu on Jan. 23, 2014, court records show.
"The investigation remains ongoing and we urge anyone with information to please contact our Homicide Unit at 713-274-9100," Gonzalez wrote Tuesday on Twitter.