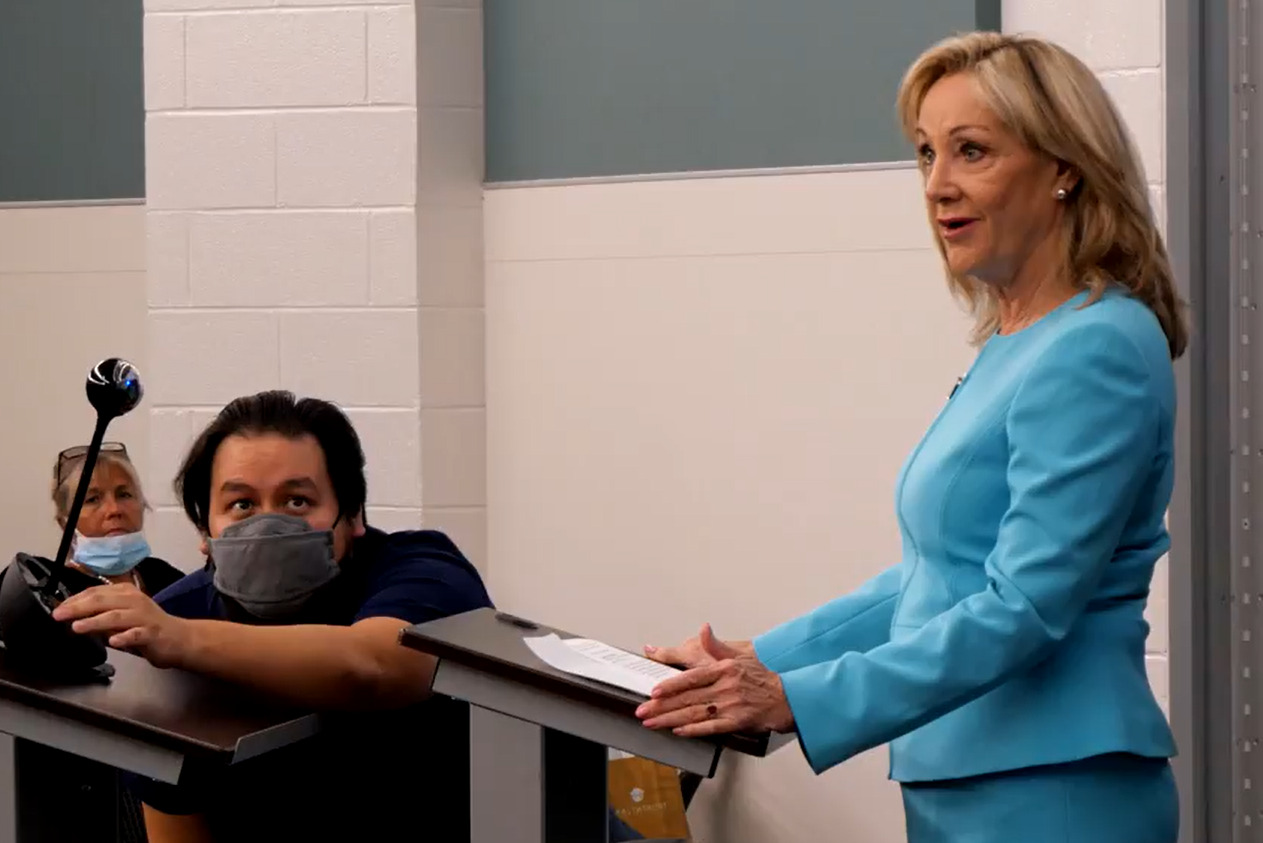 After video from Harris County's "Jury Appreciation Week" surfaced last month in which a speaker advocated that jurors deliver justice for victims – leading to a mistrial in a murder case – Harris County District Clerk Marilyn Burgess was put in the crosshairs of a political and legal controversy.
Throughout the four-day event, she appeared in good spirits.
On the second day of Harris County's "Jury Appreciation Week," moments after listening to the comments from reporter Re'Chelle Turner of KPRC – "In my experience as a reporter, I've seen juries bring justice to many families in Harris County who have lost loved ones to senseless violence" – Burgess delivered her own remarks.
In them, she recounted anecdotes from previous speakers who lamented years-long trial delays caused by Hurricane Harvey, made worse by the pandemic.
And then she drove home the KPRC journalist's message: She told the prospective jurors that by being there that day, they could provide a measure of justice for people impacted by crime in Harris County.
"The victims of crimes are waiting for their day and to get that justice," Burgess said. "So you may have to give up a day or two. They've been waiting years."
Videos of the event obtained by Houston Public Media through a public records request show a fairly straightforward message by most speakers: jury duty is an important civic responsibility – a cornerstone of American democracy. Multiple speakers noted the importance of impartiality and the rights of the accused to a fair trial.
But some videos also show speakers at the now-controversial four-day event making comments bordering on advocacy for the families of crime victims, in what one defense attorney argued was prejudicial to the accused.
Now Burgess faces increased scrutiny about her role in organizing the event. The lawyer for Itani Milleni, charged with killing his estranged wife in 2015, has accused her of jury tampering. She was subpoenaed to appear in court Thursday. (Burgess' office declined to provide comment for this story. A spokesman told the Houston Chronicle the district clerk was off for her birthday on Thursday, and that the county attorney advised her she was not required to attend the hearing.)
Shown Burgess' comments on Thursday, Milleni's attorney Sean Buckley said they were "the icing on the cake" for him.
"She certainly has the same sentiment as the worst of the other commentators," he said. "So if she was caught off guard by it, she certainly didn't do anything to remediate it. She just added to it and ratified it."
Buckley, who said he sent a bill for more than $430,000 to the district clerk's office to pay for legal fees, is seeking records from Burgess' office about the event in an attempt to have the case against his client completely thrown out.
"Who knew about it and how deep do these roots go?" he said. "If they had noticed that this type of thing was going on and they did not disclose it, that to me would be very important circumstances that would mitigate toward double jeopardy attaching."
Jury Appreciation Week ran from June 13-16, but Buckley first caught wind of the comments the week of June 20. His client, 52-year-old Itani Milleni, was accused of staging a robbery at his estranged wife's beauty parlor and killing her. His trial was set to begin in mid-June, but an outraged Buckley said he brought word of the videos to the judge in his client's case, and that jurors who attended jury appreciation week were picked for Milleni's trial. The judge, Te'iva J. Bell of the 339th District Court, declared a mistrial later that day.
The events reverberated around the Harris County court complex. In an email to her fellow jurists after Turner's video went public, civil District Court Judge Rabeea Collier said she had requested footage from all of the events.
"For any judge that picked a jury last week and would like to review the footage, please let me know," she wrote.
Collier was also one of the Jury Appreciation Week speakers. In a video that cuts in toward the end of her remarks, she thanks the potential jurors for their service, noting that for years women and many people of color could not serve.
"When you are asked questions about your scheduling conflicts, know the importance and the honor it is to serve in our jury system," Collier said on the event's second day.
Story continues below:
In addition to Turner, Collier and Burgess herself, the event featured speakers from inside and outside of the criminal justice system.
A second reporter, Ted Oberg of ABC 13, made comments similar to Burgess and KPRC's Turner. He spoke about the courts backlog, and told jurors their work would speed up the process for "either families of the accused or families of victims."
"The tears we've shed with families are real," he said on the first day of the event. "The service you are going to give them is real."
Another speaker, Jim "Mattress Mack" McIngvale, talked about one's responsibility to the community.
"Mark Twain said 95% of life is showing up," McIngvale said. "You showed up today and god bless you for it."
But he also stressed what he said was the juror's role in public safety,
"As you know, Harris County has many, many problems," he said on June 16, the final day of the event. "The question is, should Harris County be the deadliest county in Texas or the safest? We all believe it should be the safest, and we can make it that way. But it takes effort on the part of each and every one of us, and by coming here today you are doing your effort to make Harris County a safer and better place in which all of us can live, work, play and raise a family."
Harris County Judge Lina Hidalgo also made an appearance, covering a range of topics including public safety, childhood education and flood risk.
"We have challenges, the same challenges we're facing throughout the nation," Hidalgo said. "We're fighting hard to keep our communities safe, to make sure that we're reacting to the various challenges that come our way, but also trying to be proactive on what's going to keep this community beautiful and resilient and united, and you guys are a big part of it."
Story continues below:
Another judge, Beau Miller, spoke about his experience with juries both as a lawyer and a judge. In his comments, he told prospective jurors it was incumbent upon them to give every party involved "a fair shot" — the same fairness anyone would want in that situation.
"Lady Justice may be blind, but the jury are the eyes and ears of our society," Miller said.
Joan R.M. Bullock, then-dean of Texas Southern University's Thurgood Marshall School of Law, implored potential jurors to listen to the facts of any case they're assigned to and to use their best judgment.
In her comments, made a day before news broke of her departure from TSU, she stressed the importance of different perspectives, and using those perspectives to make decisions based not on opinion but on the evidence provided in the case.
"It's about peoples' lives, and what you are going to be doing today and this week if you're chosen is making decisions about peoples' lives," Bullock said.
Video of Precinct 1 Constable Alan Rosen begins mid-sentence, with the words, "that's where our part really ends and your part picks up." It's not clear the context in which the words were delivered.
Other parts of his speech dealt with explaining the role of a constable, a warning to avoid a jury service telephone scam, and donating to the Ukraine war effort.
Two Houston Texans cheerleaders were among those to raise the jurors' spirits on day 1 of the four-day event. The women thanked those in attendance, then offered a motivational chant for everyone in the room.
"You're going to give me two claps," one of the cheerleaders instructed. "You're going to raise your left hand and yell, 'Houston.' Give me two claps one more time, and then you're gonna yell 'Texans.' We're going to follow along and do it three times through, y'all ready? Here we go. 5-6-7-8."
Correction: A previous version of this story miscategorized Judge Rabeea Collier's role. She is a civil court judge, not criminal.