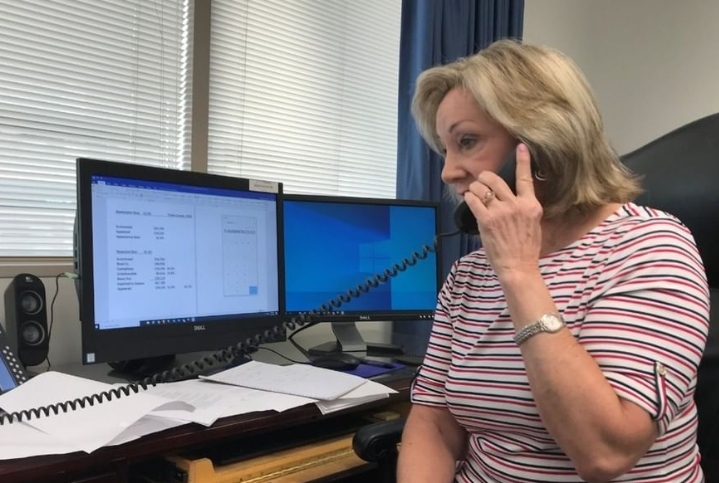 Updated June 23 at 3:19 p.m. CT
A Harris County judge declared a mistrial in a high-profile murder case on Wednesday after the defendant's lawyer argued recent "jury appreciation week" events included comments prejudicial to his client — a move he described as an attempt to tamper with the jury process.
The events, organized by Harris County District Clerk Marilyn Burgess, included speakers from within the county's criminal justice system along with local TV news reporters, Houston Texans cheerleaders, country singer Will Carter, and Jim "Mattress Mack" McIngvale.
The event is described by Burgess' office as a way to celebrate jury service as a civic duty to "help ensure the Consitutional promise of a swift and fair trial by a jury of your peers," according to a press release.
But at least one speaker's comments were called into question after a video from the event was posted online. In one video, TV reporter Re'Chelle Turner of KPRC spoke about past juries who have delivered "justice" for victims and their families.
"I've seen juries bring justice to many families in Harris County who have lost loved ones to senseless violence," Turner can be heard saying in one video that has since been removed from Burgess' social media pages.
Attorney Sean Buckley, who represents the man accused of murder, said the comments presented a biased view of the justice system and tainted the jury pool.
"It was really tantamount to a pep rally for recruiting groups of jurors to go over to the courthouse and convict people of violent crimes," he said.
Burgess' office declined to comment. On the District Clerk's Office website, an FAQ section answers the question, "What is my duty as a juror?": "As a juror, you must be fair and impartial," the site says. "Your actions and decisions must be free of any bias or prejudice. Your actions and decisions are the foundation of our judicial system."
In an email obtained by Houston Public Media, Judge Rabeea Collier informed other jurists about the comments and said she had requested more footage of the events that she would make available to any court that may have seated juries from that pool.
"This morning, we became aware that Re'Chelle Turner spoke at Jury Appreciation Week about 'juries bring justice to the many families who have lost loved ones to senseless violence...' before the jurors were assigned to courts," the email said.
"For any judge that picked a jury last week and would like to review the footage, please let me know," she wrote.
In an email, Turner said, "I was invited to give my personal thoughts before the jury assembly room by the Harris County District Clerk. I had nothing to do with the court case in question."
She directed further questions to the district clerk and the judge in the case.
Speakers addressed the jurors last week before any of them were assigned to courts. No attorneys were present, and none appear to have been made aware of the comments before Wednesday morning.
Buckley said he became "outraged" after viewing the videos. He spoke to the judge assigned to his client's case, Te'iva J. Bell of the 339th District Court, who Buckley said was already aware of the event. Court records show the judge declared a mistrial later that day.
Bell could not be reached for comment.
Turner's remarks were not the only ones captured on video. Another TV reporter, Ted Oberg of ABC 13, spoke about the massive courts backlog dating back to Hurricane Harvey and exacerbated by COVID-19.
In the video, he told the jurors their service would help "either families of the accused or families of victims who need you to be here to make this process move faster."
"The tears we've shed with families are real," he says. "The service you are going to give them is real."
Buckley's client, 52-year-old Itani Milleni, is accused of killing his estranged wife in a staged robbery at her beauty school in 2015. His trial began last week. According to Buckley, jurors from the appreciation week event were picked for that trial.
The lawyer called the messaging at the speaking event inappropriate.
"Frankly, anybody in her position would absolutely know that this is a violation of state and federal law, that it is a conspiracy against my client's civil rights to a fair and impartial jury," he said of Burgess. "In over two decades of trying cases it is the most egregious and outrageous example of attempted jury tampering that I've ever seen."
It is not clear whether prosecutors with Harris County District Attorney Kim Ogg's office were aware of the comments made at the event. Dane Schiller, a spokesman for Ogg, declined to answer specific questions about the event or her communications with Burgess.
He did confirm that the DA's office planned to retry the case.
"We will do all we can to protect society from this defendant, who is accused of a vicious murder," Schiller said. "We will not be deterred in our efforts to see that all the facts are presented to a jury in a fair trial and that justice is done."
In a previous version of this story, Houston Public Media declined to publish the name of one of the speakers captured on video, because the edited clip provided no further context of the remarks. That speaker, Re'Chelle Turner, has since been publicly identified by another news outlet.