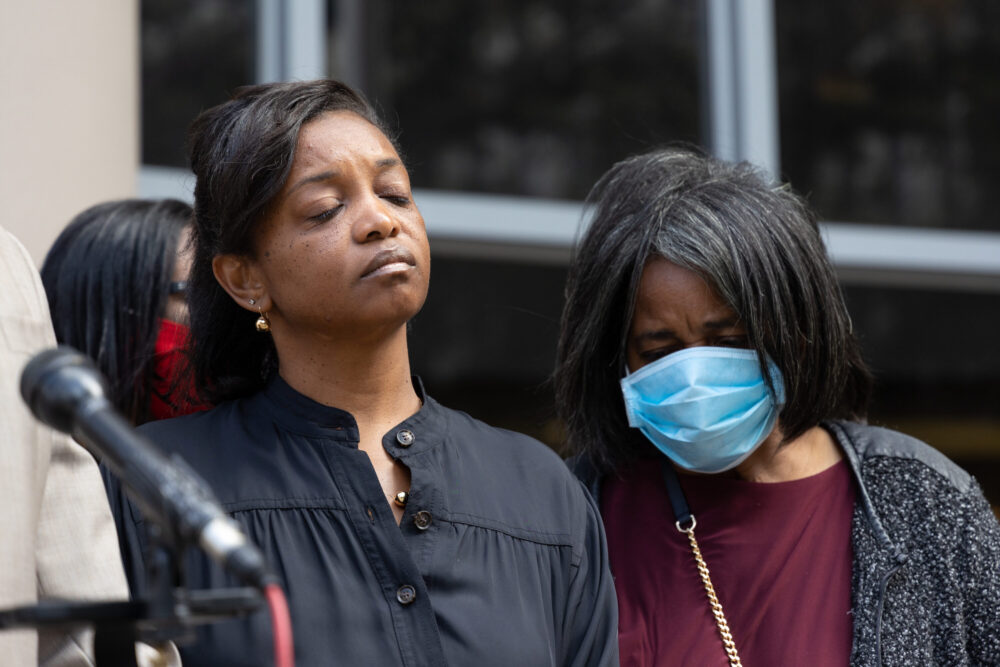 The mother of Charion Lockett, who was shot and killed by Houston police in February, has filed a federal lawsuit against the four officers who killed her son.
The civil rights lawsuit lists the four officers who shot Lockett — Devin Inocencio, Victor Villarreal, Peter Carroll, and Shaun Houlihan — as well as HPD Chief Troy Finner and the city of Houston as defendants.
Houston police began investigating an alleged robbery that took place around November 2021. The victim blamed Lockett, 27, and an unknown man, prompting investigators to request an arrest warrant for aggravated robbery with a deadly weapon against Lockett, according to a criminal complaint.
That request that was rejected by a state district court judge, but a later attempt was granted by a different judge "primarily upon false statements," the lawsuit says. The complaint does not detail what those false statements were.
Houston attorney Taft Foley, who represents the family, said Lockett was charged with aggravated robbery with a deadly weapon despite never having a gun during the alleged incident.
"There's no real credible evidence of the commission of a crime," Foley said. "Neither warrant says that Charion Lockett had a gun. Neither warrant said that Charion Lockett fired a gun."
The criminal complaint against Lockett, filed Feb. 4 in Harris County District Court, states that the unknown man "pointed a gun into the back" of the alleged victim, and that as the victim drove away, "he heard three or four gunshots." The complaint does not explicitly state that Lockett was in control of a gun at any point.
An HPD spokesperson referred questions to the mayor's office, which did not immediately respond to requests for comment.
According to the lawsuit, an officer called Lockett's home on the morning of Feb. 7 and told his family that an arrest warrant was issued. Later that morning, police arrived at Lockett's home and "began firing at him while he sat in his parked vehicle," according to court documents.
During a press conference Thursday, Foley called upon the U.S. Department of Justice and the Harris County District Attorney's Office to open their own investigations into the incident.
"The police department can't be trusted in situations like this," Foley said. "This is not the first incident in where a warrant has been secured based upon false information and individuals have consequently lost their lives."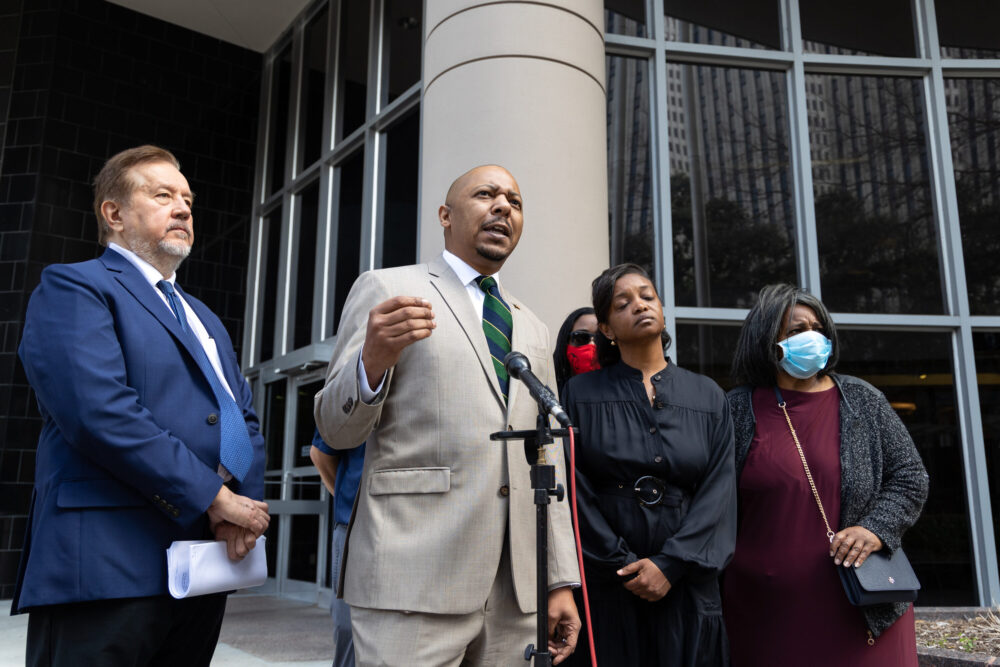 A spokesperson for Harris County DA's Office said the department investigates "all shootings by police" and would "ultimately present each of those shootings to grand jurors to consider whether a criminal charges is warranted." The DOJ did not immediately respond to requests for comment.
On Feb. 17, HPD released bodycam footage of the incident, keeping in line with the city's body camera release policy, which requires HPD to release video of police shootings or killings within 30 days. HPD says Lockett began shooting at the officers multiple times. The family's attorney refutes that claim.
According to the lawsuit, Lockett had a concealed carry license, but it's not clear from the footage whether Lockett fired the weapon.
Lockett's mother, Shanetta Lewis, said on Thursday that she filed the lawsuit in order to hold those responsible for her son's death accountable.
"I want justice for my son, and those that got us to this point to be held accountable," she said.
Read the full lawsuit below: