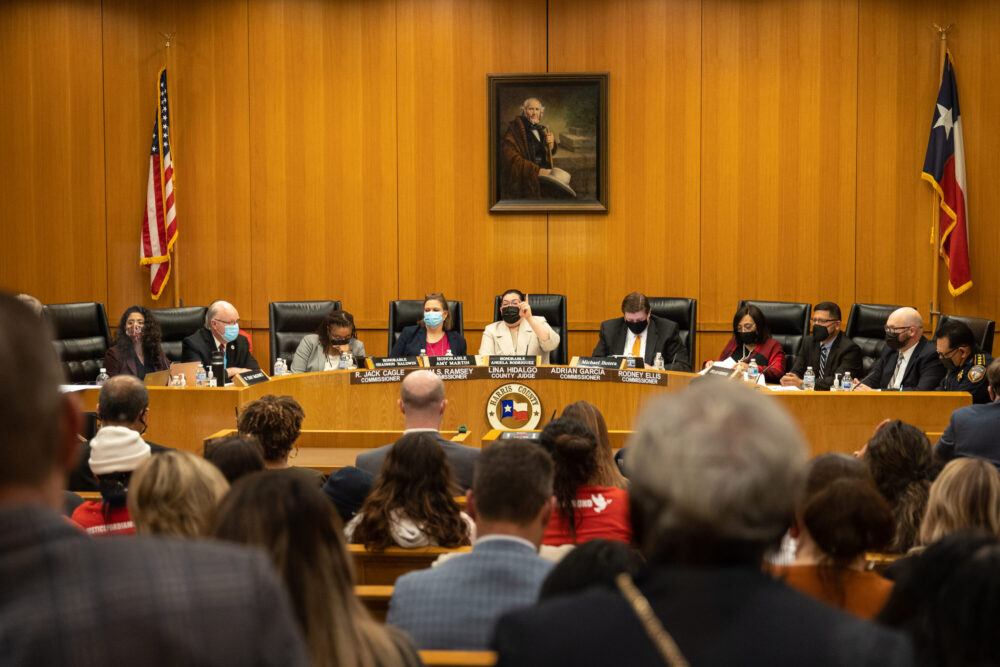 A measure to set a minimum down payment to bond out on certain offenses failed to pass the Harris County Bail Bond Board Wednesday, despite broad support.
At a hearing Wednesday, the board made brief remarks before receiving public testimony from supporters and critics alike, including those from bondmen, who have charged that the move is illegal price fixing.
Those in favor included Houston police Chief Troy Finner and Mayor Sylvester Turner. The measure also had bipartisan support in Harris County Commissioners Court, which has recommended a 10% minimum payment.
But the measure failed nonetheless.
Commissioner Adrian Garcia argued the vote was a missed opportunity to help reduce violent crime in the city, but added that he planned for the measure to be in front of the board again at some point.
"On behalf of the families of victims of crime, especially those who have suffered some of the most horrific tragedies, my heart goes out to them," Garcia said Thursday. "But we're not gonna stop working yet."
The board consists of an assortment of Harris County leaders, including County Judge Lina Hidalgo, who said a change would help keep people from committing violent offenses while out on bond.
"We have an opportunity today to fix a part of the system that is not working adequately, because it's undercutting judges when they make decisions to set high bond amounts for people who should not be out free," Hidalgo said before the vote.
Hidalgo was one of the votes in favor of the measure, along with Sheriff Ed Gonzalez, county Treasurer Dylan Osborne, and District Clerk Marilyn Burgess. Harris County Professional Bonding Association President Mario Garza was a "no" vote, as was attorney Troy McKinney. District Attorney Kim Ogg and Harris County Justice of the Peace Angela Rodriguez abstained. Felony Judge Amy Martin, misdemeanor Judge Shannon Baldwin, and municipal court Judge J. Elaine Marshall were absent from the vote.
Democratic Harris County leaders have cited public safety concerns in their push for the 10% minimum. For example, bail set at $50,000 would require a bondsmen to charge a minimum of $5,000 in order to secure a defendant's release. As of right now, bondsmen are free to set their own minimum down payments.
Garcia said some bondsmen have collected lower than 10%, allowing those accused of violent crimes to walk out of jail for a reduced fee.
"When someone is accused of a violent crime, but is able to be bailed out of jail for 1 to 2%, that puts the loved ones of the victims in a state of fear," Garcia said during Wednesday's hearing.
However, critics have pushed back against the proposed minimum payment. Bail Attorney Ken Good, who's also a board member for the Professional Bondsmen of Texas, said the bail bond board may be overstepping its authority.
"Is this an issue that the board has the authority to enact a local rule on?" he asked. "I believe this local rule would violate separation of powers because you're adding a condition on the bond that the judge has not required."
Several bondsmen also spoke out against the measure. Shaun Burns, who's been a bondsmen for more than 20 years, said he wasn't convinced that the proposed minimum would have an impact on the region's increasing crime rate.
"I've yet to hear how this rule is going to make us any safer in Harris County," he said. "I think we all agree that crime is through the roof."
The meeting, which usually approves bondsmen licenses, was more crowded than usual given the topic that was up for discussion. Among those present were representatives for Finner and Turner, who both supported the measure.
In a letter, Turner said he has instructed the city's legal department to draft an ordinance to be considered by Houston City Council that would require bondsmen in city limits to charge a 10% minimum when issuing a bond.
Paul Castro — the father of David Castro, a teen who was killed last year during a road rage incident after an Astros game — supported the 10% minimum, and said he believed that the measure would have likely kept his son's alleged killer behind bars.
"A month after his arrest, David's killer was released," he said. "My son's life was traded for $7,000."