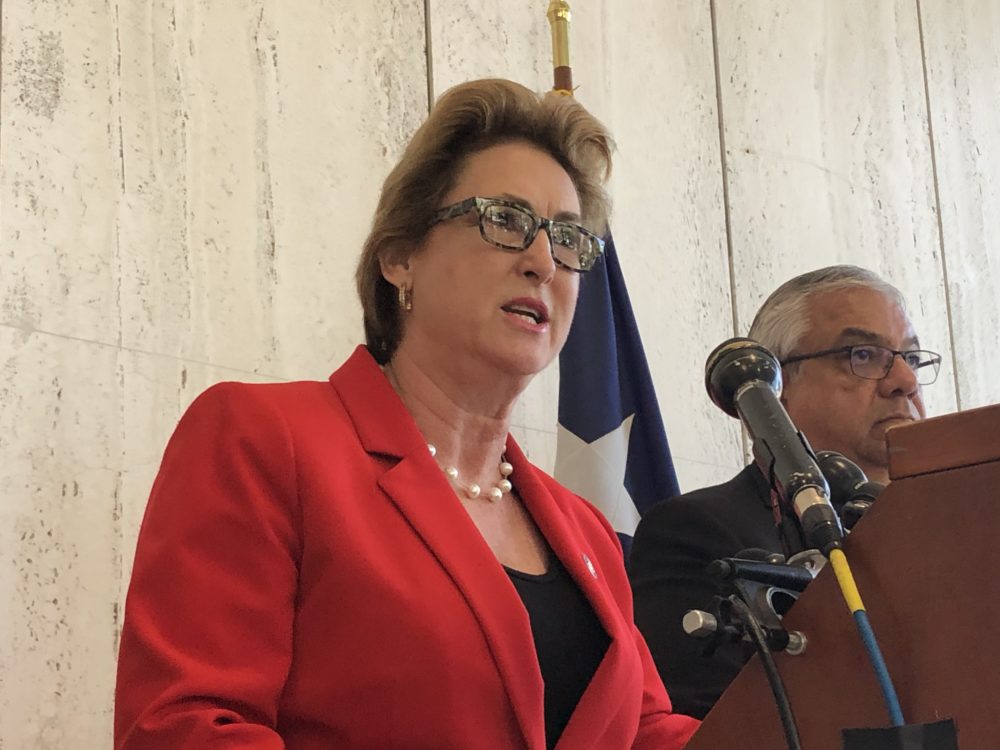 The Harris County District Attorney is seeking to hire dozens of new prosecutors that she says would combat a rise in violent crime and reduce the backlog of pending criminal cases in a county budget set to be unveiled Tuesday afternoon.
As in previous years, she's likely to face pushback from Democratic county leaders and criminal justice reformers.
DA Kim Ogg asked Harris County commissioners to approve 82 more prosecutors, an increase of 23% over her current prosecutorial staff. Her request also includes additional administrative assistants, paralegals, social workers, investigators and victim assistant coordinators.
The additional hiring would raise her office's annual staff budget from $9.7 million to $13.6 million.
Ogg argued that the increase is necessary to deal with repeat violent offenders, domestic violence and gang crime — all of which she said are causing a spike in Harris County's homicide and criminal victimization rates. Further, she said, the county needs the extra prosecutors to deal with a backlog of 134,800 criminal cases that has only worsened during the COVID-19 pandemic.
Ogg also argued that the commissioners themselves have increased the need for prosecutors by adopting a number of public safety initiatives over the past year, such as the gun violence interruption program and targeted hot spots.
"I think that the credibility of our commissioners, our funding governmental body, is at stake," Ogg said. "And I think with them pushing public safety in response to their constituents' concerns, they're going to need to increase the number of lawyers."
Ogg has made similar requests for more prosecutors over the past three years only to be turned down by the Democratic majority on commissioners court.
Precinct 1 Commissioner Rodney Ellis has led opposition to Ogg's requests in the past, arguing that adding more prosecutors would only mean an increase in incarceration.
He issued a noncommittal statement on Ogg's latest request.
"We are carefully reviewing the budget requests of all Harris County departments, including the District Attorney's office," Ellis wrote in his statement. "We are 100 percent focused on keeping all Harris County residents healthy and safe."
Criminal justice reformers have testified in force against Ogg's previous requests. Nick Hudson, policy and advocacy strategist for the ACLU of Texas, described her latest proposal as "more of the same."
He noted that in all other Texas counties with populations over half a million, case filings have steadily declined since 2019. In El Paso, felony case filings dropped by 74%. In Travis County, those numbers have dropped by 55%. Dallas saw a 13% drop in homicides in 2021, alongside a 31% decrease in prosecutions over the last three years.
"Filings are down in every big county in the state except for in Harris County under DA Ogg, and throwing more money at a mismanaged office is a bad idea," Hudson said.