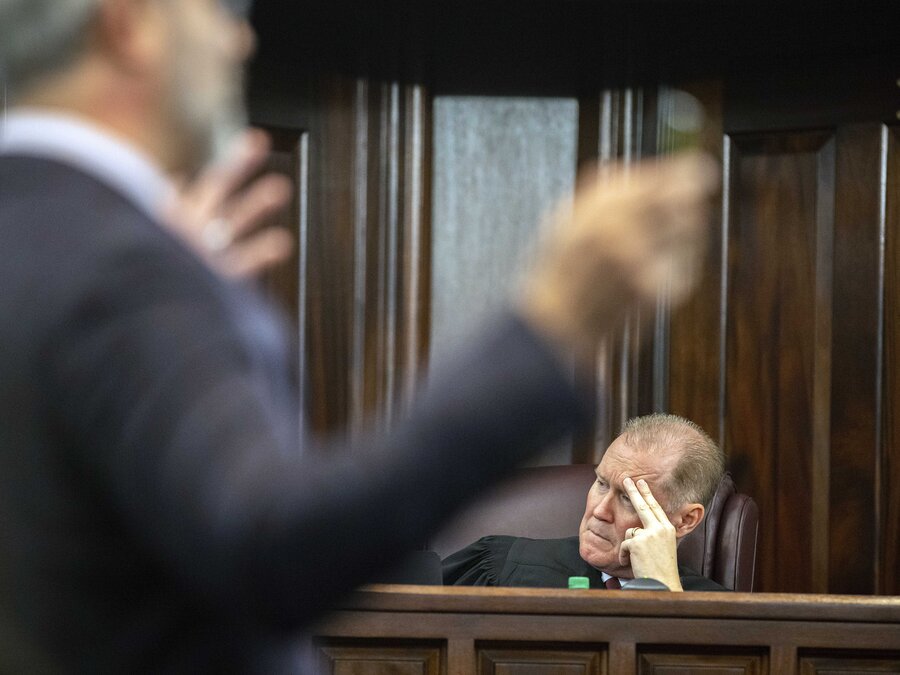 During the pursuit, the McMichaels chased Arbery past Bryan's home. Bryan was out on his front porch and, according to the prosecutor, called out "Y'all got him?" before he joined the attempt to corner Arbery.
Jason Sheffield, another defense attorney for Travis McMichael, said during the trial that McMichael had every right to perform a citizen's arrest because he saw Arbery as a "recurring intruder."
Sheffield said McMichael didn't wake up that day intending to kill Arbery but did so only in self-defense when he thought he was in danger.
McMichael at one point took the stand in his own defense and declared: "It was obvious that he was attacking me, that if he would've got the shotgun from me, then it was a life or death situation. And I'm gonna have to stop him from doing this, so I shot."
Bryan's lawyer, Kevin Gough, suggested that his client's presence did not change the course of events: "Roddie Bryan's presence is absolutely superfluous and irrelevant to the tragic death of Ahmaud Arbery." He also said his client wasn't aware the McMichaels were armed.
The prosecution says the defendants had no legal cause to go after Arbery
Lead prosecutor Dunikoski portrayed the three men as "strangers with intent to kill" who made "driveway decisions" to go after Arbery.
She pushed back on the idea that they had any cause to execute a legal citizen's arrest, stressing that the men had no actual knowledge of any crime the young man committed on the day they saw him run by — and never actually said to him that they were trying to make an arrest.
"Nobody said 'I saw him commit a crime today, no one said 'I'm making a citizen's arrest,' no one was trying to arrest him for the crime of anything," she said. "No one said any of these things on Feb. 23, 2020."
"Greg McMichael assumed the worst," the prosecutor said, adding that he roused his son off the sofa so they could go after Arbery together. She pointed out that McMichael later told police he did not know for certain whether Arbery actually broke into a home that day.
"You can't make a citizen's arrest because someone's running down the street," she said.
And like the McMichaels, the prosecutor said, Bryan also required no hard evidence of any wrongdoing by Arbery before he gave chase.
"That is what being a party to the crime is — you go to help some people who are committing some crimes, trying to stop this guy and detain him and confine him," Dunikoski said.
The prosecutor stated that Arbery would still be alive had Bryan not used his truck to cut off Arbery and block him from fleeing. And she noted that Greg McMichael informed police that he told Arbery he would "blow your f***ing head off" if he didn't stop running.
Arbery "was trying to get away from these strangers who were yelling at him, threatening to kill him," Dunikoski said. "And then they killed him."