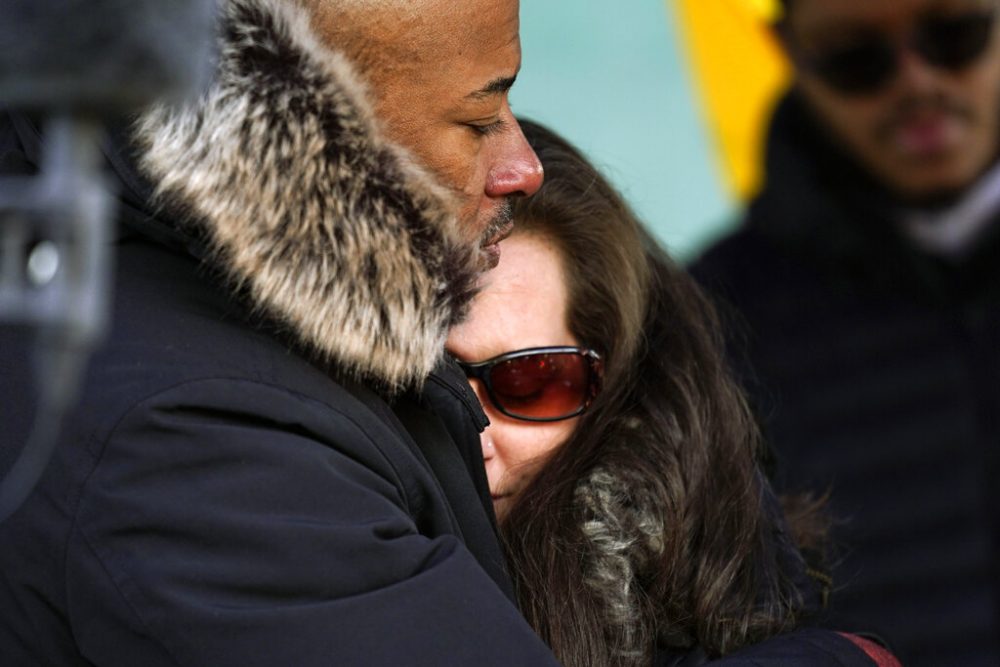 Kyle Rittenhouse — the 18-year-old who shot and killed two people during civil unrest over the shooting of an unarmed Black man in Kenosha, Wis. last year — was acquitted on Friday.
For Shelly Baker, the news was upsetting.
But it did not come as a shock.
"It just like reinforces that some people are just allowed to be violent and dangerous towards communities," Baker said. "And it's almost like if you have white skin, you get a pass."
Baker, with the grassroots civil rights group Say Her Name TX, helped found the group after the death of Breonna Taylor. She said she had prepared herself for Friday's verdict.
Baker was not alone: Thousands of people on social media shared a similar sentiment, with the words "not surprised" trending in the United States after the verdict. But the result still weighed heavily on her. And as cases like this continue to come into the spotlight, Baker said, organizers such as herself become more and more weary.
"It's just showing us that we don't matter," she said. "We don't matter, the people that are fighting for us don't matter, and it gets very exhausting."
For Black and brown activists and social justice advocates in Houston, the Rittenhouse verdict wasn't just about one person or one incident. They saw it as a stark reminder of a system that's often too punitive toward people of color and one that does not offer up justice in kind.
And it's a pain that continues to be felt across the nation, said James Dixon II, president of the NAACP's Houston chapter.
Dixon believed millions of young African American men across the country would be shattered by the trial's outcome, and that the verdict would add a burden on Black parents and families who struggle to maintain hope for their children.
"I promise you, my son will be absolutely shattered when I pick him up from school this evening," Dixon said. "How do I lift his spirits? How do I assure him that he's growing up in a nation where his life will be worth something?"
Rittenhouse was 17 when he crossed state lines from Illinois and headed to Kenosha on a night of unrest sparked by the police shooting of Jacob Blake, a 29-year-old Black man. After a series of encounters with protesters, Rittenhouse shot and killed Joseph Rosenbaum, 36, and Anthony Huber, 26, and injured Gaige Grosskreutz, 26, all of whom were white.
During the trial, Rittenhouse testified that he traveled to act as a medic and to help protect private property.
Jurors deliberated over the course of four days before declaring Rittenhouse not guilty of first-degree intentional homicide, first-degree reckless homicide, first-degree attempted intentional homicide and two counts of first-degree reckless endangerment.
Many conservatives praised the result, with some framing Rittenhouse's acquittal as a win for gun rights.
"This acquittal isn't just about Kyle Rittenhouse," read a statement from Sen. Ted Cruz. "This verdict reiterates that every American has the God-given right to self-defense and the protections of the Second Amendment"
"Justice, due process, and the unalienable right to self-defense won today," Texas Attorney General Ken Paxton wrote on Twitter. "As did an innocent young man."
Minutes after the verdict came in, Gov. Greg Abbott posted what appeared to be a celebratory message on Twitter.
Rittenhouse — NOT GUILTY!

— Greg Abbott (@GregAbbott_TX) November 19, 2021
Abbott's tweet garnered criticism from Harris County Attorney Christian Menefee, who called the governor's response "shameful."
"Yet another example of why many in this country believe the criminal justice system isn't all that just," Menefee tweeted.
In a text, Texas Democratic gubernatorial candidate Beto O'Rourke wrote that people, "shouldn't have to worry about being shot with weapons in (their) communities."
"We mourn those that were tragically killed and remain resolved to finding common sense solutions to gun violence in America," O'Rourke wrote.
For Rev. Samuel Gilbert, president of the Houston Metropolitan Baptist Ministers' Conference, seeing Rittenhouse receive a harsh prison sentence would have brought him no closure.
But to Gilbert, it was another reminder that people of color are often not afforded the same benefit of the doubt.
"I'm kind of relieved that a young man's life is not ruined because of a bad choice," Gilbert said. "But I'm unsettled. Because as an African American, so many of our young Black boys have made choices that are bad, and have been convicted in our system for doing far less."
Correction: This story originally contained a misleading claim about the facts of the case. Testimony suggests Rittenhouse was not in possession of the gun used in the shootings when he crossed state lines.