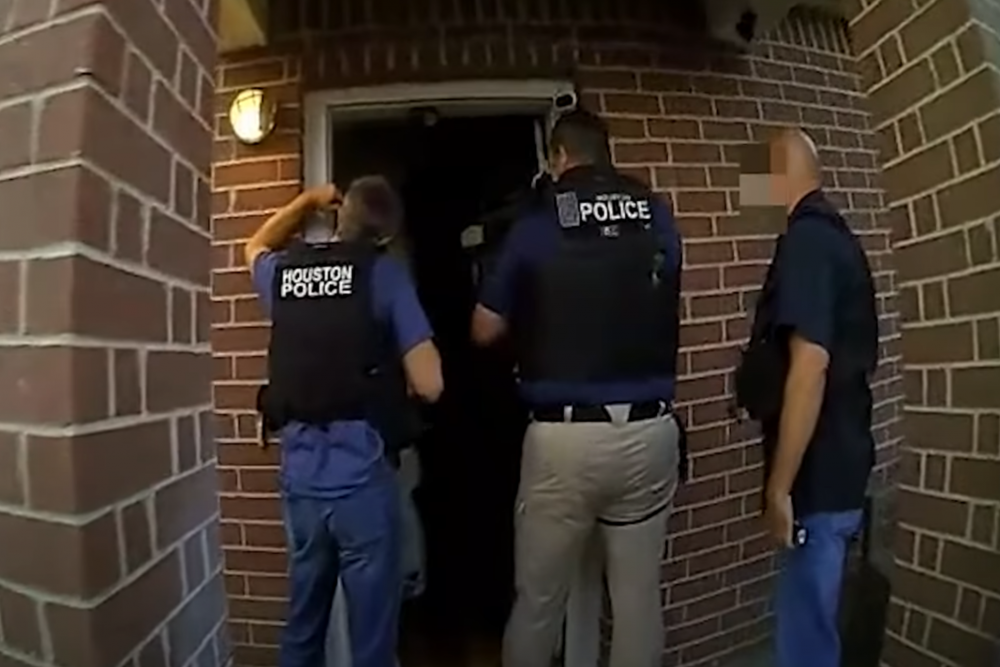 The man who killed one Houston police officer and wounded another during an attempted arrest last month in north Harris County used an illegal modification to turn his handgun into a fully automatic weapon, police said on Tuesday.
"There is absolutely no reason or no room for our suspects to be armed like this," said Houston Police Chief Troy Finner after showing body camera footage of the shooting during a news conference with Houston-area law enforcement. "This is a threat that is here and it's a threat to everybody — law enforcement and citizens in every neighborhood in our community."
On Sept. 20, officers with Houston Police Department's major offenders division were executing a high-level narcotics warrant at an apartment complex on Aeropark Drive near Bush Intercontinental Airport, according to police. Body camera footage shows two officers knocking on the apartment door to arrest Deon Ledet, 30. The video shows a woman opening the door, and the officers asking her to step outside and call for Ledet to show himself.
About one minute later, just as an officer appears to be saying, "let's do this the easy way," he is interrupted by rapid gunfire coming from inside the apartment.
Senior police officer William "Bill" Jeffrey can immediately be seen falling to the ground. Sgt. Michael Vance was also hit with gunfire and can be seen crawling away from the door as other officers engage the shooter.
Both Jeffrey and Vance were transported to Memorial Hermann Hospital, where Jeffrey was pronounced dead. Vance was later released and is recovering from his injuries, police said.
Ledet was also killed in the shooting, which lasted about a minute and a half, the footage shows.
The shooter's handgun was equipped with an illegal switch that can essentially turn a semi-automatic handgun into a machine gun, according to police. The switch by itself is considered a machine gun under federal law, according to acting U.S. Attorney Jennifer Lowery. Possession or transfer of a switch carries a maximum penalty of 10 years in federal prison.
Last year, the Bureau of Alcohol, Tobacco, Firearms and Explosives' Houston division made seven arrests and seized 104 switches, along with 11 handguns that already had a switch installed, according to Fred Milanowski, special agent in charge at the Bureau's Houston division.
Milanowski said the switches have become increasingly prevalent in the Houston area.
"We want to identify the source of these switches in the city," he said. "It's out there. Someone knows, and we will prosecute it with the U.S. Attorney's Office to the full extent of the law."