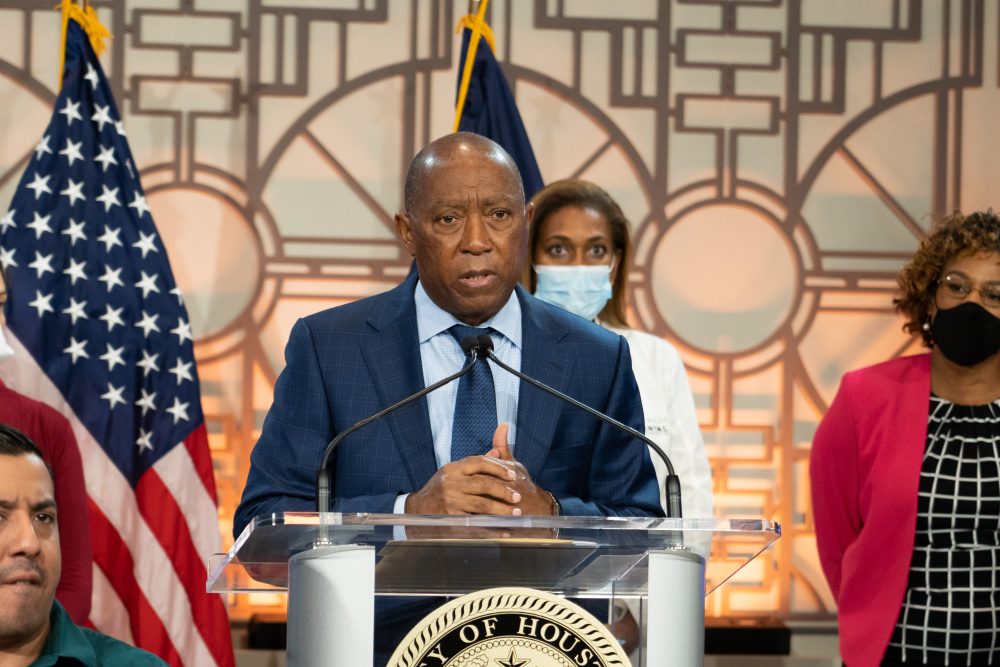 In April, Mayor Turner announced his plans to enact "a large majority" of more than 100 reforms laid out by his task force on policing reform.
Yet, at the press conference announcing his administration's first slate of reforms, the mayor declined to list all of his reform commitments. Instead, he announced several big-ticket reform items first proposed by his task force last year, including a ban on no-knock warrants against nonviolent offenders, a new body camera policy, and the creation of a new Office of Policing Reform and Accountability.
"Over half of the recommendations that (the report) put forth are being implemented," the Mayor said at the time, "and certainly many of the major ones are being implemented."
Now, data obtained from the city's new Office of Policing Reform and Accountability suggests that 60 of the task force's 104 recommendations – or 58% – have been adopted.
Those include an increase in community input and enhanced training for Houston police officers. Some of the previously announced reforms also include an online platform to register complaints against police officers, a revamped Independent Police Oversight Board and a public dashboard tracking policing data.
The task force's inception in June of 2020, two weeks following Houston native George Floyd's hometown memorial, came after weeks of local and nationwide protests over Floyd's murder by Minneapolis police officer Derek Chauvin.
The 45-member community-led task force was charged with reviewing Houston Police Department practices and submitting recommendations to improve the culture and policies of the force.
At the press conference announcing the release of their report, Mayor Turner described the work as a "transformational moment" for the city.
Yet these initial reform efforts haven't come without criticism. Jaison Oliver, an organizer with the BLMHTX/ImagiNoir Collective, said he's remained skeptical over the impact the task force's recommendations can make.
"It's concerning that a board appointed by the mayor gets to dictate what reform should look like around policing in Houston, and then the mayor gets to choose which of those recommendations he will implement or not, without any kind of public engagement," Oliver said.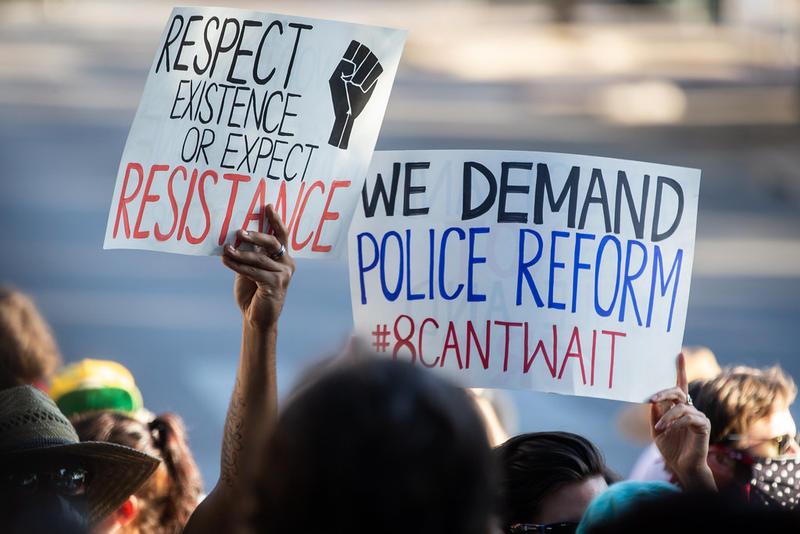 The task force's report identified six distinct categories of reform: community policing, independent oversight, power dynamics, crisis intervention, field readiness, and clear expectations. Data provided by the Office of Policing Reform and Accountability now reveals the progress the city has made under each category.
The city's implementation progress in each area of reform varies.
Deputy Inspector General Crystal Okorafor, whose appointment to lead the Office of Policing Reform and Accountability fulfilled one of the Mayor's major reform commitments, said she hoped as many as possible could be completed by May of 2022.
After that, Okorafor said she hoped HPD would continue to make changes beyond the initial recommendations laid out in the report.
"I look at these task force recommendations as a starting block, not an ending block," Okorafor said.
In an email to Houston Public Media, Turner said OPRA meets with HPD leadership monthly to track the progress on the recommendations.
"So while each initiative may not hit the headlines, we are making progress to create a more just, transparent, and accountable policing system." Turner said.
The mayor added that he had "full faith" in the city's ability to meet any goals Okorafor sets.
"Public safety has been a pillar of my administration since even before I was elected as Mayor, during my time in the state legislature," Turner said. "I feel that when people look at my time as a public servant, my dedication to public safety and finding progressive solutions to the issues people face each day will be a bedrock and testament to the servant leadership to which I strive."
Community Policing
The task force defines "community policing" as a method of policing that "engages all community members," "values community perspective," and emphasizes prevention over criminalization.
The report identified 16 recommendations to improve community policing, and today, the city says seven of those recommendations have been implemented.
Those include adding a "community engagement" section to patrol work cards, which officers are required to complete during each shift, and requiring that officers make personal contact with at least two people or businesses during each shift.
According to the city, HPD has also now adopted the task force's recommendation to collect and integrate community input into HPD's recruiting material. The hope is that this will help the department build a force more reflective of the Houston's diversity.
Under the task force's broad definition of community policing, many of the reform objectives are noticeably vague. One recommendation, for example, calls for the city to utilize "grant funds in creative, productive ways that benefit the community."
That vague language was intentional, Okorafor said.
"The task force recommendations are vague because they wanted to allow the ability to figure out how to implement it best within agencies," Okorafor said. "We allow them to kind of figure that out."
For the recommendation to utilize funding in "creative" ways, Okorafor said that the city is using "quite a few grants" to fund engagement services largely targeted at Houston youth, including athletic league programs and mental health support services.
MORE | Houston Has A New Deputy Inspector General For Police Accountability. Here's What That Means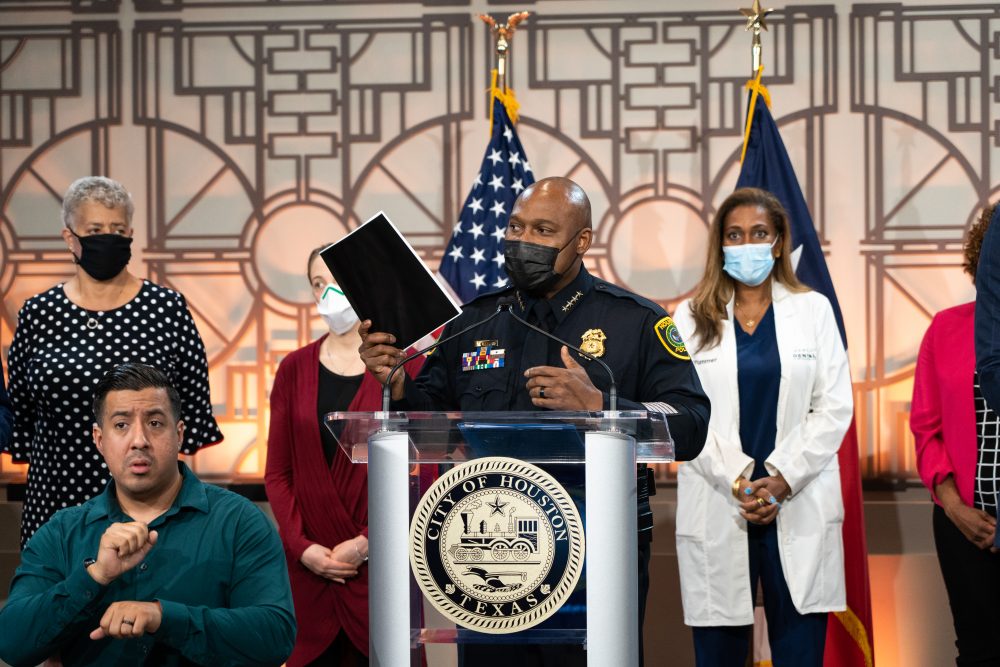 Independent Oversight
Nineteen out of 29 recommendations to improve independent oversight have now been implemented, according to OPRA.
Those include translating officer complaint forms into multiple languages, replacing the Independent Police Oversight Board chair, instituting term limits for board members, and expanding IPOB by 10 members, creating two additional panels to enhance the board's capacity.
Stephen Ives, president and CEO of Houston YMCA and the newly appointed chair of IPOB — which is responsible for reviewing police misconduct — said he hopes the city's reform efforts will help increase the public's level of confidence in the work being done by the city's police department.
But for now, Ives said, he understands why citizens might remain skeptical.
"I think it's healthy to remain skeptical and to ask questions," Ives said. "It holds all of us accountable."
MORE | New Houston Police Oversight Board Chair Lays Out Vision For The Board's Future
Power Dynamics
The report presented a total of 27 recommendations aimed at balancing "the power dynamics between the HPD and Houstonians."
Of those 27 reforms, 15 have been implemented so far, according to OPRA.
One of the most high-profile reforms is the previously announced commitment to release all body-worn camera footage of critical incidents without redactions to the media and other concerned parties within 30 days.
Other major reforms include the adoption of a "zero-tolerance policy for the use of derogatory demeaning, or dehumanizing language directed toward civilians," the prohibition of facial recognition software on body-worn camera footage, and the publication of an annual report recapping disciplinary actions taken against officers charged with misconduct.
Task force recommendations in this category yet to be implemented include adding dashboard cameras to all police cars, and maintaining a public database of all substantiated and unsubstantiated complaints against officers.
Crisis Intervention
Of the seven recommendations to improve HPD's crisis intervention practices — all of which call for a greater use of mental health professionals and social service agencies when responding to citizens in distress — none have been permanently enacted, according to the city.
But five of those recommendations are expected to be implemented on at least a temporary basis with CARES Act funding upon Houston City Council approval.
Once approved, the city's three-year, $25 million investment in crisis intervention services includes the creation of a crisis call diversion center, expanding to six crisis intervention response teams, tripling the number of mobile crisis outreach teams, and creating a domestic abuse response team, according to the mayor's office.
Additional budget allocations will be required if they are to be adopted permanently.
Field Readiness
The task force presented 20 recommendations to improve HPD officers' field readiness. Of those 20 reforms — all of which aim to "equip and prepare officers for better engagement" — 15 have now been implemented, according to the city.
Those include enhanced officer and cadet training programs, with an increase in the amount and type of de-escalation training officers receive at the academy, and the institution of de-escalation retraining for all officers in the field on a regular basis.
Several of the task force's recommendations related to integrating diversity, equity and inclusion competencies into officer training have not yet been implemented, including additional training on interacting with persons with disabilities and the review and update of the department's implicit bias and racial equity training.
Clear Expectations
The task force laid out five "clear expectations" recommendations that would set "unambiguous expectations for officers so that they feel supported, know what behavior is required, and understand the consequences of their action or inaction."
According to the Office of Policing Reform and Accountability, four out of those five recommendations have now been implemented.
Changes include the report's recommendation to publish disciplinary policies internally and to "stick to them" and the institution of "educational" or "positive discipline" responses to certain cases of officer misconduct instead of "financial discipline."
The single reform under the clear expectations category that remains to be implemented is the task force's recommendation to "promote HPD commanders through the standard, systematic promotional process." HPD is legally bound to adhere to the promotional process laid out under its current contract with the police union.
Below is a checklist of all police reforms the city says it has enacted so far.
For more details on the recommendations, the full report is below: