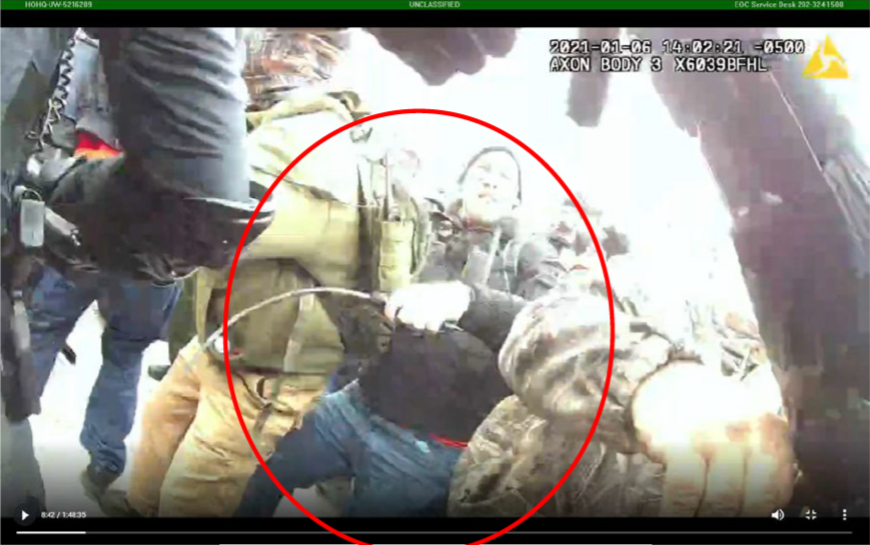 A ninth Houstonian was arrested Friday after allegedly whipping and pepper spraying police officers during the Jan. 6 U.S. Capitol insurrection.
Authorities say Andrew Quentin Taake, 32, flew to Washington D.C. on January 5 to participate in a rally. One day later, he allegedly joined pro-Trump extremists and stormed the U.S. Capitol.
As he attempted to force his way inside, Taake allegedly pepper sprayed multiple officers who had formed a barricade out of bike racks. About 30 minutes later, Taake reemerged from the crowd of rioters and allegedly began striking officers with what appeared to be a whip-like weapon, according to court documents.
The FBI says the alleged assaults were captured by body-worn cameras. Additionally, surveillance video appears to show Taake wandering inside the Capitol building while holding the whip-like weapon in his hand.
MORE | Here Are The Texans Facing Charges In The Wake Of The U.S. Capitol Siege
Days after the attack, an unnamed tipster told federal investigators that Taake had shared details about his participation in the riot via a dating app called Bumble, according to court documents.
The tipster shared screenshots of their conversation, along with photos that Taake had sent of himself — including a photo that Taake claimed was taken "about 30 minutes after being sprayed."
"Safe to say I was the very first person to be sprayed that day," Taake wrote.
Using location data provided by the dating app, the tipster shared a screenshot of Taake's general location on Jan. 6, placing him in Alexandria, Virginia — a town near the U.S. Capitol, according to the sworn affidavit. Investigators say they also found the location of Taake's cellphone, which was located inside or near the Capitol building during the attack.
In May, authorities positively identified Taake after showing photos of him to a FedEx delivery driver who had just dropped off a package at Taake's doorstep.
Taake is now facing federal charges, such as assaulting, resisting or impeding certain officers, obstruction of an official proceeding, knowingly entering a restricted building, and disorderly and disruptive conduct in a restricted building. Taake made his initial court appearance in the Southern District of Texas on Friday.
There are now at least 53 Texans facing charges in connection to the riot — that number includes nine Houston-area residents.