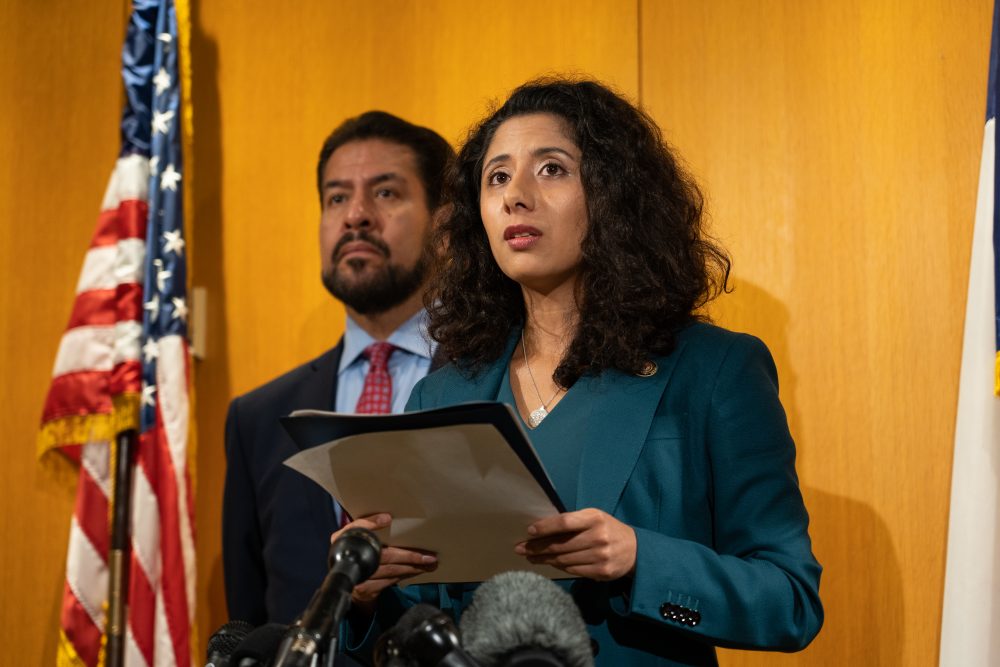 Harris County Commissioners Court on Tuesday voted unanimously to spend $2.5 million on three emergency response dockets, in an effort to reduce a massive backlog in criminal court cases.
The funding will be used to hire three visiting judges and support staff to work through 1,000 of the longest outstanding criminal court cases. It will also be used to cover office space and hire additional attorneys to help work through the backlog.
In a press conference ahead of the court session, Democratic County Judge Lina Hidalgo said she expected to be able to have the visiting judges in place by the end of August, for a total of six months.
"This is an emergency initiative. It is to break a vicious cycle of crime and incarceration, and make a meaningful dent in our crime rate," Hidalgo said. "We need to invest in what works."
The county currently has a backlog of roughly 100,000 criminal court cases, partly due to the closure of courts after Hurricane Harvey and aggravated by court closures in the wake of the COVID-19 pandemic. About 40,000 of those are "well past" national standards for length of wait time, including an increase of more 40% since Harvey struck, Hidalgo said.
Of those 40,000, Hidalgo said about 1,000 are among the oldest and "most dangerous" cases.
"We're talking around three years old," Hidalgo said. "We're talking murders, rape, aggravated assault. Those are cases that are sitting in our dockets right now, and more must be done there."
The measure received bipartisan support: Democratic County Commissioner Adrian Garcia offered the motion supporting the proposal, while Republican Commissioner Tom Ramsey seconded it.
Underlying much of the discussion was concern about judges issuing multiple bonds to people accused of repeat violent offenses. That issue is the focus of the Republican-backed Senate Bill 6, currently before the special session of the Texas Legislature, which would make it more difficult for people accused of certain crimes to bond out.
SB 6 is effectively dead as a result of the walkout of House Democrats, but Gov. Greg Abbott is likely to include it in a call for a future special session.
"I think it's important that we show bipartisan support in terms of dealing with our crime pandemic," Ramsey said. "It hasn't just been two people on (Commissioners) court. It's been five people on court advocating that something be done about these (criminal) courts, about these judges and what they do. In many ways they're dysfunctional, and something has to be done."
Ramsey also requested approval of a resolution supporting SB 6. The resolution had not yet come up for a vote as of 12:30 p.m. Tuesday, but is unlikely to get the support it needs from members of the court's Democratic majority.
The move comes as part of a series of actions Harris County is taking to reduce the backlog of criminal court cases. Among those steps, county leaders have approved $17 million in funding to expand jury operations at NRG Park, hire additional associate judges, and upgrade body cams and other law enforcement equipment.
County leaders also approved additional overtime for detectives for the Harris County Sheriff's Office for dealing with the most violent crimes, and passed a resolution calling on the Texas Legislature to create an additional district criminal court in the county. That initiative passed the Legislature during its regular session.
The backlog has also stressed the resources of local prosecutors. On Tuesday, Harris County District Attorney Kim Ogg told Houston Matters that she was directing her office to prioritize violent cases.
"It's at crisis level but there are solutions," Ogg said. "I think we're working toward some very positive changes."
Hidalgo described the current court backlog as an emergency situation for victims and the accused alike.
"Justice delayed is justice denied," Hidalgo said. "Justice denied for the victims of crime, and justice denied for those accused of crimes, some of whom are inevitably innocent."
Additional reporting by Lucio Vasquez and Paul DeBenedetto.