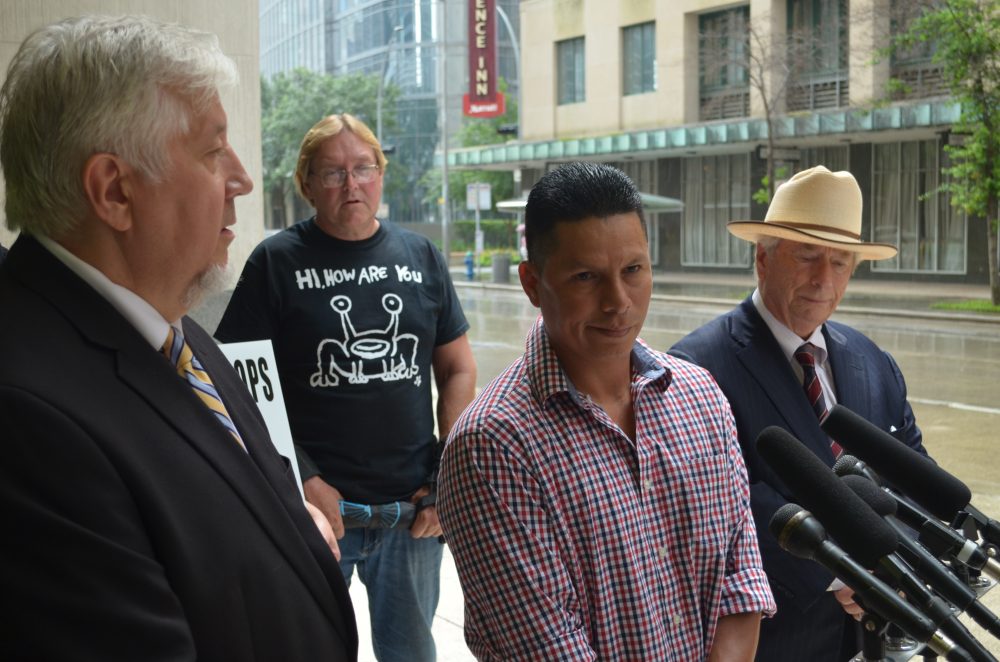 After three years of litigation, a federal jury awarded a Houston man more than $1 million in a case alleging police violence.
Jose Gomez, who works for a moving company, was awarded $1.075 million in damages for injuries he sustained from a traffic stop arrest on the Near Northside on March 29, 2017.
The court ruled two officers, Jacob Simmerman and Christopher Heaven, used excessive force and violated Gomez's constitutional rights.
"The city attorneys, they fought rigorously," Randall Kallinen, one of Gomez's attorneys, said at a news conference Wednesday in front of the Houston Police Department downtown. "They paid tens of thousands of dollars for experts and for litigation to stop Jose from getting his day in court, but it didn't work. Because you know why? Because of the Constitution of the United States."
According to court documents, Simmerman, Heaven and a third officer, Ron Kloeppel, pulled Gomez over for an alleged minor traffic violation and asked him to get out of the car when he couldn't immediately produce his driver's license.
Simmerman attempted to handcuff Gomez right away, according to the documents, and body camera footage shows the officers forcing Gomez on the ground and pulling his arm up behind his back, causing Gomez to scream.
After being booked into jail, Gomez was taken to Ben Taub Hospital for evaluation, including X-rays of his arm and back, according to court documents.
Photos provided by Kallinen show injuries in Gomez's face and a red and swollen arm at the time. He said the injuries affect Gomez to this day and present challenges for his job.
Gomez was initially charged with resisting arrest, but the charge was later dropped, according to court documents.
"He's an honest man, family man," Gomez's criminal defense attorney Mike DeGeurin said. "Never had a traffic ticket, never been arrested before."
DeGeurin said he called Kallinen, who is a civil rights lawyer, after the prosecutor dismissed the criminal case.
The Houston Police Department's internal affairs division investigated the officers' conduct but found they didn't violate policy.
"We need to get outside investigators into issues of police misconduct," Kallinen said. "This police department and its administration have shown time and time again a cover-up."
He also repeated his frequent call for a stronger police oversight board.
A recent executive order from Mayor Sylvester Turner created a board of 21 volunteers supported by a full-time investigative staff headed by a deputy inspector general, called the Office of Policing Reform and Accountability. But it doesn't have subpoena power, as those in some other cities.
Officer Kloeppel, who was part of the traffic stop but didn't use force, was dismissed from the lawsuit.
In a statement in response to the jury verdict, City Attorney Arturo Michel pointed out that the court previously dismissed the city of Houston from the lawsuit because it found no liability by the city.
The statement goes on to say: "The Houston Police Department Internal Affairs Division fully investigated this incident and found both officers to have acted within policy at the time and acted as reasonable prudent officers. The testimony and evidence established that. Unfortunately, the jury disagreed. We respect the process, but the City disagrees with the verdict."
A previous version of this story mistakenly identified Gomez's criminal defense attorney as Dick DeGuerin. It's Mike DeGeurin.