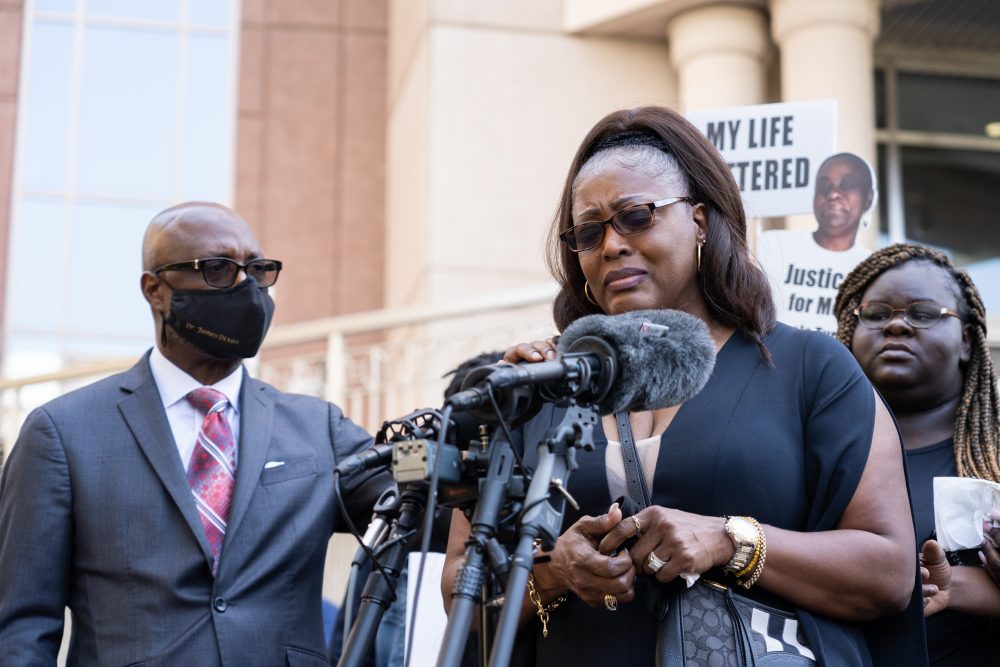 TODAY IN HOUSTON | Start your day with HPM's morning newsletter
Updated 6:09 p.m. CT April 8
The family of Pamela Turner, a Black woman who was killed by a Baytown police officer in May 2019, filed a wrongful death lawsuit against the city in federal court Thursday.
The suit lists as defendants officer Juan Delacruz, the city of Baytown and Cypress Point Equity Partners, which manages the apartment complex where Tuner lived and died.
Turner family lawyer Ben Crump joined the family for a news conference downtown and filed the lawsuit in Houston's federal courthouse.
"What (Delacruz) did was not extend any consideration, any professionalism or any humanity to Pamela Turner," Crump said.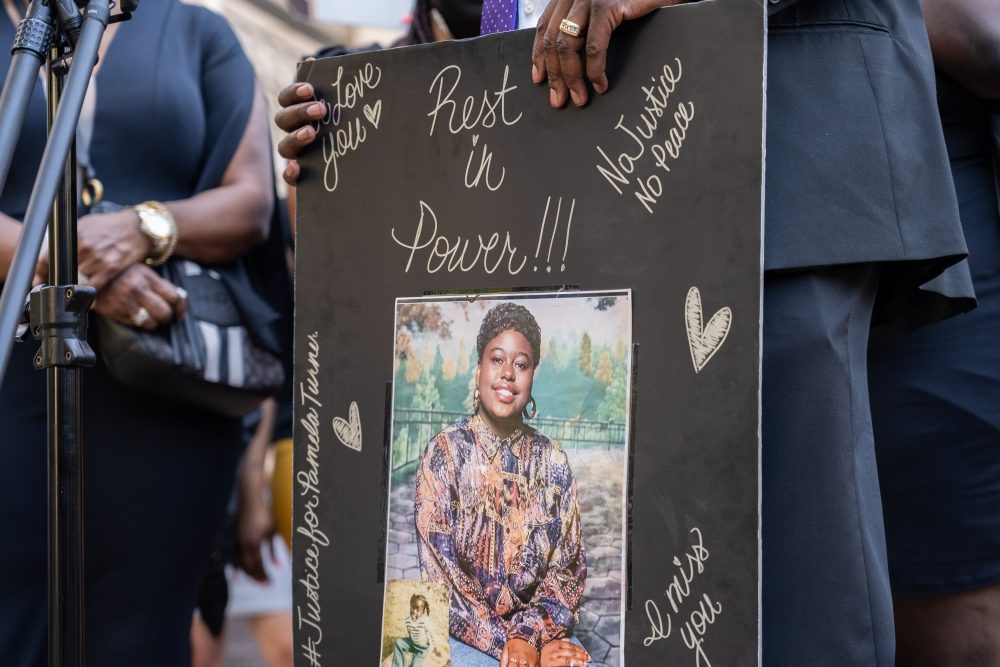 April 8 would have been Turner's 46th birthday. Her daughter, Chelsie Rubin, said it was a very hard day.
"I should be calling my mother and singing happy birthday this morning," she said. "But instead I'm standing in front of all of you fighting once again to try to bring recognition and demand the justice that my mom deserved and should have been offered a long time ago."
Those present at the news conference sang happy birthday and released purple balloons in the sky.
The lawsuit alleges the Brixton apartment complex manager harassed and made fun of Turner for her mental health issues. As a result, the suit states, Turner allegedly broke the manager's glasses and, according to court documents, scratched the manager, and was later charged with misdemeanor criminal mischief and assault.
Because Turner failed to appear in court, two arrest warrants were issued for her.
The lawsuit then implies Delacruz, who also worked as a security officer at Brixton Apartments, tried to arrest Turner to help the apartment complex evict her.
Turner would refer to Delacruz as "robocop," according to the suit, and was "terrified" by him because he had previously "threatened to shoot" her.
It says Turner received an eviction notice on May 13.
"On the same date, at around 10:40 PM, De la Cruz just happened to be 'patrolling' the parking lot of The Brixton Apartments, near Turner's apartment building, when Turner arrived home," it reads.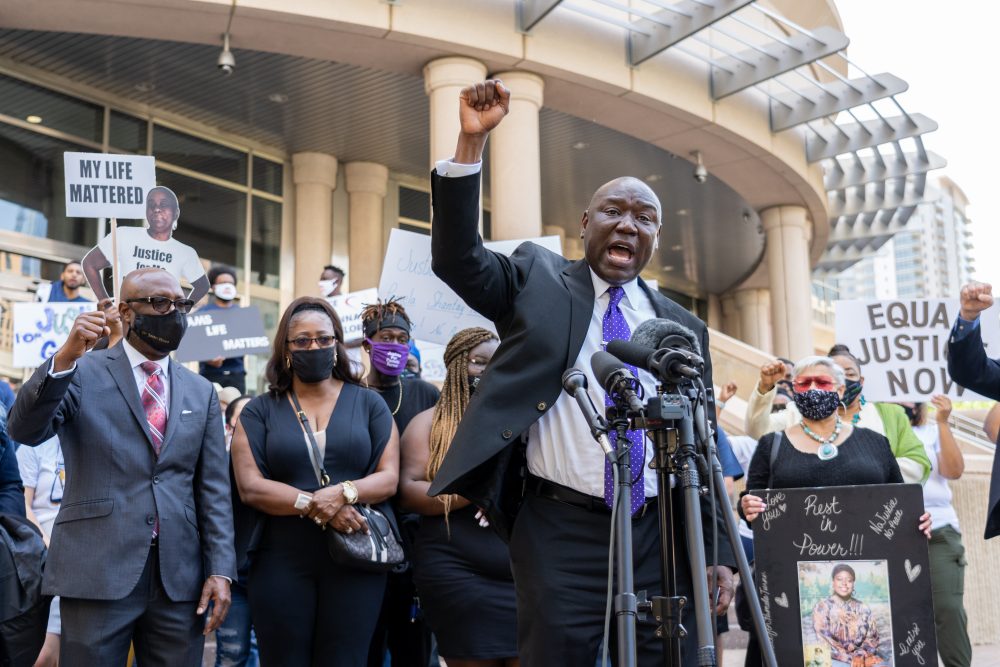 Delacruz "just happened to know" about Turner's arrest warrants, the suit says, and proceeded to arrest her, which "would resolve Cypress Point and De la Cruz's problem of where to send Turner when she was removed from her apartment," the lawsuit claims.
The suit goes on to allege that the city of Baytown failed to properly train its police officers on how to deal with mental illness and how to handle a situation when someone gets a hold of an officer's Taser.
It accuses Cypress Point Equity Partners of violating the Fair Housing Act and discriminating against Turner because of her mental illness.
It also alleges the city knew its police officer were routinely assisting with evictions from private housing, and accuses Delacruz of using excessive force.
The Baytown Police Department said officer Juan Delacruz shot Pamela Turner on May 13, 2019, at her apartment complex, after a struggle in which police said she took his Taser. Delacruz's lawyer says he acted in self-defense.
A witness captured the incident on video and shared it on social media at the time.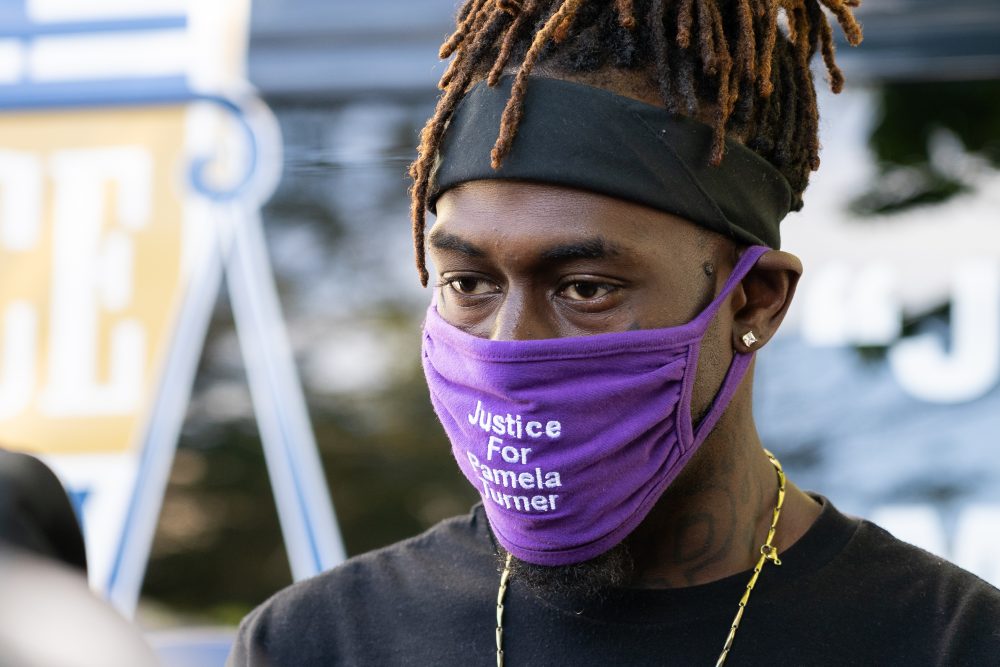 Crump said the officer had no reason to shoot because he had already deployed the Taser. Houston Public Media previously reported that the Taser couldn't shoot more darts without being manually reloaded.
A Harris County grand jury indicted Delacruz last year on one charge of aggravated assault by a public servant. He's facing five years to life in prison.
The officer's attorney, Greg Cagle, has said Delacruz had no choice but use deadly force because the Taser could still inflict pain as a stun gun and the deployed wires could still have incapacitated him if he had stepped on them.
Turner family co-counsel Devon Jacob disputed that fact, saying the Taser wires were still attached to Turner at that point, so she would have tased herself had she pulled the trigger.
The suit asks for punitive damages in an amount "as permitted by law."
Crump is also representing the families of George Floyd and Breonna Taylor, whose deaths at the hands of police have also caused nationwide outrage.
Breonna Taylor's mother Tamika Palmer was also at the news conference, traveling from Kentucky in a show of solidarity.
"Black women show up for everybody," she said. "I don't understand why we have to fight for anybody to show up for us."