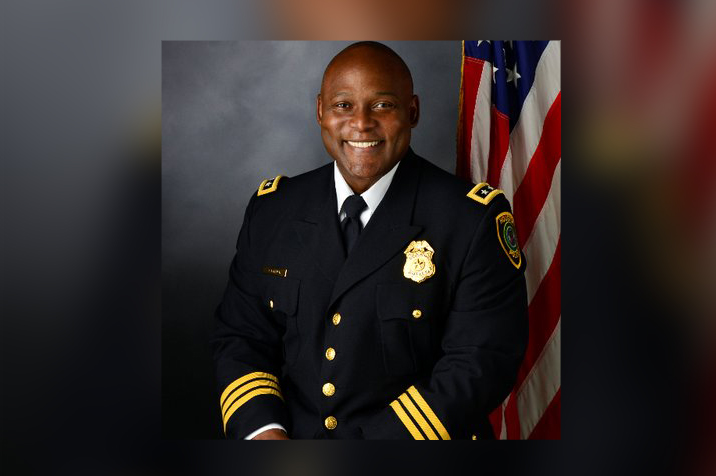 The Houston City Council on Wednesday formally confirmed Mayor Sylvester Turner's pick for the city's new police chief, current Executive Assistant Chief Troy Finner.
Finner will take over from outgoing Chief Art Acevedo on April 5, after Acevedo accepted the a position leading Miami's police force.
Houston Public Media spoke to Finner about his new role.
This interview is edited for length and clarity.
On his vision and priorities for the Houston Police Department:
The priorities, it has to be just as for any other major city right now: the surge in numbers of our homicides. So it has to be at the very top of the list, getting those numbers down. But at the same time the challenge is make sure that you're building trust while you're doing that.
Another main point is to be more transparent. Everywhere I go the last four or five days, the number-one topic people are saying: "body-worn camera, body-worn camera, when are y'all going to start releasing?" There's a few key people in the criminal justice system that I want to meet with. And here pretty soon, you're going to see in my administration we're going to release a policy going forward.
On tackling the rise in violent crime
The murder rate and the crime rate is not a problem that can be dealt with in isolation by police only, when there's a breakdown due to COVID of all of our social services and other aspects, and when you have a criminal justice system that has cracks in it. Now, I said early on and I want to be crystal clear: I'm not one who's going to throw stones at other partners in the criminal justice system. What's needed right now is honest talks behind closed doors with key people in the criminal justice system to see how we work together to reduce this crime. Also in our community: The greatest crime fighting tool we have is the community, with homicides and especially solving those homicides. I've been a police officer for 31 years, and one thing I know to be true, police don't solve a whole lot of crime, especially murders, on their own. It's with the help of the community. And that help comes when there's a lot of trust. So we've got to make sure as we're doing overtime programs, or whatever initiatives we're doing, we're also building trust.
I can tell you that the FBI director came in town (Tuesday), we had a very good meeting with all of our federal partners. And I don't want to go into details until we come up with our final plan, but there's going to be a laser focus on violent criminals in our city and our county. We're going to bring the full force of local enforcement, and with the cooperation of federal agencies, we're going to go after those few individuals that are shooting and killing people in our area.
On recommendations from Houston's Police Reform Task Force:
We're implementing a lot of those recommendations, including regarding the release of body worn camera footage. Now, some of the recommendations have a price tag attached to it, and the funding is not there yet. Other ones have to go through the state Legislature or by way of having a meet and confer contract. So we have to wait until that process goes through. But what we need to give to our public, to me, is a report card. And in coordination between the police department and the mayor's office, we need to roll something out here pretty soon and just let our public know where we are. And we've had those conversations with the mayor and he's demanding it to get out. So I think that you'll see something coming out pretty soon.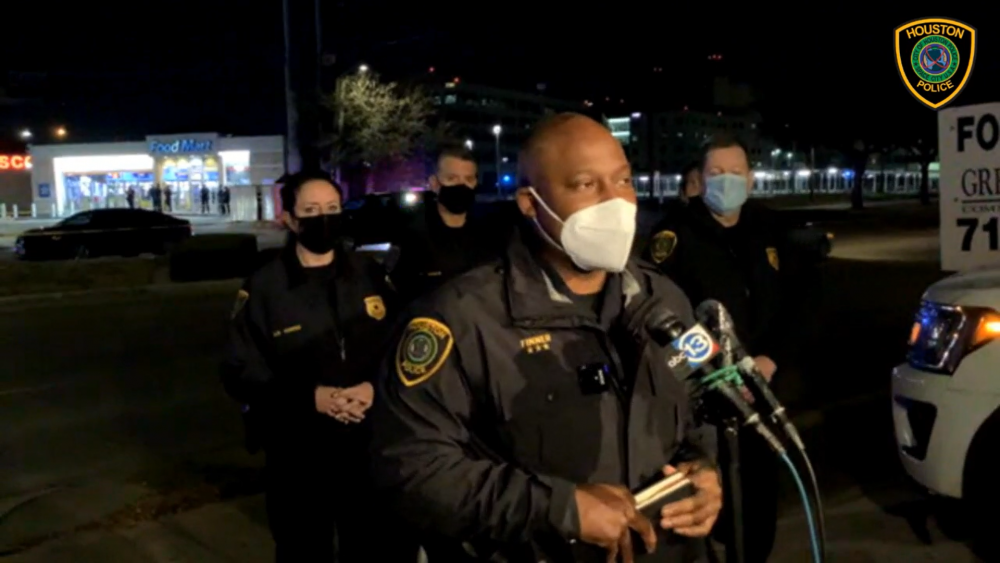 On holding police accountable:
Hey, it's real simple with me: If the police officer is wrong, or if Troy Finner is wrong, guess what? I'm wrong, or the police officer is wrong. You've got to call the truth. You've got to hold people accountable. And if we're doing something wrong, fess up. Let's learn from it. If we need to change policy or we need to change tactics, that's what we do. But you don't cover up. I think when you do that (be transparent), people understand and they can trust you. Because let's be honest: 2.3 million people in this city, a heck of a lot of crime, a lot of violence out there — there are going to be incidents where there's conflict between some citizens and a few of our police officers, OK? So we have to learn from it, but we have to be honest about it.
On recent high-profile lawsuits against HPD:
When you take the seat of a police chief in a major city, you've got to expect lawsuits to come in, and nobody has the magic clock of when they're going to come in. But I just want to make sure that we're doing the best that we can do, to make sure that the sanctity of life is most important to us. And we're looking every day at our policies, our procedures and our tactics to make sure that we're doing the best that we can do. And I think when you do that, you put yourself in a pretty good position. And we look at all our critical incidents, we've got to address some training issues, tactical issues. We always do that to get better.
MORE | Family Of Nicolas Chavez Sues Houston, HPD For $100 Million After Deadly Police Shooting
On the fallout from the deadly botched 2019 Harding Street raid:
That's one case. We respond to over 1.5 million calls for service, and the great majority of those cases, officers do a good job. But I'm also not going to sit back and try to cover up or not bring light to an incident where officers violated the law, and they violated our policy. We did our investigation. We submitted that to the district attorney's office. Now it's on them to do what they need to do. But we're moving forward with our agency. I think it's important.
All our thousands of officers, they go to work every day and really do a great job. When everybody's running away from danger, they're running into it to protect people. I want to applaud them.
On whether he will be doing things differently from Chief Acevedo:
I don't want to compare myself with anybody. I'm comfortable in my skin. I'm comfortable with who I am. I'm comfortable with who I have been as a leader. I will say this about Chief Acevedo: He's somebody who I really respect, who I've worked for and with for four-and-a-half years. And we've been through so many critical incidents, natural disasters and whatnot. But I'm my own person, and I'm not going to do my administration in relationship to what he did and what he didn't do.
On being a Houston native:
I was born in Fifth Ward but raised in Hiram Clarke. Wherever I'm from, I'm Houston born and Houston raised. And it is a great honor for me, in a few weeks, to take the top seat. So many great citizens in our city, a great department, a great leadership with Sylvester Turner and the support from City Council. I knew I had a lot of support, but I never knew that I had this amount of support inside and outside of this agency.
Four days it took me to return the texts and emails of so many people wishing me well. I don't take that lightly. I'm so humbled. But in that, I'm ready to move our agency forward.