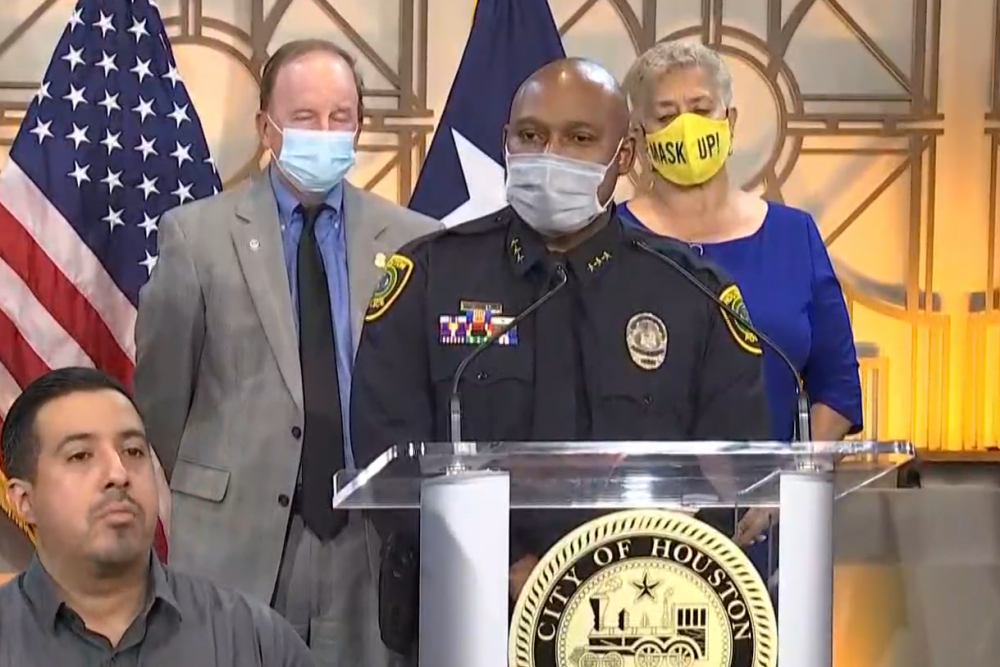 Updated 5:09 p.m. CT
Mayor Sylvester Turner on Thursday named Troy Finner the new chief of police in Houston, after current Chief Art Acevedo announced he was leaving to lead the Miami Police Department.
Finner previously worked as executive assistant chief under Acevedo.
At a press conference Thursday, Turner praised Finner for his three decades of service, and as someone who valued the diversity of Houston.
"Chief Finner is a 31-year veteran of the Houston Police Department and a highly regarded law enforcement officer in the Houston Police Department," Turner said. "He has earned the trust and respect of people in every corner of our diverse community."
Turner also thanked Acevedo for his service.
"I firmly believe, as I said on Monday, that he was the right person at the right time," Turner said of his outgoing chief.
In accepting the role, Finner thanked the mayor and said he would work to build new relationships with the people of Houston, and strengthen existing ones.
"I don't ever take it for granted, the relationships that I have in this city," Finner said. "The respect that I have, I will never violate that."
Finner, a native of Houston's Fifth Ward and a 31-year veteran, began his career in 1990 and has worked in units across the department, including as assistant chief of south patrol command, in traffic enforcement, the emergency communication division, mental health division, and the department's gang division.
The new chief pointed to a rise in violent crime as his No. 1 priority, and said reducing homicides while building community trust would be at the top of his agenda, as the department continued to deal with the challenges of COVID-19.
"I hope that I've learned from everybody I've been around, including Chief Acevedo," Finner said. "You take that and you build yourself up. And that's what I think I've done. I think I'm ready, but it ain't just about me. And that's what people miss sometimes. It's about our collective team."
MORE | Houston Leaders Grapple With Continued Rise In Violent Crime
Any pick still technically needs to be confirmed by the Houston City Council, which Turner said would happen as soon as possible. The next council meeting is Wednesday.
Acevedo said this week that he recommended one of his two executive assistant chiefs — Finner or Matt Slinkard — to replace him.
At Thursday's press conference, Finner confirmed that Slinkard would remain with the department going forward.
"Matt and I made the pledge that whoever got it, the other one was going to stay here and help build this city," Finner said.
Turner also announced Slinkard's role would be elevated with a new title, executive chief. Two new executive assistant chiefs will now report directly to Slinkard.
In his comments, Slinkard praised Finner, and touted the relationship they shared under Acevedo. Together, the two men had an almost combined 60 years of service, Slinkard said.
"To my friend and my new boss, Chief of Police Troy Finner, words of the English language are woefully inadequate to express how I feel about you," Slinkard said. "I love and respect you as if you were my own flesh and blood."
Acevedo also attended the press conference, but stood offstage and did not make any remarks.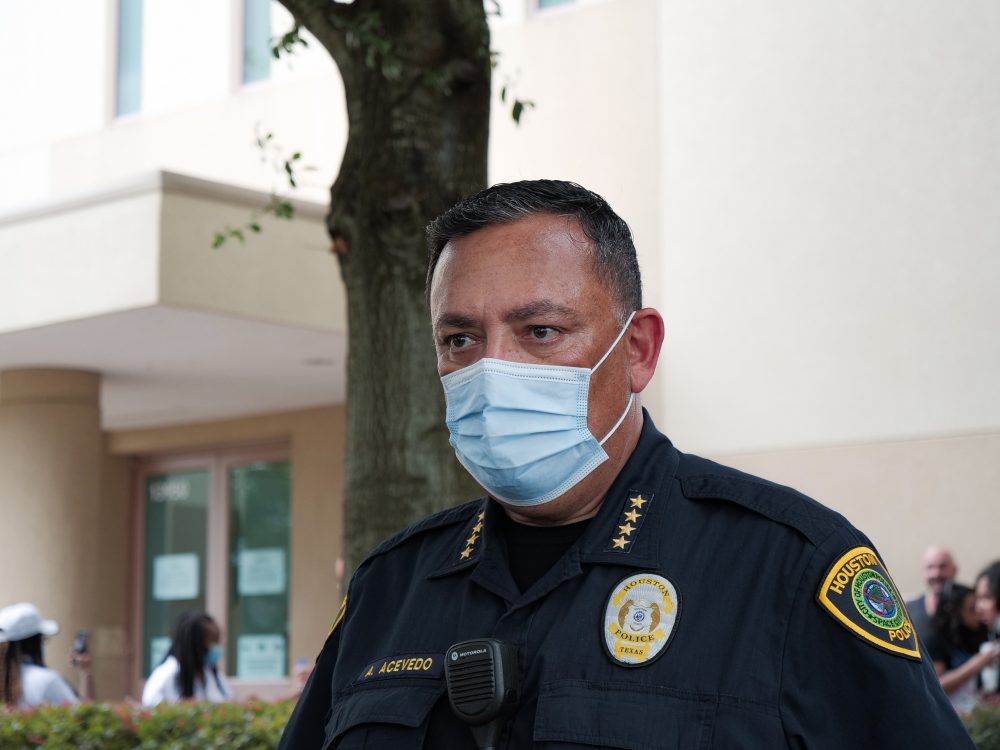 The new chief will inherit a department in the midst of a reform movement, just months after Mayor Turner's police reform task force made more than 100 recommendations, including changes to the Independent Police Oversight Board, expanded training for cadets, training for mental health interventions, and more.
Finner said the department was already working with the city to enact some of those recommendations.
The task force was put together in the wake of the killing of George Floyd at the hands of a Minneapolis police officer, which led to worldwide protests, including days of protests in downtown Houston.
Acevedo was praised nationally for his performance during those protests, in which he marched peacefully with demonstrators and engaged in dialogue with groups throughout.
But locally, the department was also criticized for arresting hundreds of peaceful protestors, most of which had their charges dropped by the district attorney. And after those same protests, a viral video appearing to show a Houston woman being trampled by a police officer on horseback circulated on social media. That woman later sued the city and HPD.
MORE | As HPD Chief Departs For Miami, City Officials And Activists Push For More Police Oversight
Finner also inherits a department in the wake of a major scandal involving its narcotics unit. In 2019, a no-knock raid at a home on Harding Street in Pecan Park led to police shooting and killing two people. The lead officer on that assignment, Gerald Goines, later admitted to concocting a story about a confidential informant to justify the raid, according to prosecutors.
Twelve HPD personnel have since been charged in connection with the raid.
After Turner's announcement on Thursday, city and county officials praised the new chief.
"I've known Chief Finner since 1994," read a statement from Harris County District Attorney Kim Ogg. "Back then we worked together to develop innovative and effective ways to combat crime in the Gulfton area. I have full confidence that we can combat crime and treat the community fairly in the future on a citywide basis. He is well liked and well respected and can bring a sense of unity and public safety to the community."
Tarsha Jackson, newly elected council member for District B, congratulated the chief on his new post, and said she looked forward to working with Finner to improve public safety and reform the department.
"Mayor Sylvester Turner today made the best decision possible for the City of Houston," Jackson wrote in a statement. "Chief Troy Finner is a man who is respected and loved by the community, a man of the highest integrity, and will be more than capable in leading our police department."
But not everyone was happy about the announcement.
Durrel Douglas, the founder and executive director of the advocacy group Houston Justice, criticized the mayor for not doing more outreach ahead of his pick, especially among those who have been critical of the police force in the past. Last year, Houston City Council heard more than two hours of public testimony over the city budget, in which many members of the public testified against giving the police more money.
Despite the pushback, the budget passed unanimously, with a $20 million increase for the police department.
On Thursday, Douglas said he was alarmed by a lack of transparency in choosing the next chief.
"Here we have a mayor who's been in public office for some 30 years, yet didn't ask a single Houstonian," he said. "He is showing us that he is sort of the king of Houston, not the mayor."
Additional reporting by Matt Harab.