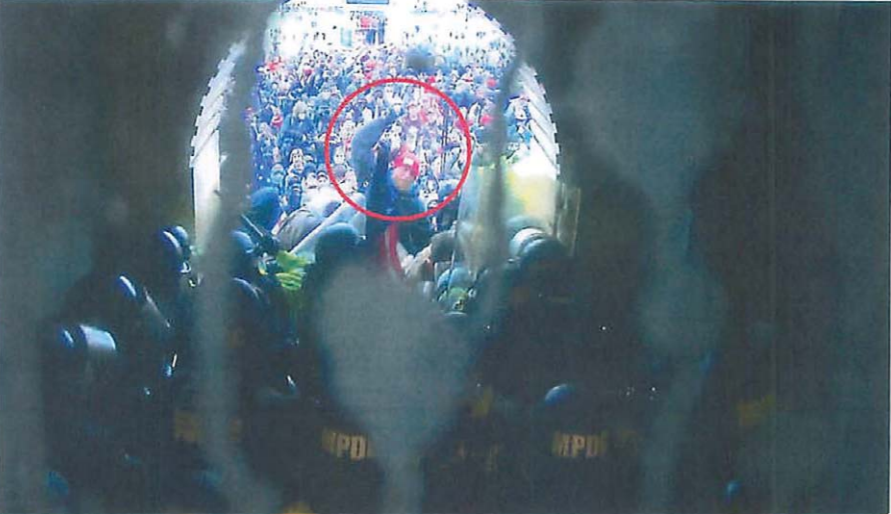 A fourth Houstonian was arrested Friday for allegedly storming the U.S. Capitol on Jan. 6 during the insurrection led by supporters of former president Donald Trump, the FBI said.
Shane Jenkins, of Northwest Houston, was picked up at his home Friday morning after a tip led the FBI to several publicly available videos appearing to show the man smashing a U.S. Capitol window with the metal survival hatchet and throwing a flagpole and a metal pipe at federal officers, according to court documents.
Investigators say they also found social media accounts linked to Jenkins, where a video was uploaded by Jenkins himself at the riot. Someone in a red Nautica hat with tattoos allegedly matching Jenkins', including the words "MAMA TRIED" across his neck, can also be seen in video footage captured by security cameras and body cams worn by Capitol police, according to court documents.
MORE | Here Are The Texans Facing Charges In The Wake Of The U.S. Capitol Siege
A parole officer, who had been assigned to Jenkins for several years, reportedly identified Jenkins for authorities using publicly posted photographs.
Jenkins is now facing federal charges, including assault on a federal officer, destruction of federal property, civil disorder, knowingly entering or remaining in a restricted building or grounds, disorderly or disruptive conduct in a restricted building or grounds, and knowingly engaging in violence in any restricted building or grounds.
There are now at least 26 Texans facing charges related to the Jan. 6 insurrection.
That number includes four Houston-area residents.
Former Houston police officer Tam Dinh Pham resigned from the force earlier this year and was later arrested for allegedly traveling to D.C and taking part in the riots, where photos from his phone allegedly showed him hoisting a Trump flag printed with an obscenity in the Capitol rotunda.
Spring resident Joshua R. Lollar was allegedly picked up after pushing through a police line and breaking into the Capitol building, according to court documents.
And Wilmar Montano Alvarado was arrested by the FBI's Houston division after they said he entered the Capitol building with other rioters. Alvarado was picked up after a Fox 26 interview where he told reporters he flew to D.C. because he believed that the election was stolen.