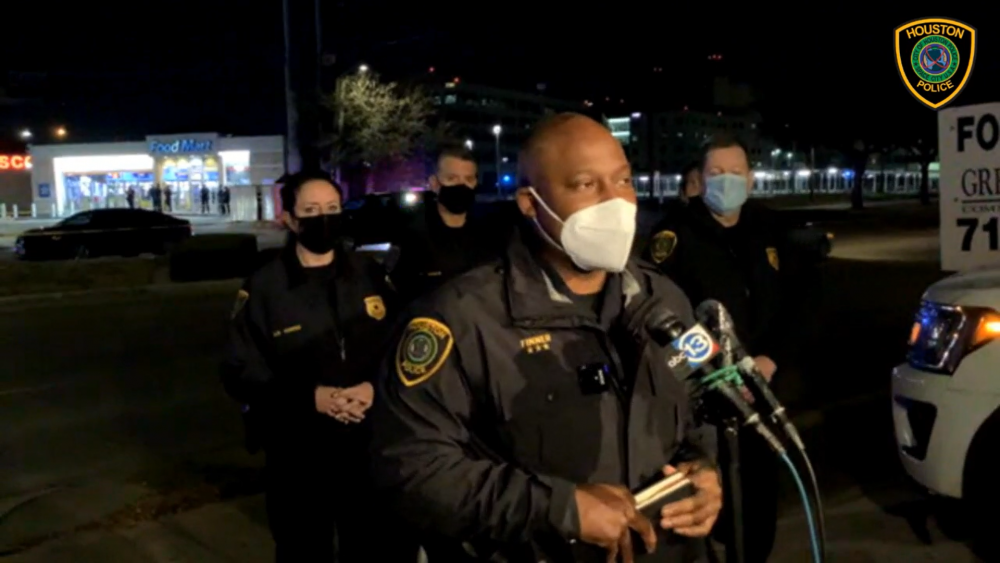 A Houston police officer shot and killed a robbery suspect and accidentally struck a 1-year-old boy in the head Wednesday night, police said.
Police said the baby was taken to a hospital and is in stable condition.
According to the Houston Police Department, officers were investigating a string of aggravated robberies in southwest Houston Wednesday and shortly before 11:30 p.m. pulled over a suspect, who then drove away.
After a short chase, the suspect crashed his Mercedes and got out of the car at a Chevron gas station at Beechnut Street and the Southwest Freeway with a gun, police said.
Assistant Chief Troy Finner said the about 30-year-old suspect jumped into the car of a mother who was pumping gas, with her one-year-old baby in the backseat.
Video surveillance released by the gas station store and published by KHOU shows officers immediately surrounded the car. Police said at this point both the woman and her baby were in the vehicle and the officers feared the suspect might harm them.
"They gave the suspect commands to drop the gun, he refused," Finner said. "One of our officers, a 15-year veteran out of Midwest Division, fired several shots."
He said officers administered first aid to both the baby and the suspect. The baby was taken to a hospital in stable condition, but the suspect died at the scene.
His identity is pending verification by the Harris County Institute of Forensic Sciences.
Finner asked people to pray for the 1-year-old and his mother.
"Can you imagine," he said. "She's pumping gas, she's probably coming from work or whatever, wherever she was going, and have to go through this."
He said the officer is "deeply concerned and hurt" about shooting the baby.
"They showed up tonight, him and his partner and the other officers who were out here on the scene, to protect lives, not to hurt anybody," Finner said.
As is customary when an officer fires a gun, he was placed on administrative leave pending an investigation by HPD's internal affairs division, special investigations unit and the Harris County District Attorney's Office.