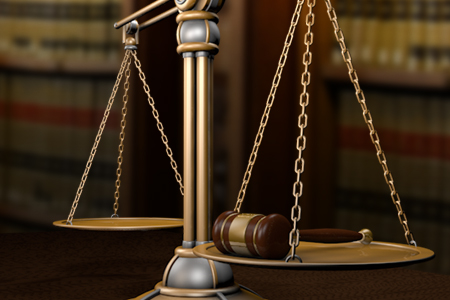 The death of Houston police Sgt. Sean Rios has again sparked a debate about the effects of bail reform.
Robert Soliz is accused of killing Rios in a gunfight off North Freeway on Monday.
He was arrested a day later and is now in jail on a total bond of $700,000 for a murder charge and two unrelated aggravated assaults for which police identified him as the suspect.
But some police officials are saying he should have already been locked up after he was caught with a gun and marijuana in his car in February. Instead he posted $100 bail and was released.
"We've got to take people that are bad people carrying guns, we've got to take them serious," Houston police Chief Art Acevedo said this week. "They have no fear of carrying guns. They go in one door and out the other and that's a problem."
The president of the Houston Police Officers Union, Joe Gamaldi, on Twitter blamed Harris County's recent bail reform, put in place in response to a federal lawsuit that found the county's misdemeanor bail practices to be unconstitutional.
"Sgt Rios death was avoidable, like many others who have lost their lives in our community because of sweetheart deals from DA and bail reform," he wrote.
Sgt Rios death was avoidable,like many others who have lost their lives in our community because of sweetheart deals from DA and bail reform.

The elected officials who did this fail to take responsibility or even admit theres a problem. It's disgusting and we are paying dearly. https://t.co/7XTeSPGbCX

— Joe Gamaldi (@JoeGamaldi) November 11, 2020
Criminal justice professor Kevin Buckler at the University of Houston-Downtown said it appears that $100 bail was set automatically – something Harris County bail reform established in certain misdemeanor cases.
But he cautioned against using that to make generalizations about reform.
"In the system, the misdemeanor system, where we do have comprehensive bail reform, we haven't seen the extent of the problem compared to the state district courts in terms of people being released and committing violent offenses," he said.
A September report from the federal monitor overseeing Harris County's bail practices found it did not lead to an increase in reoffenses.
The lawsuit, filed by civil rights groups, accused the county of violating due process and equal protection measures of the U.S. Constitution, arguing that two people charged with the same misdemeanor offense could be treated differently based on their ability to afford bail. Indigent defendants were more likely to spend time in jail pretrial than people who could afford bail.
State district courts handle felony cases, which are not affected by the county's bail reform, though a similar lawsuit challenging the use of cash bail in felony cases is currently in front of a federal judge in Houston.
Buckler said if anything, statewide bail reform is needed to improve methods to predict someone's probability to reoffend.
"We want to proceed with bail and inform judges' discretion in the best and most equitable way that we can," he said, "and along the way try to improve those instruments to the extent possible but have some guidance there for judges when they make those very important decisions."
The HPOU also pointed to some plea deals prosecutors offered Soliz, which reduced two previous felony charges to misdemeanors, a firearm theft in 2018 and evading arrest in 2016.
A spokesman for DA Kim Ogg did not immediately respond to a request for comment.
Police said Rios, who was off duty at the time of Monday's gun fight, may have stopped on his way to work to intervene in a shooting.
Soliz's attorney, Paul Looney, doubted this narrative, claiming there are no witnesses for it.
But prosecutors named several people who said they witnessed the shooting and that a man matching Soliz's description was shooting at the officer out of a cactus nursery at the North Freeway and Stuebner Airline.
Looney said the Houston Police Department has a conflict of interest in the case.
He said more than a dozen police cars pulled him over and officers pointed shotguns at him and Soliz, as he was on his way to turn his client in to the Harris County District Attorney's Office on Tuesday.
"They knew exactly when I was bringing him in and they did this," he said. "And they could have only done it because their judgment and their perspective is obscured by the fact that there's the death of one of their own."
Looney said he wants the Harris County Sheriff's Office or the Texas Rangers to take over the investigation.
In response, the Houston Police Department said on Twitter that it is "committed to conducting a fair, thorough, and impartial investigation."
It added that the DA's civil rights division is also investigating.
Additional reporting by Paul DeBenedetto