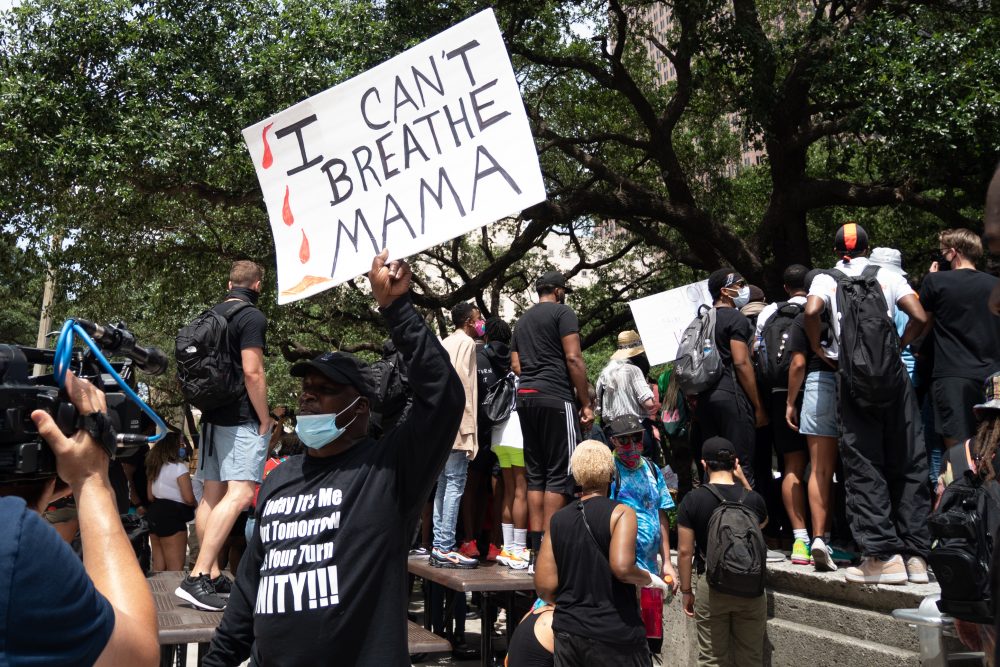 Just this month, there were two major developments in Houston-area police shootings.
Last Thursday, Houston police Chief Art Acevedo announced the firing of four officers involved in the fatal shooting of Nicolas Chavez. And on Monday, a grand jury indicted Baytown police officer Juan Delacruz for the death of Pamela Turner last year.
Also this week, in Kentucky, the family of Breonna Taylor was awarded $12 million for her death, which also led to some changes to the Louisville Police Department.
To understand whether these recent developments signal a change in how police shootings are handled, Houston Public Media spoke with the director of the Criminal Justice Institute at the University of Houston Law Center, Sandra Guerra Thompson.
Listen to the interview below, or read some excerpts edited for length and clarity.
On whether she is seeing real change:
I think we've seen changes over the past 20 years, at least in how we respond to police shootings. And now with the advent of cell phones and video as well as the use of body cameras, I think people are getting a different perspective that just wasn't available before and that has made a difference in many cases, in terms of not only the perception of the events and having a better understanding of what happened, but also from a prosecutorial perspective of having the evidence that would be needed in those cases where prosecution might be appropriate.
Prosecutors rely on grand juries to indict. Prosecutors do have a lot of control but at the same time it's ultimately in the hands of citizens of the county as to whether the charges should be leveled, and so there may just be a change in terms of how society views these things. We've also had a change in terms of the grand jury and how grand jurors (in Texas) are selected now and that may have an effect as well. So I think it's sort of a cumulative impact of a lot of different societal as well as legal changes that we've been seeing.
On police reform:
It's hard to say what will be done. I know that even among law enforcement circles we've seen a lot of attempts to change their own approach, in particular with regard to mental health. In Houston and Harris County, we've had some real leadership in terms of developing special units that would respond to mental health crises. But these are enormous law enforcement offices that we're talking about. The area they have to cover is huge. Inevitably, there are going to be some situations where you have law enforcement coming into contact with people who are in the midst of a mental health crisis. So they try to train officers, obviously, as well as they can to respond to these situations, but we have seen changes even coming from law enforcement itself in terms of trying to do a better job of responding to what's really a mental health crisis.
On the resistance of police unions to change:
The police union – like any other union or professional organization – their job is to support their members and they do a very effective job of that. But I think that what we normally see is the city – the mayor's office and council – negotiating with the union when it's time to renew contracts and such and sometimes we can make some progress. And the other way that reform happens is at the legislative level. So regardless of what a local union may advocate for, if there's enough sentiment that some kind of reform is needed, we have seen the state legislature step in and change the rules in a way that it thinks is appropriate.
On calls for cutting police budgets vs. calls for more officers:
When crime goes down, the argument is that we need more police because it's working and they're keeping us safe. And when crime goes up, the argument is we need more police because crime is going up. So there always seems to be arguments in favor of increasing police budgets. One thing that the conversation is causing us to think about now is instead of, "should the budget go up or should the budget go down," how is it spent? And what kinds of tasks are officers being asked to do and are they the right tasks for them to be doing, and what parts of the community are they patrolling or not patrolling? It's hard to know as a citizen whether we're spending enough or not spending enough. We really don't have a way of judging that other than having our leaders investigate more closely what the budgets are looking like and how they're spending that money.