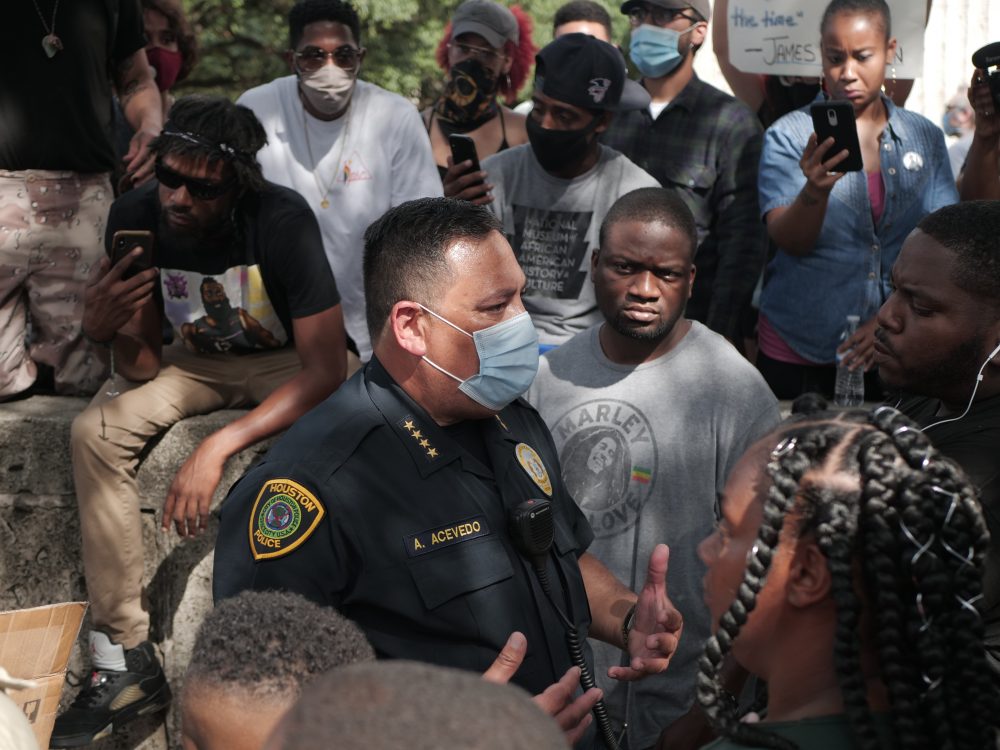 Turning on the national evening news in the past week, you may have seen images of burning buildings, protesters being teargassed by police, and protesters throwing objects at police officers and destroying patrol cars.
What you probably haven't much seen in those segments: Houston.
The Bayou City did see some confrontations between law enforcement and protestors. Police said last Friday eight officers were injured and 16 police cruisers were damaged or destroyed. On Saturday, some people broke into Forever 21 in the Galleria. Over the weekend, hundreds of protesters were arrested, mostly for blocking the roadway.
But none of it compares to the violent moments captured in many other U.S. cities.
To Bob Stein, an urban politics professor at Rice University, this isn't surprising. Houston has had relatively few violent episodes of civil unrest, he said.
"There have probably been three big race riots in Houston over the last 100 years," he said. "Camp Logan in 1917, TSU riots in 1967 and most recently the Moody Park riots in 1978."
For the most part during times of social unrest, be it Rodney King or even the Vietnam War, most of the violence happened in other cities, Stein said.
But why is that?
Ronnie Daniel was marching to Houston City Hall with tens of thousands of others on Tuesday to call for justice for George Floyd.
He said there is no point in tearing up your own city.
"We worked too hard for our city to look the way it does, for us to actually strive and actually trying to be something, because everybody here came from nothing to make something," he said. "We don't want no violence."
Mayor Sylvester Turner also said that Houstonians stick together through their diversity.
"We have gone through the Tax Day flood, Harvey, Tropical Storm Imelda, going through the coronavirus," he said. "And we've been doing these things together."
And police Chief Art Acevedo credits the racial and ethnic makeup of his department, which he said represents the people it serves.
"On balance, our community knows the heart of this homegrown community because this department is part of this community, comes from the community, loves this community and I think we're seeing it pay dividends," he said on Houston Matters Special Edition.
Tom Kolditz, a retired brigadier general and the director of Rice University's Doerr Institute for New Leaders gives the credit to leaders like Acevedo, who has walked with marchers and waded into crowds of protesters when things got tense.
"He is able to look those individuals in the eyes, and they sense individualized consideration by him as a leader to their needs and feelings," Kolditz said.
James Conyers, director of the University of Houston's African American Studies program, said in Houston, people of color hold high positions in government, giving a sense that minority communities are truly represented.
"When people feel that they're powerless and they want their voices heard, they use protest," he said.
In Houston, African Americans enjoy high political representation, homeownership, historically black universities and several black newspapers – all of which empower the community, Conyers said.
"If people can negotiate and communicate, they don't need protests," he said.
Stein agreed that leadership in Houston has played an important role – and not just in city government.
"The black leadership in these communities tends to be church-centric, very much built into the churches. That's not what you see in the North and Northeast," he said. "And the second is, it's an older population... and to a large extent, these are people who followed Dr. King's nonviolence."
Stein also credits less racial segregation than in other cities and its low density as factors that help keep Houston relatively peaceful in times of social unrest.
"In a city like New York, where the density is 10-times greater, people can literally walk across a bridge and be in a residential or, for that matter, commercial area where rioting for fun and profit can take place," he said.