Tens of thousands marched in downtown Houston Tuesday during a rally with George Floyd's family organized by rappers Trae tha Truth and Bun B, to protest police violence after Floyd's death at the hands of Minneapolis law enforcement.
The two Houston rappers and friends of Floyd, a former Houstonian and hip-hop artist who went by the name Big Floyd, were joined by Mayor Sylvester Turner and other city officials in a march from Discovery Green to City Hall.
"I want to make George and his family proud," said Trae tha Truth, real name Frazier Thompson. "We're going to show the nation how…we stand together and stand up in Houston, Texas."
Thompson, in comments to the growing crowd before the march began, told protesters that criticizing the police was not enough, and that putting pressure on politicians to change the laws was equally important.
"They make them laws for their benefit, they make it for their best interest," Thompson said. "If we find ways to get in their system, and tear down and rebuild, then guess what? We can make it in our best interest."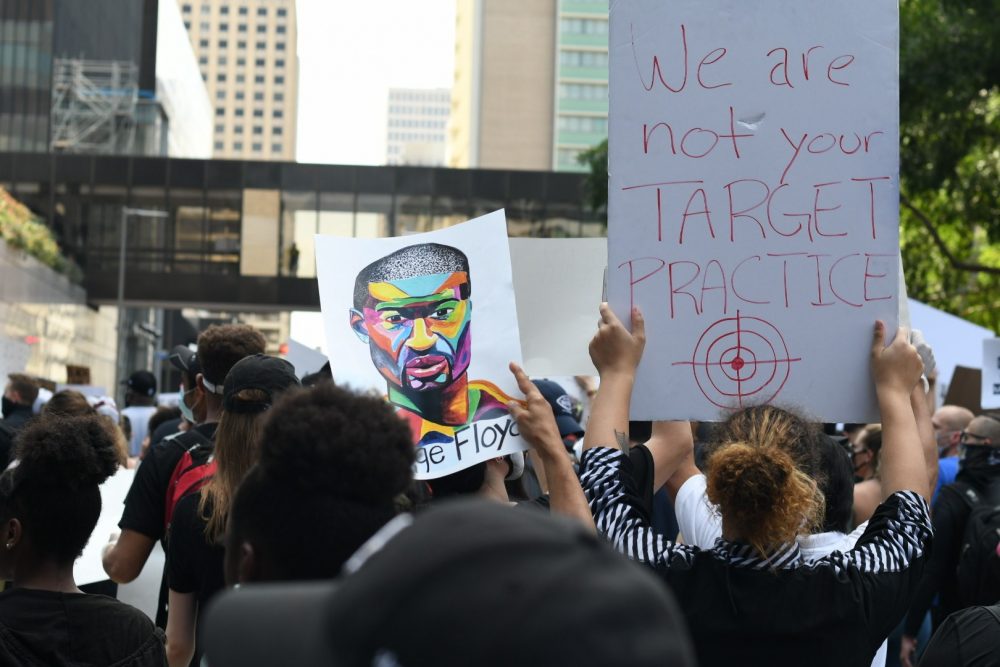 On Houston Matters Tuesday morning, Bun B, real name Bernard Freeman, called for police reform, including an independent community review board with subpoena power, and a limitation on citations for police officers before they have to be taken off the streets.
"We want to start here," he said. "We want Houston to be able to send out a message that we won't stand for injustice, we won't stand for police brutality and so we know that there are different policy reforms that could take place to help improve this situation in our city."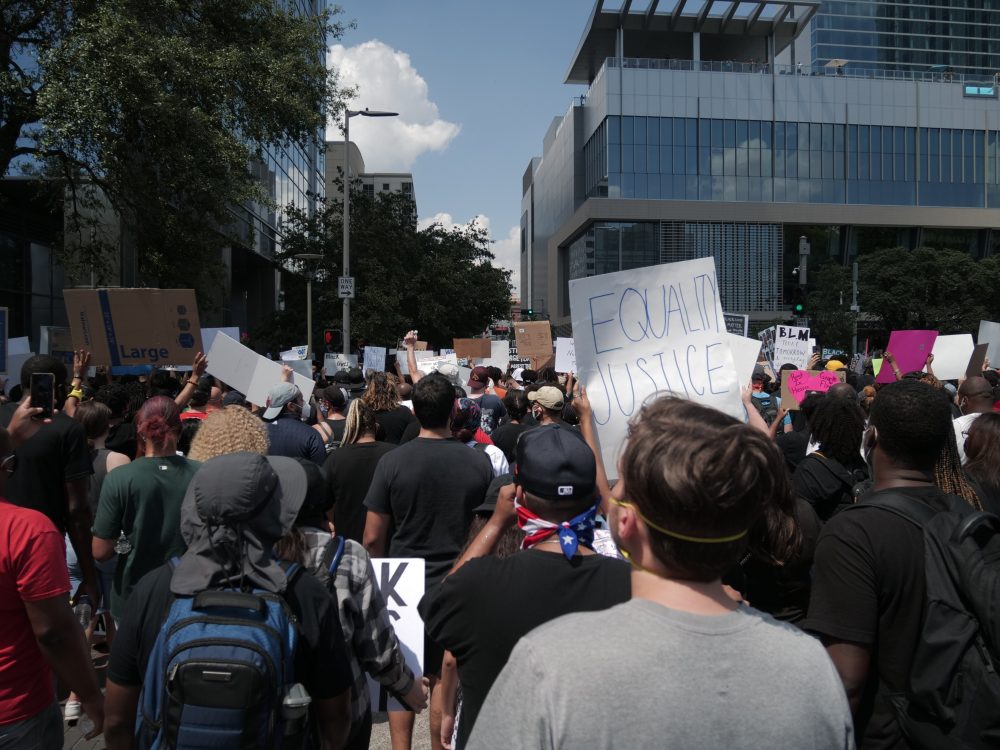 By nightfall, police officers began arresting protesters to clear the steets. Most protesters were charged with obstructing a roadway, while others were arrested for throwing rocks and bottles at some officers, according to the Houston Police Department. In total, HPD had made more than 200 arrests.
But the day was largely peaceful, and, despite some tense moments between police and protesters, was defined more by frustration than violence.
Wearing a black T-shirt that read "I Hope I Don't Get Killed For Being Black Today," protester Brison Gresham said it was his second time protesting downtown in the past week.
"I'm feeling mad, I'm feeling sad, also confused at the same time," Gresham said. "Like I don't really understand why people got to treat us this way."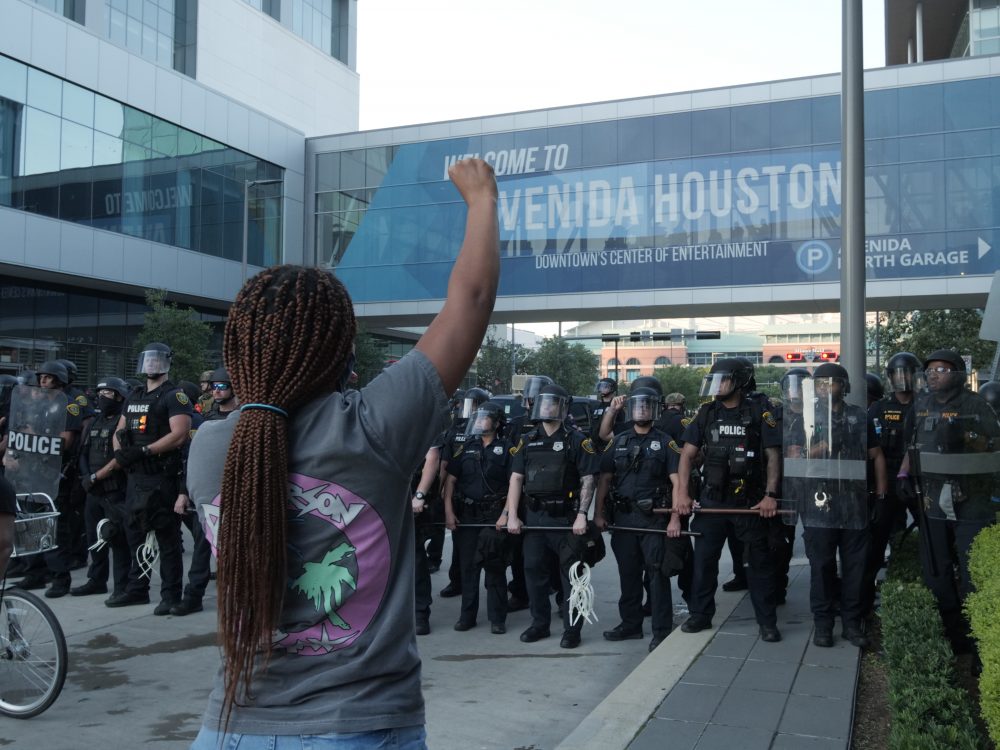 Some protesters, like Carol Baker, used their voice to advocate for political change.
"Old players need to be pulled out, new players need to be put in," Baker said. "People that have been in the system for numerous years, their time is up. Their time is up because they're too comfortable in their positions."
Floyd was killed in police custody eight days ago, and news of his death spread after Derek Chauvin, a white Minneapolis police officer, was caught on video holding his knee on the back of Floyd's neck for more than eight minutes. Chauvin and three other officers were firred, and he was charged with third-degree murder and manslaughter on Friday.
Houstonians took to the streets later that day in a largely peaceful rally organized by Black Lives Matter Houston, where they hoisted signs and chanted in Floyd's honor in a similar march from Discovery Green to City Hall. As night fell, Houston police officers began arresting protesters, mostly for obstructing roadways, though there were more violent moments between police and protesters, including injuries to both police and marchers, vandalized and destroyed police vehicles, and damaged storefronts.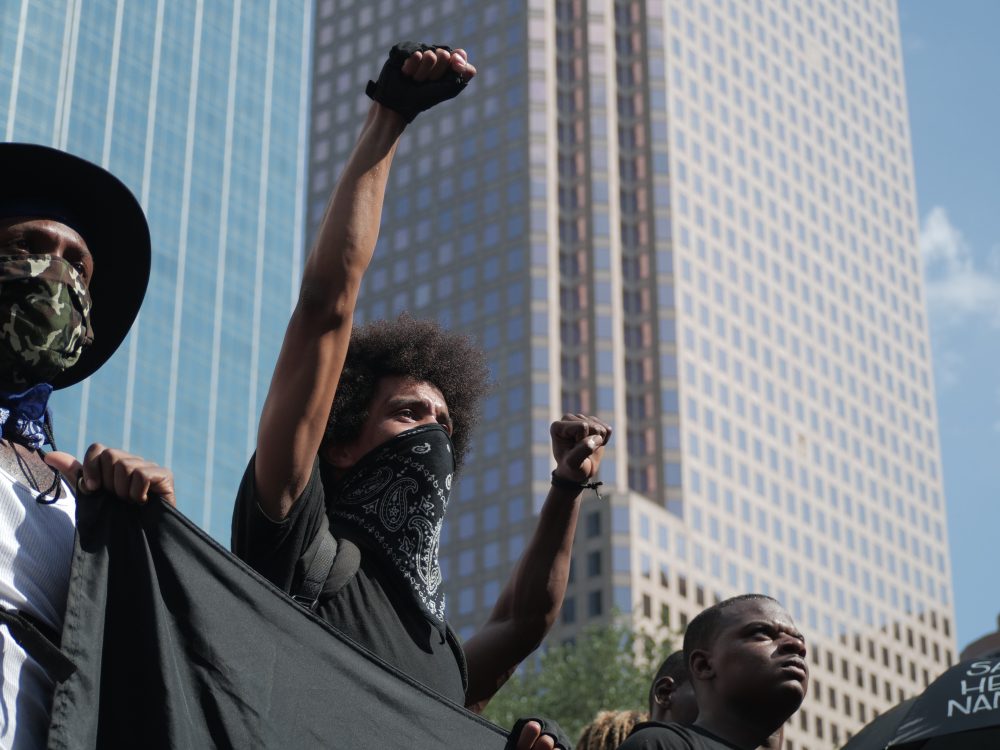 On Saturday, demonstrations were decidedly more peaceful, though as night approached, officers once again rounded up protesters for arrests.
Combined over two days, 350 people were arrested for obstructing roadways, while some others were arrested for assault, criminal mischief, resisting arrest and other charges.
The mood in Houston has been in stark contrast to clashes in Austin, San Antonio and Dallas, where police interactions with protesters often turned violent, including using rubber bullets and tear gas. Houston Police Chief Art Acevedo has said he is committed to not using such methods, unless as a last resort. HPD officials told Houston Public Media that officers did not use any tear gas or rubber bullets over the weekend, though they did use pepper spray in some instances on Saturday.
"We are not trying to see our city torn up," protester Ronnie Daniel said on Tuesday. "My city is all I have. My black people are all I have. I'm all I have."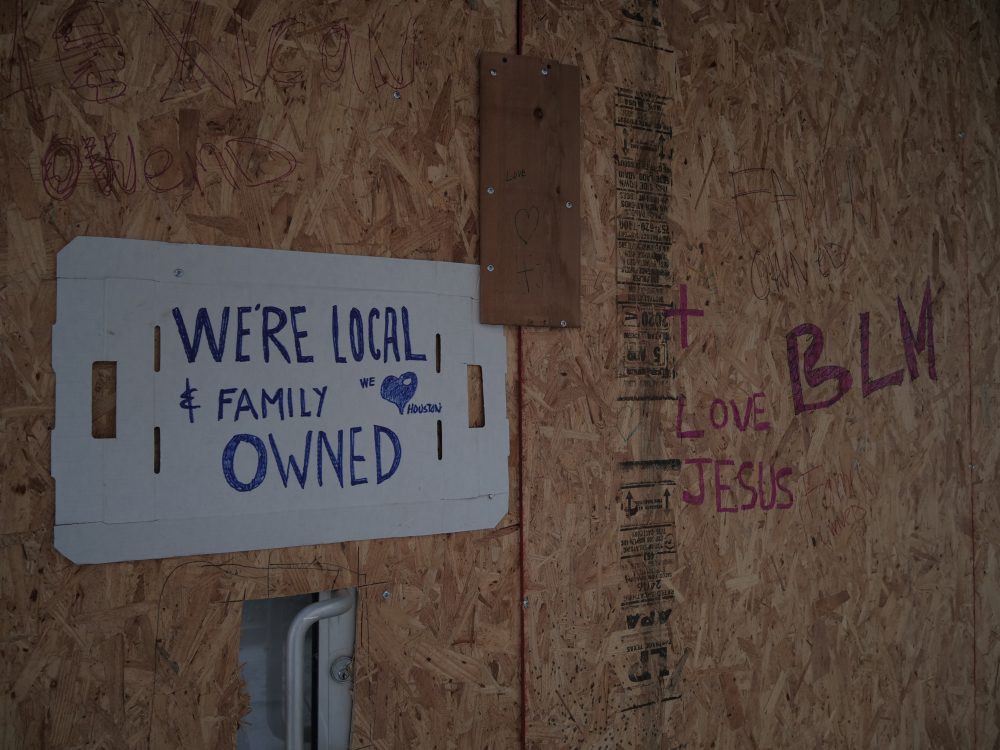 Despite the relative peace at recent Houston protests, businesses downtown boarded up doors and windows, in anticipation of violence like that in cities like Atlanta, Dallas and New York. Gov. Greg Abbott on Sunday afternoon placed the entire state of Texas under a disaster declaration in response to demonstrators.
Although Acevedo described many of the people at this weekend's George Floyd protests as outside agitators, Mayor Turner on Monday backtracked on those comments, saying the vast majority were locals.
A review of court documents shows about one percent of all arrests came from outside the state of Texas, and that most came from the greater Houston area, including from nearby places like Cypress or Pasadena.
"Stop telling people how to mourn." #Houstonprotest pic.twitter.com/hkY9GUFCqd

— Jen Rice (@jen_rice_) June 2, 2020
At City Hall Tuesday, Turner told the protesters the city had a lot of work to do to reverse decades of systemic inequity.
"We're not perfect, we recognize that," Turner said. "We also recognize that in our city, in our city, in the midst of so much prosperity, that there are communities that have been underserved and underresorced for decades."
In anticipation of Tuesday's demonstration, Houston closed some roads to car traffic and shuttered municipal buildings to the public. METRO suspended bus service downtown, limiting the ability of some people to join the rally.
As evening approached, and Turner and the other speakers left the stage, some protesters went home while the majority stayed on the streets, many making their way back to Discovery Green. Around 5:30 p.m., groups of protestors stood across from a police line near City Hall, chanting Floyd's name. As 6 p.m. approached, additional police were seen lining up at Discovery Green, and at one point, protesters rushed away from the park.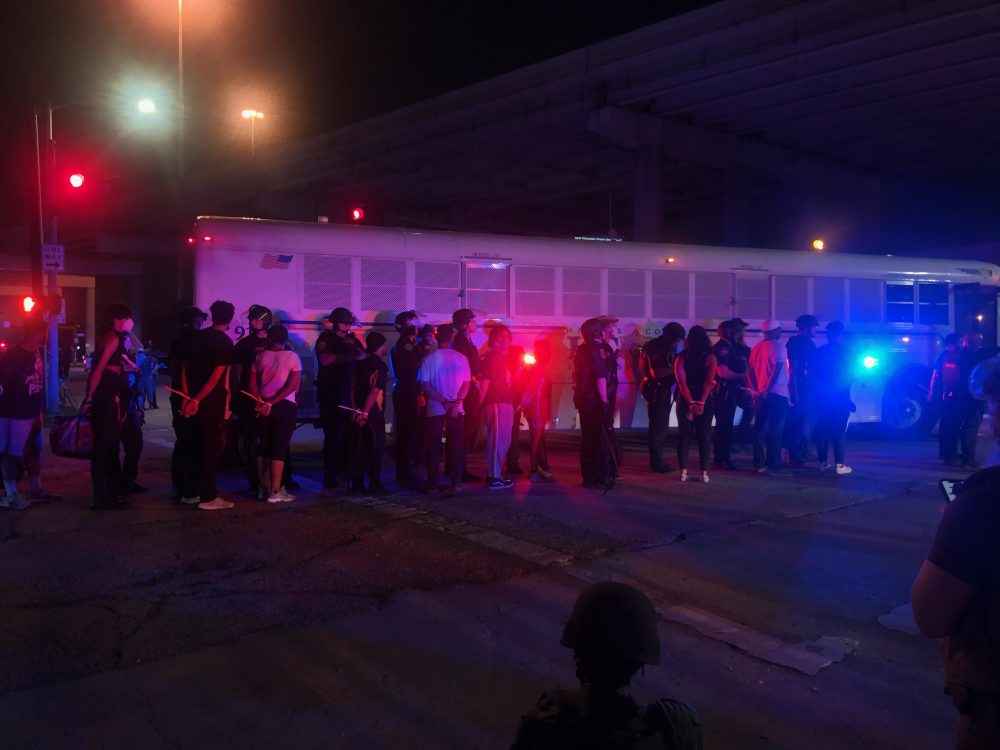 Nearby, protesters were told to get out of the streets, with the threat of arrests. At Rusk St and Avenida De Las Americas, one man was seen trying to herd a crowd onto the sidewalk to avoid any police confrontations. Around 7:25 p.m., reporters heard and saw a loud bang and a bright flash as protesters began running from police.
By 10 p.m., HPD had begun arresting people. About 50 people were being held in a field near Pierce and Jackson streets, some being loaded into a police bus, hands zip tied behind their backs, about 10:30 p.m. It was not immediately clear on what charges.
About two miles away from Tuesday's protest, in Houston's Greater Third Ward, graffiti artist Donkeeboy was putting the finishing touches on a mural dedicated to Floyd in the early afternoon.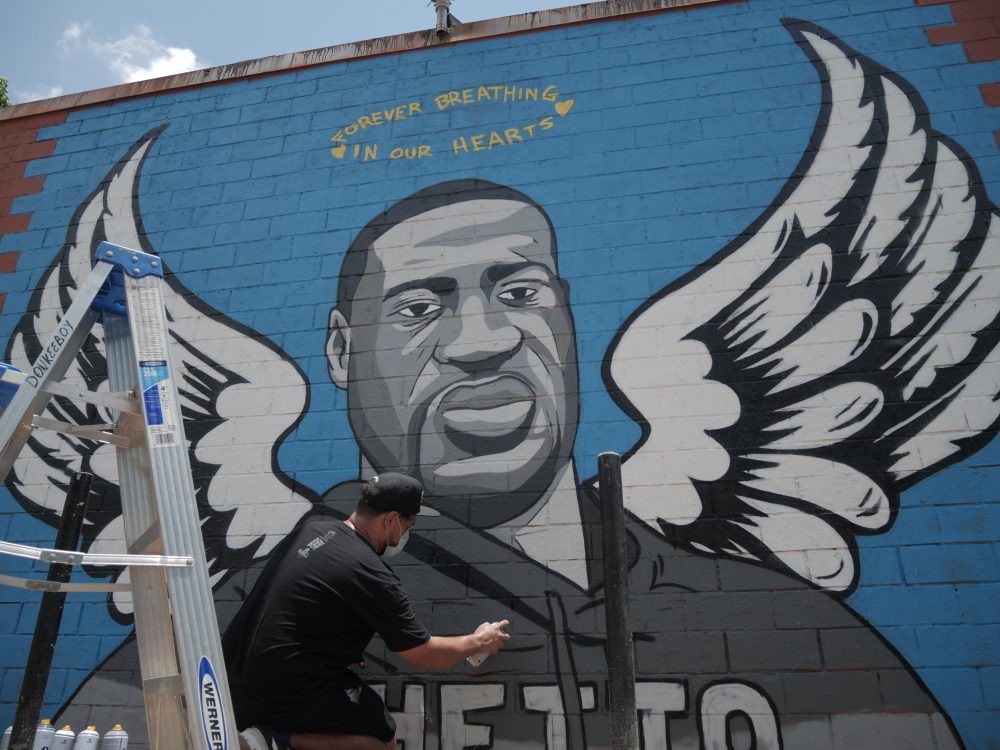 The painting, alongside the Scott Food Mart on Winbern Street, featured a portrait of Floyd with angels wings, the halo above him reading "Forever Breathing In Our Hearts," a reference to some of Floyd's last words, caught on video in his final moments, trapped under the knee of Chauvin: "I can't breathe."
The artist, whose real name is Alex Roman Jr., said Floyd's friends reached out directly and asked for him to work on it. In total, it took about five hours — four hours Monday night and an additional hour of touch-ups Tuesday.
Roman said as soon as he saw the news of Floyd's death, he wanted to do something to give back to the community in which the late former Houstonian grew up.
"I think it's super important to acknowledge what's going on, all the injustice that has been happening," the artist said. "I saw the video and it made my stomach hurt."