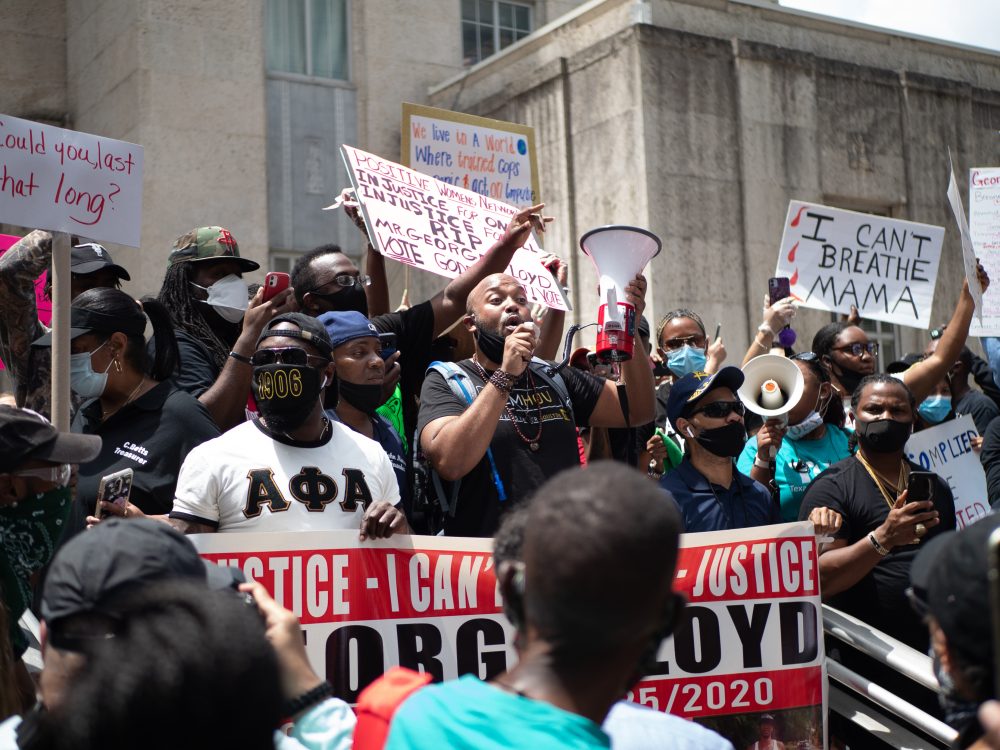 Updated 8:11 a.m. CT Saturday
Hundreds of people marched on Houston City Hall Friday to protest of the death of George Floyd, just hours after a police officer caught on video planting his knee on the man's neck as he struggled to breathe was arrested and charged with his murder.
In a sometimes tense demonstration in downtown Houston, protesters chanted Floyd's name and demanded convictions, repeating "no justice, no peace, prosecute the police," as they marched from Discovery Green around 2 p.m. during a rally seeking justice for the former Houston resident killed by Minneapolis police on Monday.
"It comes to a certain point where you can't ask for justice, you can't wait for justice, you have to demand it, and I think we're all out here trying to demand justice," said protester Esteban Lopez. "If it's murder, then he should be behind bars. That's what justice is to me. The same way they like to lock up people like us for murder, it should be the same thing. Same thing should be applied."
Another of the protesters, Omar Garcia, yelled at nearby Houston police officers as he made an emotional plea for understanding.
"We can't do nothing to nobody, we can't do nothing to no police, but they treat us like we're villains," Garcia said. "We're normal people. We're your brothers. We're the people who grew up harder than you did."
"How do you keep doing this to us?" he said.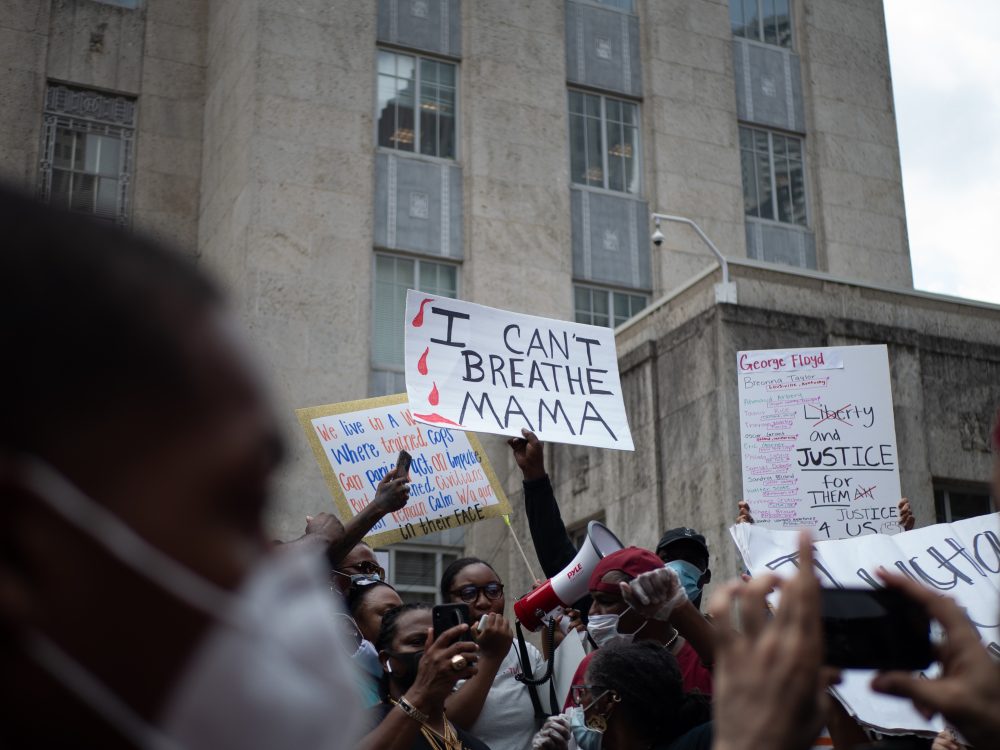 The "Justice for George Floyd" rally came on the same day former Minneapolis Police Officer Derek Chauvin, who was fired soon after video of the death was circulated publicly, was charged with third-degree murder and manslaughter, according to Hennepin County Attorney Mike Freeman.
Video shows Floyd, 46, restrained during an arrest on Monday. Floyd is heard telling police he can't breathe, as Chauvin plants his leg into the man's neck. Three other officers are seen looking on during the arrest.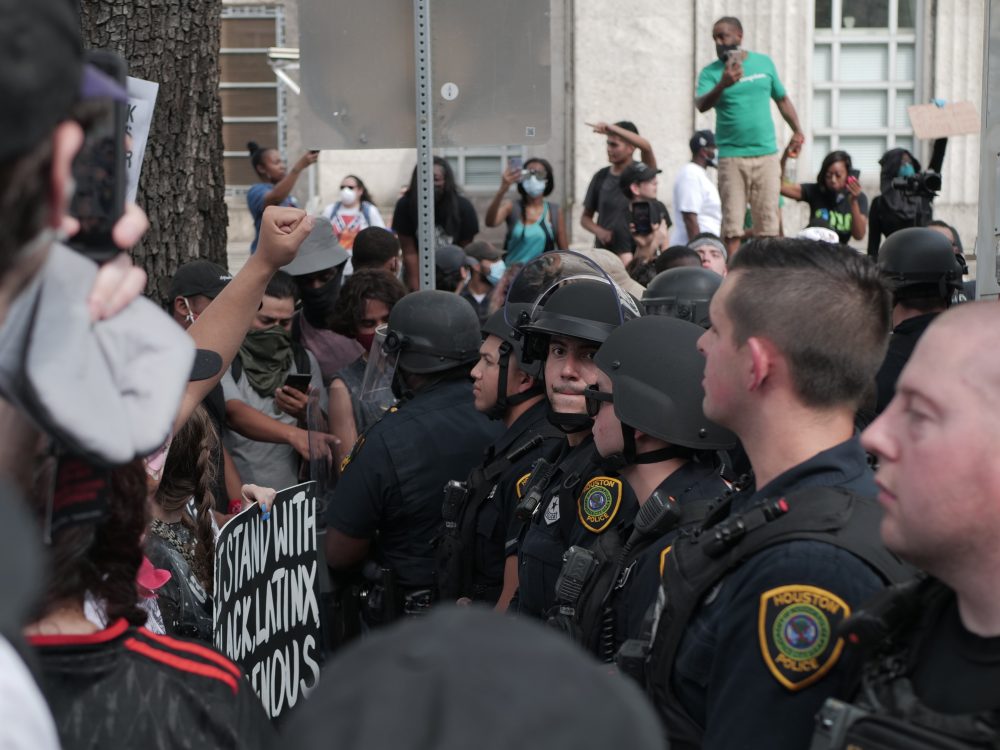 The four officers involved have been fired. Freeman said he also expected to bring charges against the three other officers.
The U.S. Department of Justice began its own independent investigation into Floyd's death Friday, to determine whether to charge the former officers under federal civil rights laws. U.S. Attorney General Bill Barr said he would allow the the state's case to proceed before deciding on federal charges.
Houston Matters Special Edition: George Floyd, And Race In America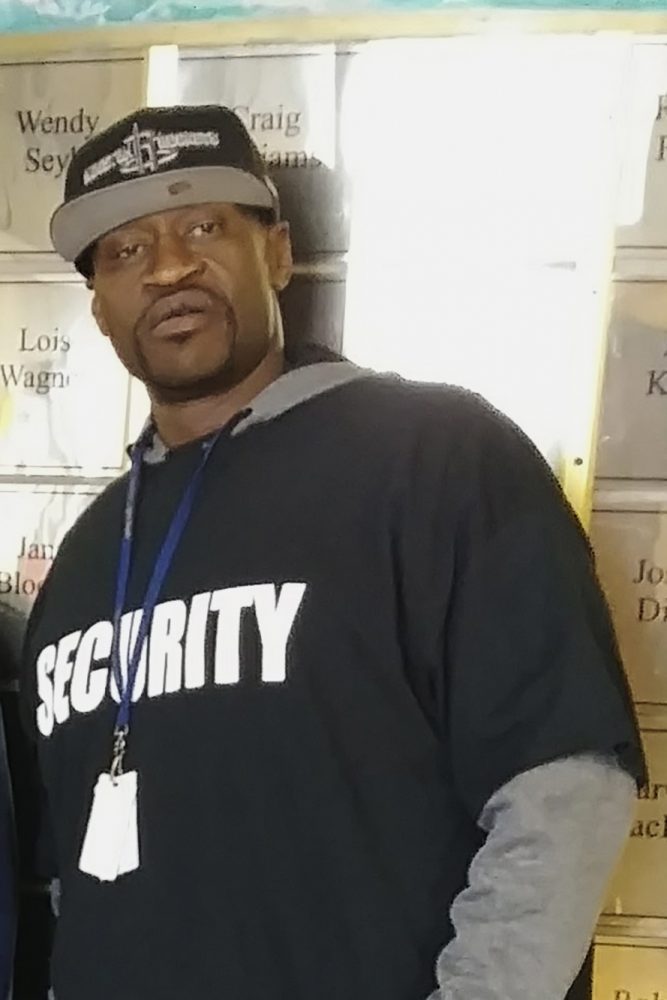 In Houston, as the rally began to wind down, protesters began to break off from the crowd at City Hall and migrate toward I-45 to continue demonstrating, where police officers on horseback stood blocking them from getting on the highway.
Traffic was backed up downtown as protesters blocked cars, and in some more tense moments, small groups of protestors and police coud be seen shoving one another. Later, protestors were seen leaving the area and marching US-59 North before being stopped by law enforcement.
Groups of protestors squared off with police outside City Hall, where a police SUV was spraypainted with obscenities. The crowd blocked an ambulance, and both sides got into a brief tussle before separating amid chants of "let him go." During another confrontation, protestors and police aside I-45 shoved one another back and forth before a near fight was broken up.
In both instances, there did not appear to be any arrests or injuries. But in the late afternoon into the evening, police began making arrests around downtown Houston. At least one arrest occurred near Capital and La Branch streets about 4:50 p.m., as police there faced off with roughly 35 protesters.
Outside City Hall, a man who was not part of the protests was arrested by police, after a confrontation with the protestors.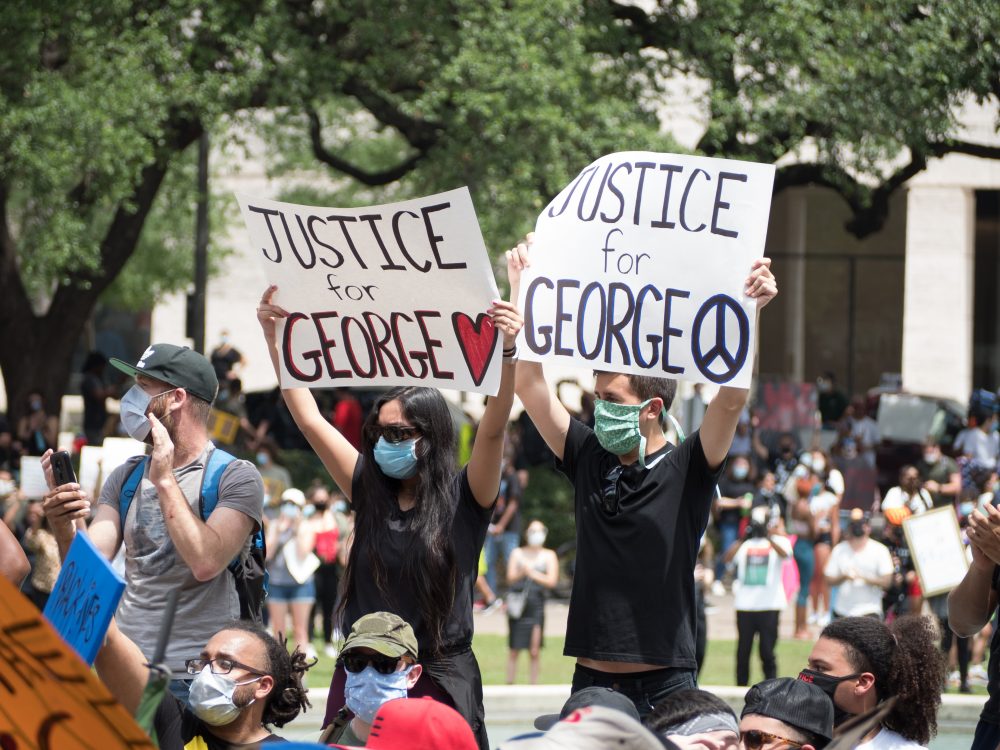 By 3:15 a.m. Saturday, about 200 people were arrested, most of whom were charged with obstructing a roadway, according to HPD. Four officers suffered minor injuries, and eight police vehicles were damaged.
At a Friday evening press conference, Turner also addressed the protesters directly, asking them to demonstrate peacefully.
"Wherever you live in this city, we value you," Turner said. "And we recognize in this city that there are many communities and neighborhoods that have been underserved and underresourced for decades."
But by Friday night, as arrests mounted, Turner on social media began calling for the protesters to go home, after what he said were people instigating violence downtown.
In one incident, protesters near La Branch Street and Texas Avenue, one block from Minute Maid Park, shattered the windows of a police SUV before spraying what appeared to be the contents of a fire extinguisher into the passenger side window, about 9:30 p.m. The crowd dispersed as police cruisers approached.
We are not going to allow looters and people who are intent on causing turmoil in our City. It is one thing to protest against the wrong/the death of #GeorgeFloyd. I join you. But some people are intentionally trying to incite confrontation/violence. That hurts all of us. st

— Sylvester Turner (@SylvesterTurner) May 30, 2020
Earlier in the day, people with rifles were escorted from the vicinity of City Hall. Houston Police Chief Art Acevedo, citing the riots in Minnesota, said that armed people could incite the crowd, and would only take the focus away from from the peaceful protesters.
Acevedo, who was on the scene at City Hall, said that he respected the rights of everyone protesting, and acknowledged their "legitimate anger."
"These young people know that we actually hold people accountable here," Acevedo said. "We actually charge officers with murder here. We actually charge officers when they have a use of deadly force that's not objectively reasonable here. Because that is what we are sworn to do."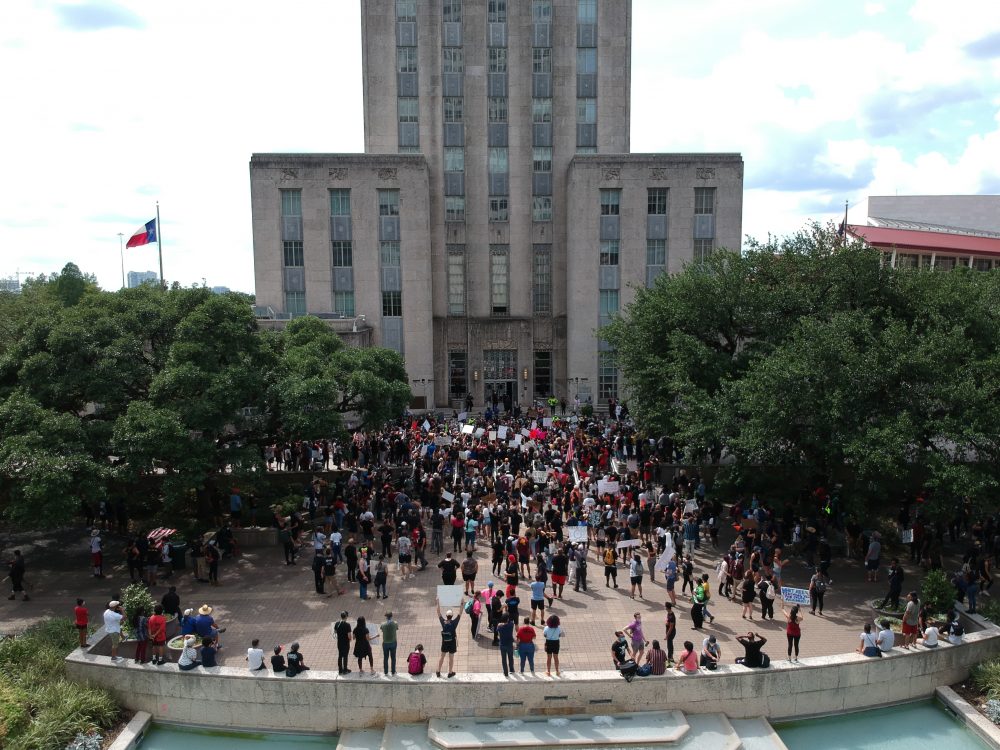 Floyd's death, captured on video, sparked national outrage, prompting protests across the country and three days of civil unrest in Minneapolis that led to rioters chasing police from the city's 3rd Police Precinct and setting fire to the building Thursday night.
The community trauma from repeated police killings is still present in Houston. Dr. Rheeda Walker, who studies mental health in African Americans, said incidents like these can take a huge toll.
"My concern has always been, after generations of these traumas, that it's just something that black people have learned to deal with," Walker said. "It is real, it is serious imparing to day-to-day life, and it doesn't seem to be ending."
Earlier this week, mourners in Houston gathered at Emancipation Park to honor Floyd's memory. A former resident of Houston's Third Ward, Floyd was remembered as a star athlete and hip-hop artist who performed with Houston's DJ Screw, under the name Big Floyd. Friends said Floyd moved to Minneapolis a few years ago to start a new life.
That mourning, on Tuesday evening, gave way to anger and frustration by Friday.
"I think it's more personal that it's a person from Houston and I think we're gonna ride behind him no matter what," said protestor Victoria Jackson on Friday.
Jackson said she was glad to hear that Chauvin was charged with murder, but said she wants to see further consequences.
"We need to see convictions not arrests," she said. "We need to see follow-up action, not just initial satisfaction, immediate satisfaction, we need long-term convictions."
Floyd's death came on the heels of a series of Houston police shootings. Six people were shot and killed by police in Houston over the last five weeks, prompting calls for the department to release video of those incidents.
Speeches at #GeorgeFloydprotest in Houston outside City Hall pic.twitter.com/CyZfEvi9w0

— Matt Harab (@HarabMatt) May 29, 2020
Chief Acevedo has declined to do so, arguing that the shootings were still under investigation by the department and the Harris County District Attorney's Office.
But even as Acevedo has declined to release video of those shootings, the police chief condemned the officers involved in Floyd's death — both Chauvin, and the group of three officers who were shown on video to have looked on as Floyd was killed.
"Based on what we've seen, based on what I've seen, based on my conversations with colleagues, we don't see how they can not be facing charges, that can range anywhere from murder to manslaughter," Acevedo told MSNBC's Chuck Todd on Wednesday. "And then the officers that stood there and watched, you know, they can be an accessory to murder, an accessory to manslaughter."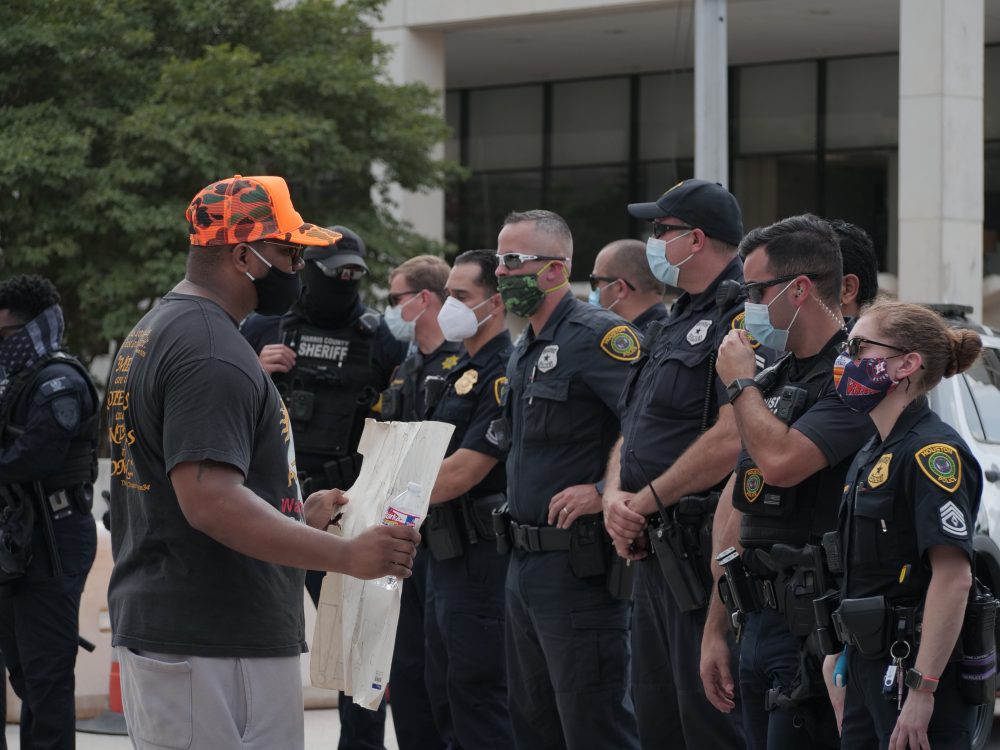 Acevedo this week also said that, going forward, the department would begin to release footage of violent police interactions, "the good, bad and ugly."
In an interview Wednesday, Mayor Turner said actions like those taken by Chauvin create a rift between the police and the public they're charged with protecting.
"Being a law enforcement officer is not easy," he said. "They have very, very difficult jobs. We all acknowledge that and respect them highly. But at the same time, we have a responsibility to interact and engage the public…with respect and with decency, and in a way that is consistent with our oath."
Turner added that the video was "very, very difficult to watch."
"What I saw was even beyond being highly disturbing," Turner said. "It was just inexcusable, and it doesn't really matter whether someone has not done anything wrong or done something wrong."
"Even after it was no longer being played on television, it is being replayed in my mind over and over and over again," Turner said.
Additional reporting by Lucio Vasquez, Davis Land and Andrew Schneider