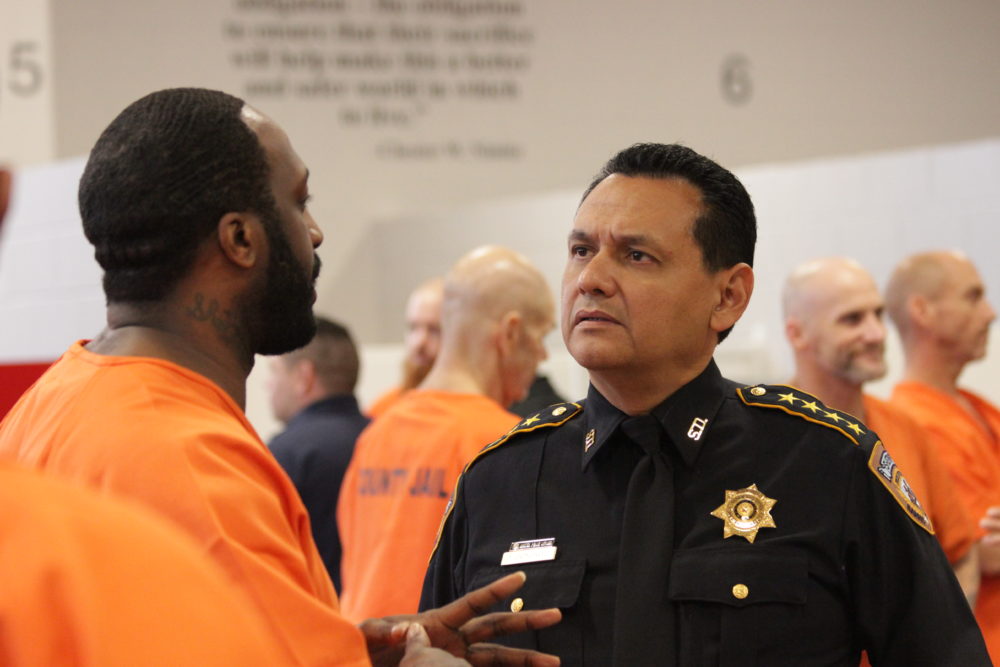 UPDATE 3:46 p.m. Friday: Harris County Sheriff Ed Gonzalez said he was halting releases of some people detained in Harris County jail, per a judge's order. Read the whole order here.
In recent weeks a push to free up space in jails across Texas has become a major topic of discussion. Last week, Travis County started allowing automatic release for people charged with low-level felonies. And Harris County Judge Lina Hidalgo signed her own order this week allowing for the release of certain nonviolent offenders from the Harris County Jail.
But with that push came some backlash: The Houston Police Officers' Union called Hidalgo's order "illogical and ill-timed." Republican state Sen. Paul Bettencourt called it "an overreach," and predicted "a crime wave" in coming weeks.
Houston Police Chief Art Acevedo made clear he would only support a plan that excluded what he called "habitual offenders," whether or not they were accused of nonviolent crimes.
"History will not forget if we make decisions based on political dogma, and not based on the best interests of the people of Harris County," he said. "And by the people of Harris County, I start with victims, and I start with law-abiding citizens, and I end with people that are committing criminal offenses."
Tricia Forbes is exactly the kind of person Acevedo is worried about. A survivor of violent crime, Forbes was sexually assaulted both as a teenager in college and as a young adult.
Forbes, who started out advocating for sexual assault survivors and victims of domestic violence, now helps organize Texans as part of the group Crime Survivors for Safety and Justice.
"I don't want the things that have happened to me to happen to anyone else," Forbes said. "We can all agree on the importance of public safety. And to me that's personal."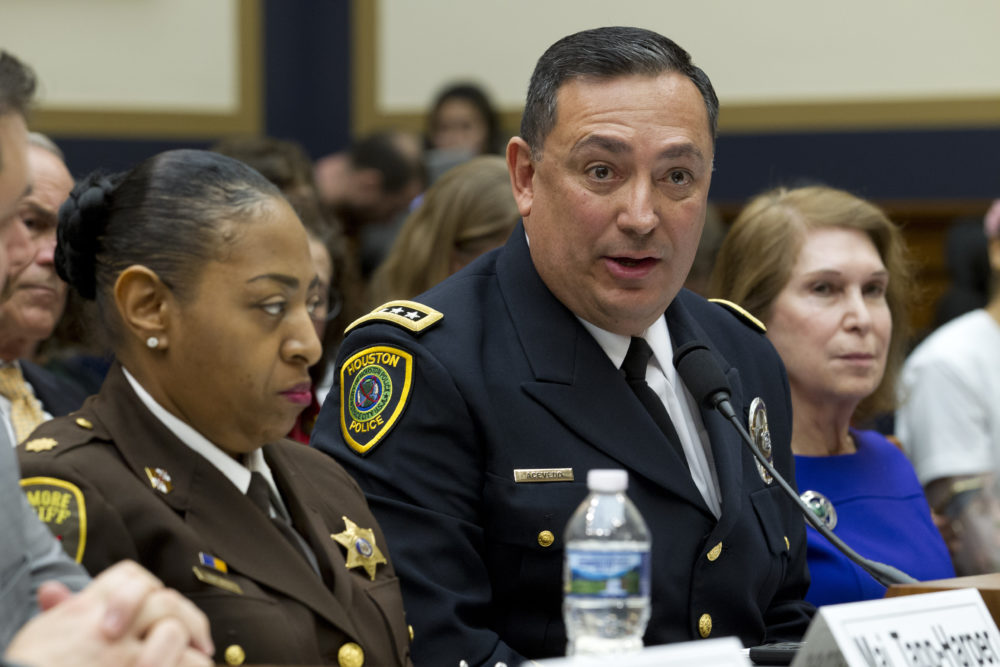 But Forbes doesn't agree with Acevedo: She and others like her have instead been arguing that more incarceration does not lead to safer communities.
"What we want is more spending on prevention and rehabilitation," she said.
These debates are familiar to activists across the country, and now they're becoming more common amid the global coronavirus pandemic, which has already led to almost 5,000 reported cases in Texas and at least 16 deaths in the Greater Houston area alone.
Now, activists like Forbes hope that criminal justice reform extends beyond the COVID-19 crisis, and that people start debating alternatives to incarceration — things like mental health care, and drug and alcohol rehabilitation.
And Forbes said orders like the ones in Austin and Harris County are a step in the right direction.
"We really are happy to see that these things are happening across the state, with the safe and responsible release of people who are incarcerated," she said. "And we very much want those things to continue after the pandemic is over."
'Compassionate Release'
In late March, Texas announced the first case of an incarcerated person testing positive for COVID-19 — a 37-year-old man charged with drug possession. And less than a week later, a person in the Harris County jail system was diagnosed with the illness. On top of that, staff members in the Harris County Sheriff's Office started getting sick.
Three inmates have been diagnosed so far. And some people, including the sheriff, fear that it's only a matter of time before there's more.
"Were there to be an outbreak inside the jail, it would definitely be catastrophic to our local health system," Gonzalez told Houston Matters host Craig Cohen in March.
Gonzalez was on the show talking about his vision for "compassionate release" — identifying low-risk people accused of nonviolent offenses to be released from jail, and trying to shrink the population.
Judge Hidalgo's order, which follows some of the sheriff's recommendations, allows for the release of people accused of certain misdemeanors and nonviolent felonies, who have not previously been convicted of a crime involving physical violence, the threat of physical violence, or unwanted sexual touching.
But Acevedo, who said on Twitter he was not consulted on the order, said it should weigh the risks to public safety on a case-by-case basis.
"This community and communities across the country right now are extremely anxious," Acevedo said. "They're worrying about a virus that is invisible, and we have to be really thoughtful on who is released."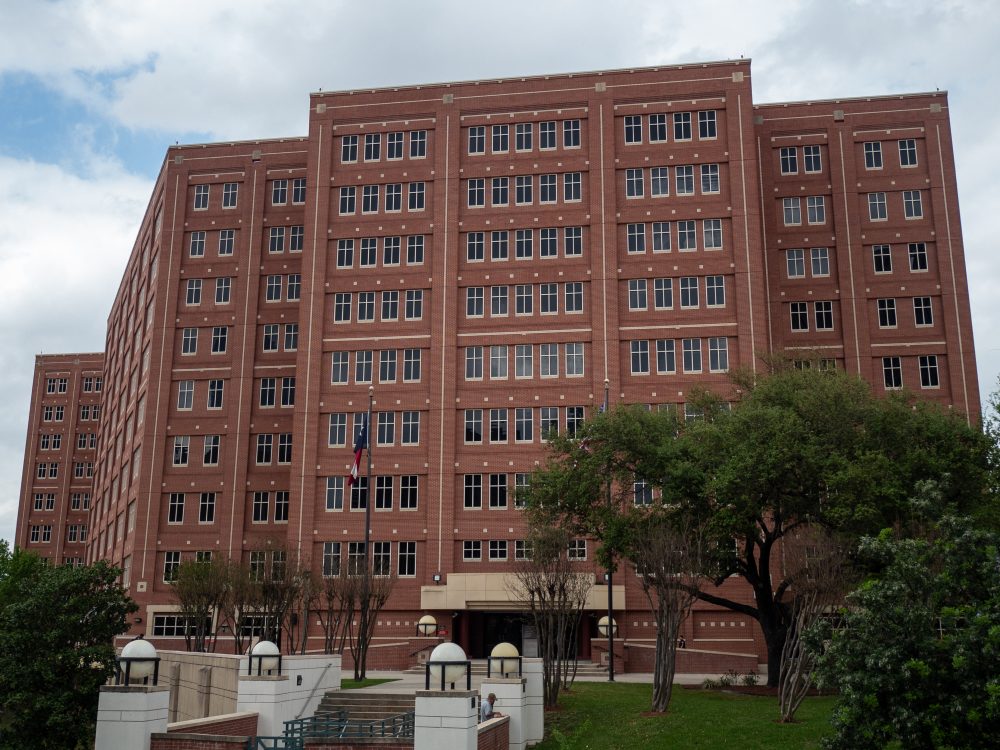 Cash Bail
Acevedo's critics point out that people accused of crimes walk free every day — as long as they can afford bail.
Harris County's uses of cash bail at both the misdemeanor and felony levels have been the subject of controversy over the last few years. The county's misdemeanor bail practices were found to be unconstitutional in 2018, and a similar challenge to the county's felony bail system is currently in front of a federal judge in Houston.
Both Gonzalez and Harris County Criminal Court at Law Judge Darrell Jordan were named as defendants in the misdemeanor suit, but testified against the county's bail practices, bolstering the argument of a class of people who said they were kept in jail just because they couldn't afford bail.
Jordan, a misdemeanor judge in Harris County, is a strong proponent of releasing people from jail during the coronavirus pandemic, arguing that releasing people now is no different than releasing those who are able to pay to get out of jail for the very same crimes.
"They are charged with crimes, no matter if it's stealing from Target or murder, and they pay money and go home the same day," Jordan said. "So why is it now an issue that that same courtesy is being extended to poor people?"
County officials and county judges both say they've been working collaboratively on a common goal: trying to control the spread of the virus in the local jails. Jordan and other judges specifically praised the work of the sheriff's office in trying to help lower the jail population.
"Ed Gonzalez is literally on his hands and knees begging that people be released from the Harris County jail in a strategic manner," Jordan said.
'Business As Usual'
But some judges say there are still roadblocks.
In a letter to Harris County District Attorney Kim Ogg, obtained this week by Houston Public Media, a lawyer for the misdemeanor judges in the cash bail suit accused the DA of trying to deny the release of people on low-level offenses, using as an excuse Gov. Greg Abbott's executive order banning the release of people accused of violent crimes.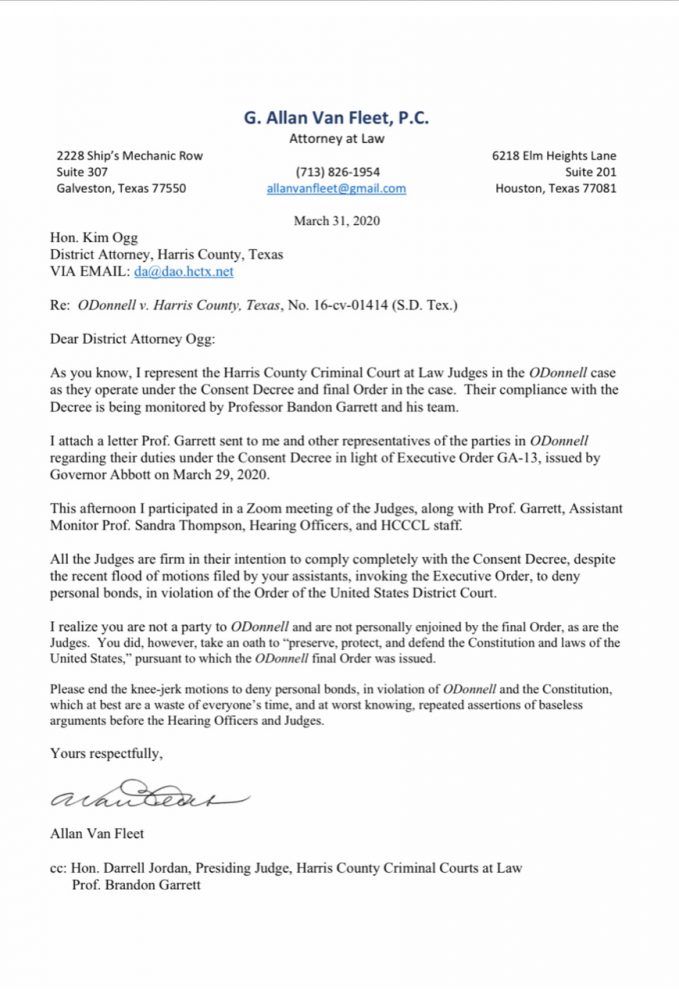 Video was also released of another misdemeanor court judge, Franklin Bynum, admonishing two attorneys from Ogg's office for seeking to take a three-year-old case to a grand jury. The case was a dispute between an employer and a former employee over a laptop. Judge Bynum accused the office of wasting court resources and putting people in danger during a pandemic.
The District Attorney's Office did not respond to requests for comment.
In a later interview, Bynum declined to discuss specifics of the case. And he didn't single out any one agency.
But he did say everyone needed to be more proactive about decreasing the risk of outbreak in the jail.
"There have been many agencies throughout the county and throughout the city who have issued these, you know, 'business-as-usual' directives," Judge Bynum said. "Those are obviously not appropriate to make. They weren't two weeks ago, and they are even less so today."
While Judge Bynum said it's important to change such directives now, he added that he and others have been pushing for similar changes more broadly.
"When we moved into the joint processing center, the new jail, they entered kind of a weekend order saying no non-essential arrests this weekend," Judge Bynum said. "Which really raises the question…why don't we always do that?"
'Still A Person'
Freeing detainees from jail can be a tough pill to swallow for some. And it can lead to public backlash.
Of the roughly 8,000 people in Harris County jail, the vast majority are detained on felony charges. And it's those cases that prove to be the most controversial.
Harris County felony court Judge DaSean Jones was criticized by Chief Acevedo and others when he released a man accused of murder last month. He is accused of knowingly shooting another man to death.
The case made news because the defendant's lawyer specifically requested Judge Jones use the coronavirus as a factor in lowering the man's bond, from $60,000 to $30,000.
In a recent interview, Jones said he could not discuss specifics of the case.
But he did say that he has never entered an order about the coronavirus. Instead Jones said he was following the Texas Constitution.
A section of the Constitution allows the state to deny a person's release, based on a history of felony convictions. But it says the person can only be held for 60 days without being "accorded a trial on the accusation." After that, the person may be released, except in some narrow circumstances.
The defendant in that case had been held since August. He was charged $1,800 for what's known as a pretrial services bond, according to court documents. He was then released, and if he misses a court appearance, will owe the full $60,000.
"It's kind of like, second-guessing or undermining the people who have been installed to make that decision," Judge Jones said of the controversy. "And it's also undermining the whole premise of a presumption of innocence."
Jones said that he respects public safety, but added that people accused of felonies still have rights.
"Just because someone gets arrested we shouldn't write them off," Jones said. "They're not subhuman. They're still a person."