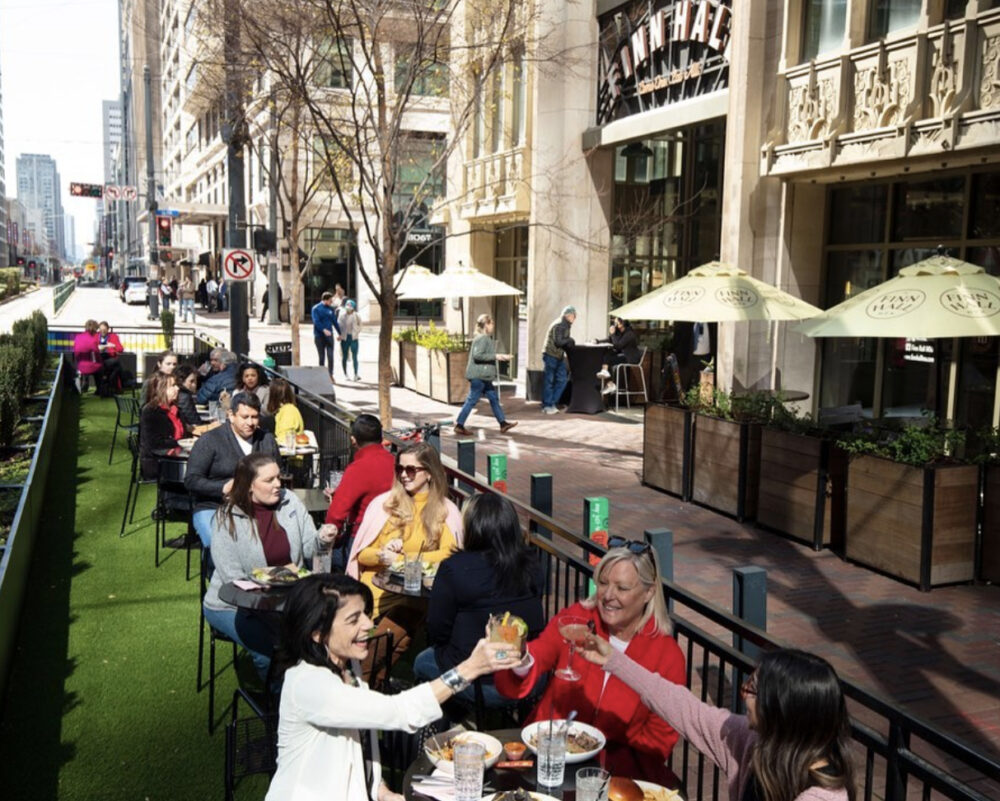 Houston's Downtown Entertainment Zone could soon be expanding. The city's Administration and Regulatory Affairs Department (ARA) is proposing the expansion to match the Central Business District boundaries to create one set of regulations.
The current city code prohibits any sale of alcoholic beverages within 300 feet of a school, church, or public hospital. But, within the code, an "Entertainment Zone" which is a mixed-use area consisting of 10 acres or 10 city blocks and designated as an entertainment zone by city council – can sell alcohol within 300 feet of those establishments if the business has a TABC Food and Beverage Certificate.
"The purpose of that is to create one set of regulations for downtown, the central business district rather than two different regulations we have now," said Kathryn Bruning with the ARA Department during the city's Quality of Life Committee Meeting on October 25.
The existing entertainment zone downtown is very limited stretching from Commerce Street to Dallas Street. According to the city, there are three churches: the Islamic Da'Wah Center, Christ Church Cathedral, and Holy Cross Catholic Church which are located within the zone, and three restaurants across from the churches. The proposed expansion would branch further out along freeways I-45, I-69, and I-10.
If expanded, any business that is located within 300 feet of the zone is required to obtain a TABC Food and Beverage Certificate, which requires establishments to sell 60% or less alcohol and meet all of the requirements of the certificate. There will be no more limitations on how many businesses that sell alcohol can be located within 300 feet of a school, church, or public hospital as long as the certificate is acquired. The current limit allows three.
Another requirement that the ARA is considering is not to allow external signage related to alcohol on the exterior of the building – only on the interior. Bruning said that request was brought up by church and school management. Churches are requesting businesses that receive a TABC certificate to also get a late-hours certificate to stay open later depending on the day. For example, on a Sunday, a business can stay open between 1 a.m. to 2 a.m.
"Some of the churches, they have rectories, you've got the priest, that's where they live and it causes problems there," said Bruning. "It also causes other issues within their parking lots, like trash, just all the ancillary issues that come along."
Bruing said late-hours permits would not impact existing businesses, only new businesses if an ordinance change is passed.
"These are positive things for downtown as we have more and more people coming down and we have more residents downtown," said Bruinig. " It gives them more options."
Bruing said outreach has been done to ensure schools and churches in the proposed expansion are notified of the changes. The Kinder High School for Performing and Visual Art and Incarnate Ward Academy are the only schools with the proposed zone. There are six churches and the Archdiocese.
"I've been down this road kind of on other things is, go knock on the doors of the ones you haven't heard from," said Council Member Sallie Alcorn. "Those are the people we'll hear from if they haven't had any contact with us about it.... we want to make sure everybody's on board."
City council is expected to consider the proposed expansion in November.