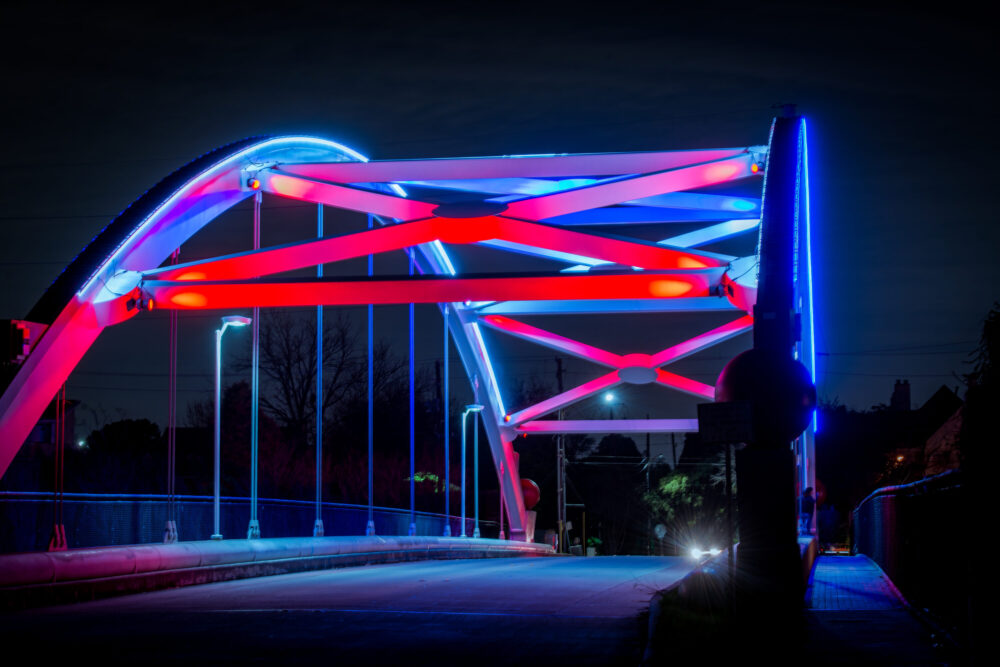 A fix is coming to a series of decorative bridge lights in Houston's Montrose area, which once were a source of pride for the city but in recent years had become a sore spot.
The Houston City Council voted nearly unanimously Wednesday to spend $2.66 million on a project to replace the out-of-order lights, which in 2017 were placed along six bridges that cross over the Southwest Freeway. The series of changing, colorful lights – which shined when Houston last hosted the Super Bowl, when the Astros won their first World Series and during Pride Month, among other occasions – began to fail within a few years after they were installed.
The total cost to replace them is expected to be $4 million, according to the city. The remaining funds will be provided by the Houston First Corporation, a local government corporation that manages city-owned properties and serves as the city's sales and marketing arm, and that entity also will be tasked with maintaining a new lighting system for a period of 10 years.
"I'm excited about this," council member David Robinson said during Wednesday's meeting. "Let's light the candle."
Houston First said in a statement it is putting together a long-term capital plan to cover its share of the construction costs for a new series of lights as well as maintenance. It also said a design firm had been selected for the project, although a spokesperson for Houston First said the firm could not yet be publicly identified because a contract was still in the works.
The firm's work on a new lighting system is expected to begin by mid-October, according to Houston First.
The Texas Department of Transportation (TxDOT), which owns the freeway as well as the bridges that cross it, has been involved in the process, according to city council members. A spokesperson for TxDOT said earlier this year that the part of the freeway where the bridges are located will be impacted by its planned Interstate 45 expansion project.
"The design work, permitting and bid solicitation will take approximately eight months," Houston First said. "This is a complex project, so it is safe to say that after due diligence and approvals from appropriate agencies, construction would likely not begin for at least a year."
The current series of lights on the bridges for Montrose Boulevard, Graustark Street, Mandell Street, Dunlavy Street, Woodhead Street and Hazard Street were originally installed at a cost of about $3 million by the Montrose Management District, which went dormant in 2018 and could no longer pay the electricity bills associated with operating the lights, which were subsequently covered by NRG Energy as part of an arrangement made with the city. Houston First took responsibility for the lights in 2019, and they started to fail within a few months afterward.
According to an assessment of the lights that was conducted last fall, the findings of which were shared by Houston First, they were damaged by rain and other weather conditions. Also found were poor or deteriorated wiring connections, which also contributed to electrical shorts. Overheating also could have been a factor because the power to the lights was not turned off once they stopped working properly.
The company that assessed the lights recommended a complete replacement on five of the six bridges, noting that partial repairs "will inevitably result in continuing future outages." Council member Abbie Kamin, who represents the area where the lights are located, said the cost to remove all the lights and not replace them still would have been well over $1 million.
Kamin said safety improvements for pedestrians and motorists also will be part of the replacement project, adding that the regular lights on the bridges also are malfunctioning.
Still, some council members expressed concern about allocating so much money from the city's general fund to what is largely a beautification project, especially since the original installation of the lights was not a city initiative. Mary Nan Huffman, who represents the area that includes the affluent River Oaks neighborhood, voted against authoring the $2.66 million.
"It just seems like lights are a luxury," she said.
Kamin, Mayor Sylvester Turner and other council members, though, said the lights were well-liked when they were working as well as something that stood out to visitors and made the city look attractive. Getting them working again also has been a repeated request among Houston residents.
"You can't imagine the number of requests that have come in from people wanting those lights lit up and stuff," Turner said. "Just very, very popular, but it's been hard to maintain it."