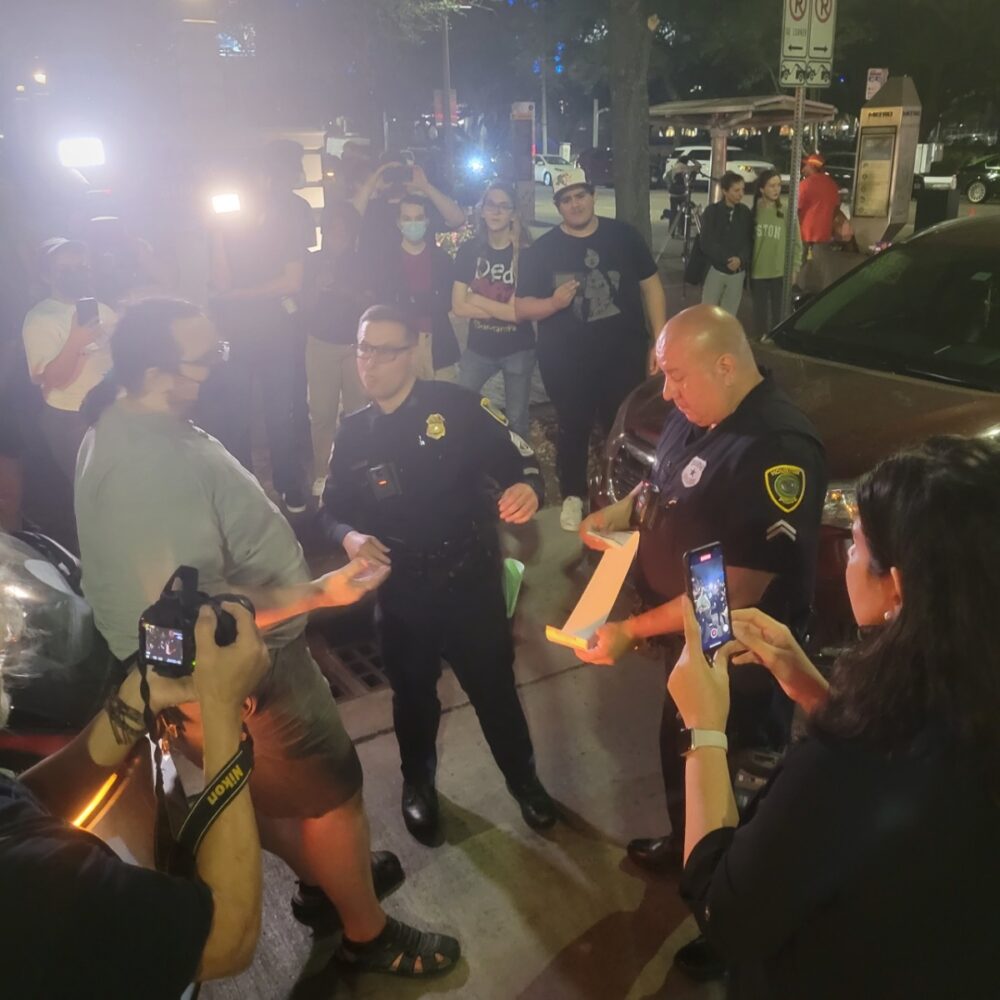 The City of Houston plans to re-file cases involving dismissed citations against volunteers who have provided food for the homeless population near the downtown library.
On Thursday, eight of the cases were dismissed because Houston PD did not show up to court.
Randall Kallinen, an attorney who previously helped Food Not Bombs, said the city has an ordinance that prohibits the feeding of more than five people outside unless permission is given by the property owners.
"This was very unpopular when it was being debated in front of city council," Kallinen said. "However, the law did pass. And that stopped a whole bunch of people, religious groups and so forth, from going downtown and feeding the homeless for example."
It was only in March earlier this year when the city began enforcing the ordinance. Since then, various volunteers have received tickets for feeding the homeless in front of the downtown library.
"The City of Houston intends to vigorously pursue violations of its ordinance relating to feeding of the homeless. It is a health and safety issue for the protection of Houston's residents. There have been complaints and incidents regarding the congregation of the homeless around the library, even during off hours. No municipality prevails in every prosecution of a category of violations. Houston intends to refile cases dismissed without prejudice. Houston prevailed in the first matter and expects to do so in several others. The City has carefully balanced competing concerns, ensuring through its own program and through its significant allocation of funds that there are alternative, nearby feeding locations that have been well attended and well received," City Attorney Arturo Michel said in a statement.
Kallinen said there was a time during a city council meeting back in March where he asked if there had been any reports of people getting sick from the food.
"There was nobody that had complained about getting sick from any of the food," he said.
RELATED: Food Not Bombs volunteer found not guilty after citation for feeding homeless
Paul Kubosh is the attorney who is representing many of the Food not Bombs volunteers who are trying to get their tickets dismissed. He said he went to a court hearing on Friday after hearing of claims that the city is choosing to enforce the ordinance now because of a rise in crime.
"That's news to me," he said. "I filled motions for discovery on that because the officers who testified in our first trial, who work downtown, they're assigned to the downtown unit. They had never took a call for service to that location when Food not Bombs was feeding. So I'm highly skeptical of the city attorney's statement."
Mayor Sylvester Turner said on Twitter Friday morning that the city is not opposed to groups feeding the homeless, but doing it in front of the central library is discouraging families from using it.
"The City cannot allow groups to continue to feed in front of the central library and run the risk of losing it as a valuable resource for our families and children especially when we are making available an alternative where the homeless can sit at a table and eat," Turner said in a tweet.
The city is not opposed to groups feeding those who are homeless. But doing it in front of the central library is discouraging families, children and others from using it. After people provide the food, they leave but those who are homeless camp around the library and stay. st

— Sylvester Turner (@SylvesterTurner) August 4, 2023
Can the central library remain attractive to families/children and employees and can those who desire to feed the homeless to do so without negating the other? YES. The city at its cost has made space available in walking distance to any group who desires to feed the homeless. st

— Sylvester Turner (@SylvesterTurner) August 4, 2023
The City cannot allow groups to continue to feed in front of the central library and run the risk of losing it as a valuable resource for our families and children especially when we are making available an alternative where the homeless can sit at a table and eat. st

— Sylvester Turner (@SylvesterTurner) August 4, 2023