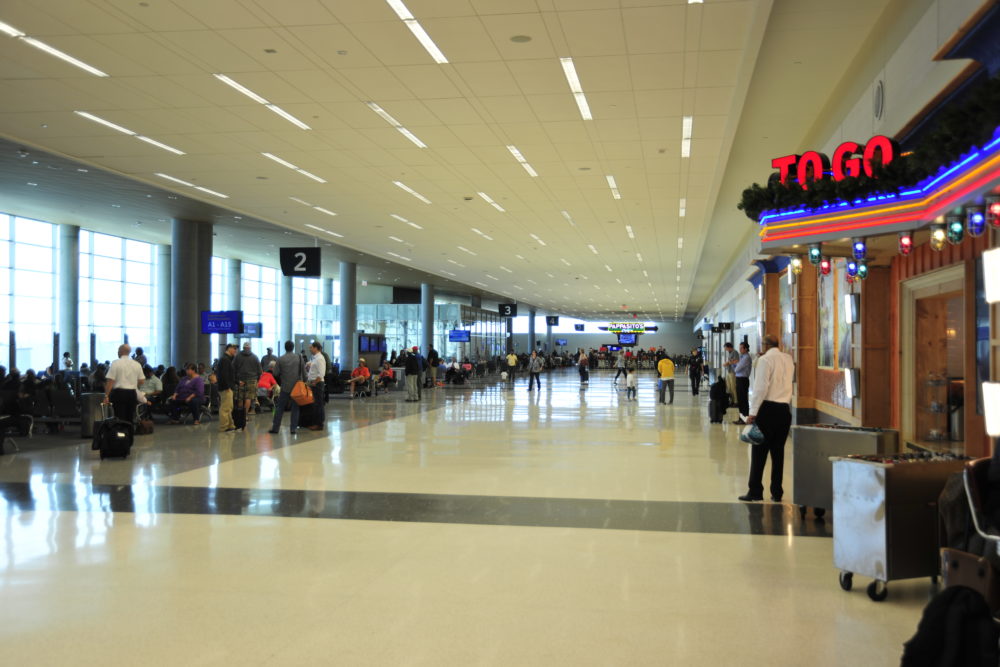 A popular Houston restaurant chain vying to continue operating concessions at one of the city's airports is rallying support from the public, having started an online petition that has garnered more than 20,000 signatures in a matter of two days.
The campaign has drawn the ire of Houston Mayor Sylvester Turner, whose administration criticized Pappas Restaurants for spreading "inaccuracies and disinformation" as the group stands to lose out on a 10-year contract at Hobby Airport that is estimated to be worth hundreds of millions of dollars.
The restaurant company's online petition, called "Stop the Eviction of Pappas Restaurants from Hobby," is in response to a proposal before the Houston City Council to enter a 10-year concession contract with a joint venture group led by Areas, a Spain-headquartered company that operates concessions at 89 airports worldwide including nine in the United States. Turner said during a council meeting earlier this week that 4 Families of Hobby, the Pappas-led group that has operated concessions at the South Houston airport since 2002, did not score as highly in the city's competitive bidding process for the new contract.
"The proposed awardee offered a significantly higher rate of return (to the city) and delivered the local concepts sought after by Houston Airports through this procurement process," Turner's administration said in a Thursday statement. "The City of Houston is obligated by law to make its decision based on the results of the procurement process – not a popularity contest."
Each of Houston's 16 council members opted Wednesday to delay, or "tag," a vote on the proposed contract with Areas until next Wednesday's council meeting. The company is offering to give the city 21 percent of its revenue from food and non-alcoholic beverage sales it operates at Hobby Airport, along with 23 percent of revenue from both alcohol and merchandise sales, with a projected overall revenue of more than $104 million per year, according to the council agenda item.
Pappas CEO Chris Pappas acknowledged during Tuesday's council meeting that Areas' revenue estimates "exceed ours on the sales side," but questioned the other company's projections because it has not yet operated at the airport and would have a different slate of restaurant-and-bar concepts. It is unclear what revenue percentages for the city are being offered by the Pappas-led group as those figures have not been publicized by either the restaurant or the city.
Chris Pappas argued that his concessionaire group contributed to the 5-star rating Hobby Airport received from Skytrax in 2022, a first for a North American airport. Its offerings include Pappasito's Cantina, Pappas Bar-B-Q, Pappas Burger and Pappadeaux Seafood Kitchen, along with a slate of national concepts, and 4 Families proposed to add some additional Houston-area concepts in its latest bid.
Council members Robert Gallegos and Michael Kubosh both said during Tuesday's council meeting they did not understand why the city would want to stray from the Pappas brand, because of its name recognition and community involvement and the fact its restaurants represent some of the region's core cuisines – barbecue, Cajun and Tex-Mex.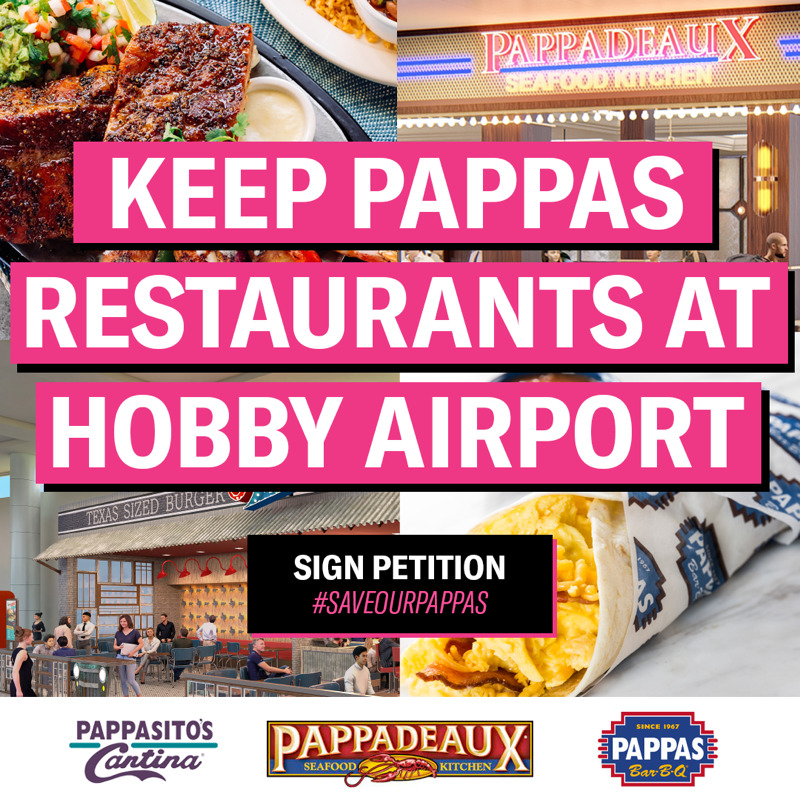 "We're looking at getting rid of our brand, what makes Houston," Gallegos said. "It doesn't make sense."
In its online petition, Pappas says the city "wants to replace the local restaurants you know and love with a company with no ties to our city and no track record of success in the community." But Turner's administration challenged the notion that local restaurants would not be represented at Hobby Airport if the contract were awarded to Areas.
Among the local concepts Areas has proposed to include are Killen's Barbeque, Clutch City Coffee, SpindleTap Brewery, The Spot and Throughgood Coffee, along with some national chains, according to Turner's administration.
"Plain and simple, Hobby Airport will stay local if city council approves the contract before them," Turner's office said in its statement.
In January, the city awarded a separate 10-year concession contract to LaTrelle's Management Corporation, which has proposed to add Houston staples Common Bond Bakery, Dish Society, Fat Cat Creamery, Pink's Pizza, The Rustic and Velvet Taco to Hobby Airport by November 2024. LaTrelle's also is part of the 4 Families group that includes Pappas.
Pappas Restaurants said through a spokesperson Friday that the city has a "guarantee of excellence" from the company, and that operating at the airport has helped its business grow. The spokesperson added that Pappas will "continue to serve Houston with pride and excellence, no matter where our restaurants are."
Houston-area partners are included in the joint venture group led by Areas, according to Steve Duchesne, a spokesperson for the company. He also said operating at Hobby would give the concessionaire, which has a U.S. headquarters in Miami, its first presence at a Texas airport.
"We firmly believe our 50 years of success have prepared us well to establish our Hobby operations, engage passengers and be a productive city partner," Duchesne said. "Importantly, we will recruit and hire our Hobby team locally. Any employee of the incumbent concessionaire who wants to continue their employment with Areas may do so. We will at a minimum maintain current wages and provide comparable benefits without any loss of seniority. That is our promise."