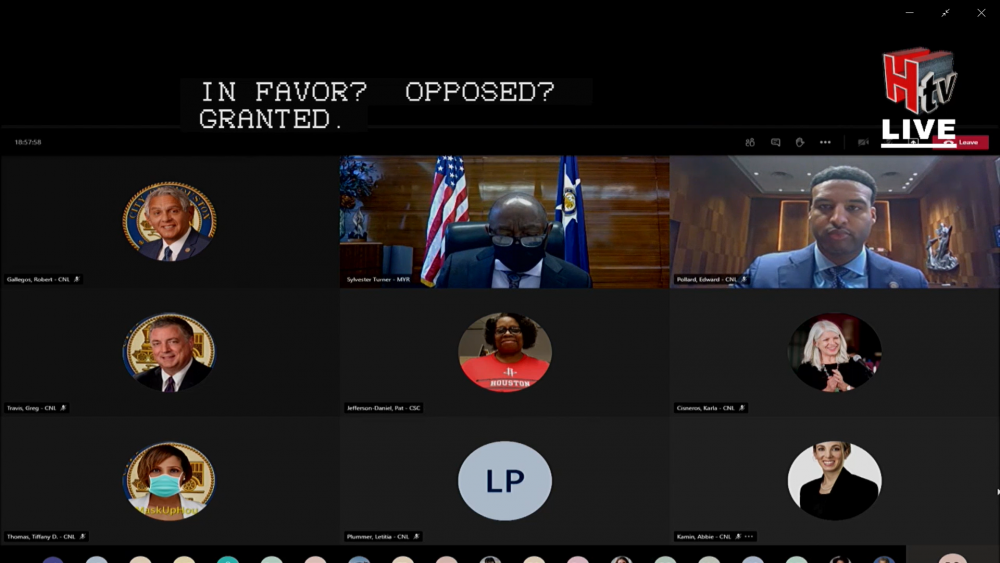 The Houston City Council on Wednesday voted to allocate $30 million in federal CARES Act funding for one-time cash relief payments of $1,200 to Houstonians in need during the COVID-19 pandemic.
The latest round of emergency relief funding, which allocated money to the city's ongoing relief fund, is meant to assist with rent relief and other expenses like food, health care, child care, and transportation. The funding will be administered by BakerRipley, a local nonprofit that has managed the city's relief program since the beginning of the pandemic, and will be issued by Dec. 31.
Until now, most of the city's relief money was only available to recipients whose landlords chose to participate. With direct assistance, a broader range of Houstonians will be able to access the aid, with fewer restrictions on how it is spent.
District C Council Member Abbie Kamin said the new round of payments would go further than previous measures, helping many residents who are in need throughout the city.
"We recognize the importance for rent assistance," she said. "But this goes beyond that for those that may have particular circumstances outside of that scope."
In order to receive the money, applicants must be residents of the city of Houston and be 80% or below the average median income. Additionally, their needs must be COVID-19 related, such as job loss due to the pandemic. Applicants cannot have benefitted from the $1,200 county relief program, and it will not be handed out on a first-come-first-serve basis.
Some council members showed concern over the nature of the direct assistance, with District G Council Member Greg Travis arguing it could be more targeted.
"Now it looks like we're giving money that's not restricted," Travis said. "I'm always concerned with that because while many people will use it for the proper purposes, others may not."
But in the meeting, Mayor Sylvester Turner said that they decided to let people use the money based on their needs instead of restricting how the money can be spent, arguing that families are aware of what their specific needs are.
"We didn't want the criteria to be so restrictive that it becomes frustrating for people who find themselves in need, so we're not putting a lot of strings on it," he said. "So we're saying to people, 'You know your situation better than we do.'"
Community activists say they've pushed for that relief — similar to the direct, one-time payments from the federal government earlier this year — since the beginning of the pandemic in Houston.
The move to provide direct assistance in Houston shows that the city has finally acknowledged that reality, according to Zoe Middleton, the Southeast Texas co-director of Texas Housers.
Despite previous attempts at rent relief, there are hundreds of eviction hearings every week, despite an ostensible federal "moratorium" recommended by the Centers for Disease Control and Prevention.
Now, the city needs to do more to meet the needs of all Houstonians, Middleton said.
"As it currently stands, Houston will always be known as a national leader in evictions during the COVID-19 crisis," Middleton said. "Even in the absence of local policy or more money from D.C., people in need know how to make complex financial decisions that meet the needs of their households. This move to direct assistance shows that City Hall is finally acknowledging that reality, but it doesn't erase the need for protective local policy."