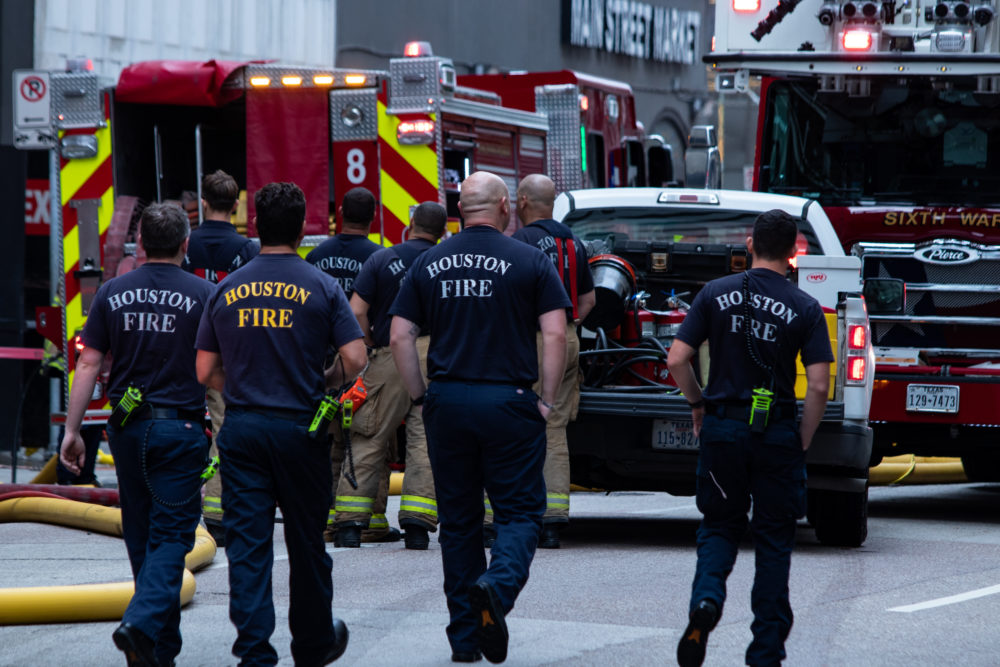 More than 200 Houston firefighters are in quarantine as of Friday, leaving the fire department to make difficult choices to keep fire stations fully staffed.
Coronavirus cases are continuing to spread in the Houston area, including among frontline workers. Houston Fire Chief Samuel Peña said Thursday 264 firefighters are currently on the bench — either battling the coronavirus themselves or in quarantine because they've come in contact with someone who is sick.
That's 7% of all Houston firefighters.
"The staffing issue is something we've been talking about for weeks," Peña said on Monday. "We've been mentioning the fact that as more firefighters are in quarantine, it's stressing our ability to staff our units."
Peña stressed that all units are in service and no fire stations are closed. But it's affecting their ability to respond to the roughly 1,100 calls that come in every day.
"Our response times for June are about seven minutes and 18 seconds," Peña said. "And that has gone up a little bit since January, about 20 seconds."
Still, Peña said they've managed to fully staff ambulances and fire engines.
Marty Lancton, the head of the Houston firefighters union, said that's because some firefighters are working three 24-hour shifts in a row.
"What the city has done to make up for (staffing shortages) is that they've filled those gaps with mandatory overtime," Lancton said.
Lancton isn't surprised at all that the fire department is stretched to the limits — he's known for months that the department doesn't have surge capacity. He said that's not just because of COVID — it's also because of Houston's low salaries compared to some other big cities.
More than half of Houston firefighters leave to work somewhere else, Lancton said, so the department actually began the pandemic with a staffing shortage.
"Going back from about 2016 to today, 60% of the cadets that have graduated — Houston taxpayers have trained — have all left to go to other departments," Lancton said.
In 2018, Houston voters approved Proposition B, which would have raised firefighter salaries by creating pay parity with Houston police officers. But after multiple conflicting legal rulings, a judge in May 2019 ruled that the measure was "unconstitutional and void in its entirety."
Lancton said firefighters will likely continue to leave as the city and the union remain at an impasse on pay.
"You are going to continue to see gaps that we have never seen in the history of the Houston fire department and staffing levels well below what we had just two years ago, and that's not even enough," Lancton said.
Curt Floid, technical lead for responders for the National Fire Protection Association, said there are underfunded fire departments around the country that are struggling.
"If you have a department that already is having some issues not being able to have enough firefighters or having trouble complying with the national standards, COVID has really made a huge impact," Floid said.
Floid added COVID-19 is straining fire departments in a way he hasn't seen before in his career.
"Never have I seen — or in my travels around the world or working for the NFPA have I ever heard of — such an impact that the impact of COVID has had on our members," Floid said. "Just haven't seen it."