Updated 7:31 p.m. CT Wednesday
After weeks of political posturing between state Republicans and Houston Mayor Sylvester Turner, the mayor on Wednesday said he would cancel the Texas Republican Party's in-person convention, an event that was scheduled to be held at downtown Houston's George R. Brown Convention Center beginning on July 16.
COVID-19 cases continue to rise in the Houston area, where more than 10% of COVID-19 tests have been coming back positive for over two weeks. Gov. Greg Abbott told reporters in May that he considers a positivity rate above 10% a "warning flag."
"Look, these are some very serious times," Turner said at a press conference Wednesday. "And the public safety of the people attending the convention, their employees, their family members, the people in the city of Houston, the public health concerns are first and foremost. Paramount."
The George R. Brown Convention Center is city owned and operated by Houston First, a quasi-governmental entity known as a local government corporation. Turner said Houston First sent a letter to the state GOP's executive committee informing them of the decision shortly after 3 p.m. Wednesday.
The mayor cited the advice of Houston's health authority, David Persse, as part of the decision to cancel the event. In a Tuesday letter addressed to Turner and Houston First president and CEO Brenda Bazan, Persse called the use of the convention center "a clear and present danger to public health," a point he reiterated at Wednesday's press conference.
"I think it's obvious to pretty much everyone," Persse said. "This is a very bad time to have a large gathering."
In a statement released Wednesday evening, Republican party Chair James Dickey criticized the mayor for what he said was a political calculation rather than a safety measure.
"If Mayor Turner's motivations were pure, he could have cancelled the lease weeks ago," Dickey wrote. "Instead, he waited until the eve of the Convention to inflict the greatest disruption."
The convention was expected to draw about 6,000 attendees. State Republican officials had already reportedly planned to deliver their speeches by video rather than in person, and Dickey said the party was evaluating whether to move forward with a fully virtual convention. Dickey also said the party was evaluating its legal remedies.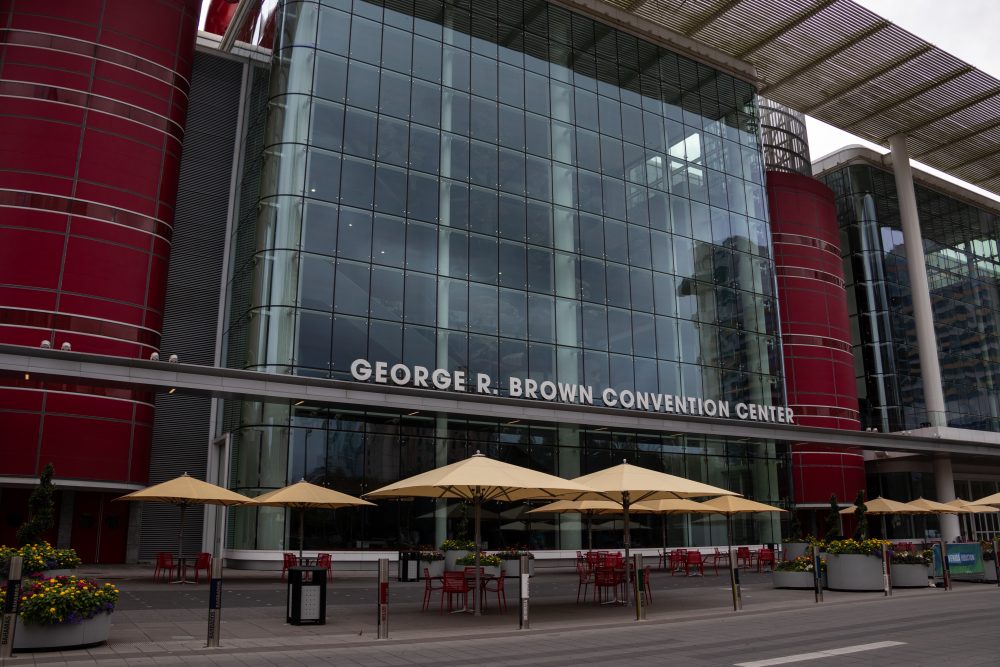 The mayor had signaled throughout the day that the city may cancel the event. At a Wednesday city council meeting, Turner announced he was directing Houston's legal department to review the contract between Houston First and the State Republican Executive Committee, the leadership group that organizes the convention.
Turner did not explain Wednesday why he hadn't exercised his discretion to order the legal department to review the contract sooner, before organizations like the Texas Medical Association and the Greater Houston Partnership in recent days intensified public pressure to cancel the convention.
Dickey and other conservative critics pointed to Turner allowing large protests in the wake of George Floyd's death as a sign of hypocrisy from the mayor.
"Mayor Turner's hypocritical flip flop on public gatherings is a political stunt," Harris County GOP Chairman Paul Simpson said on Twitter. "While he joined in massive marches in the streets last month, he has now blocked Republican grassroots activists from peaceably assembling even under the most stringent health safeguards."
Asked about the criticism at Wednesday's press conference, Turner deferred to Persse, who called an outdoor gathering "clearly different" than a large, indoor convention. Both Persse and Turner added that, legally speaking, outdoor marches were not something the city could limit.
The mayor could not stop the Republicans from doing the same, Turner added.
"If you want to march outside, you can do that, that's your First Amendment right," he said. "You don't need a permit from me."
The state GOP also argued that canceling the convention signaled a failure to support the business community.
But Houston business leaders at the Greater Houston Partnership on Wednesday applauded the event's cancelation.
"As a number of organizations including ours have voiced in recent days, Houston simply cannot accept the risk that comes with hosting an indoor event for thousands of participants from across Texas at a time when COVID-19 is surging in the community," read a statement from Greater Houston Partnership president and CEO Bob Harvey.
Additional reporting by Paul DeBenedetto.