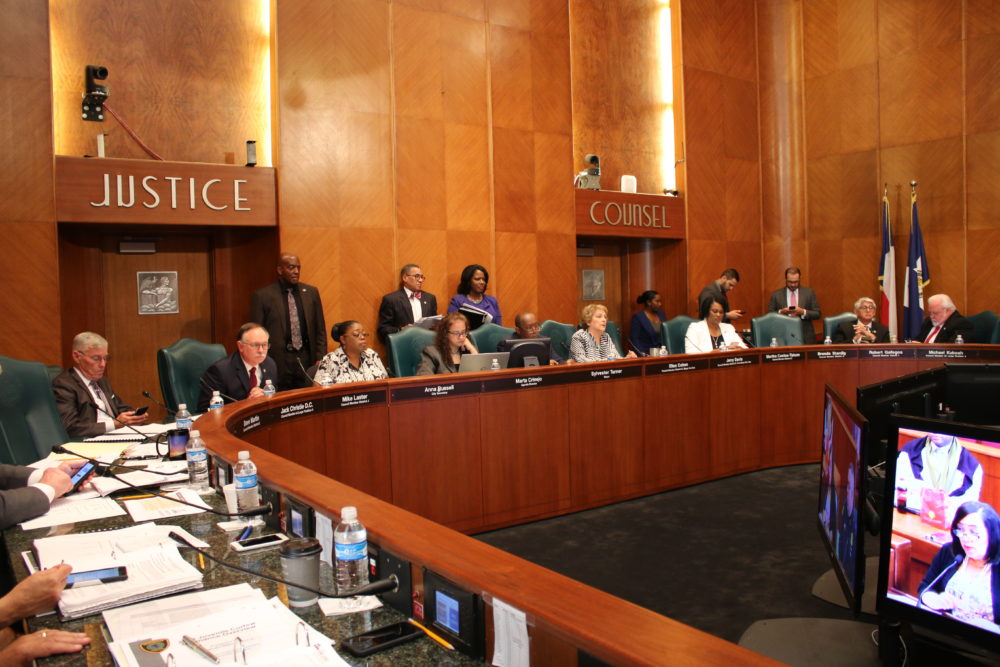 Houston is the largest city in America without a paid sick leave ordinance.
Three Texas cities — Austin, Dallas and San Antonio — have passed paid sick leave ordinances since 2018. Those ordinances require employers to provide employees with one hour of sick leave for every 30 hours they've worked. Austin and San Antonio's ordinances are being challenged in the courts, and Dallas' policy goes into effect on April 1.
Houston Public Media asked city council members whether they would vote for a paid sick leave ordinance requiring employers to provide employees with one hour of sick leave for every 30 hours they've worked.
Here's how they did, or did not, respond:
Amy Peck, District A:
"As someone who recently had two children with no paid maternity leave as a city staffer, I certainly sympathize with anyone who does not have paid sick time. At this point, it is being discussed at the state level, so it is too early to comment until I see what the state is going to propose."
Jerry Davis, District B:
(Did not respond to requests for comment.)
Abbie Kamin, District C:
"This is a very important issue. It would depend on the language, but I support initiatives to encourage and empower business to provide benefits and appropriate care for employees throughout the city."
Carolyn Evans-Shabazz, District D:
"I know that people have to sustain themselves and when you allow people the opportunity to be sick, then you can really cut down on the possibilities of them coming to work sick. And so I think that it would be something that I would support so that people can continue to live and sustain themselves."
Dave Martin, District E and Mayor Pro Tem
(Did not respond to requests for comment.)
Tiffany Thomas, District F:
"Yes. I support paid family leave. DeSoto, TX ordinance is limited to city employees and Dallas will only enforce the ordinance if there are violations. I believe Houston is in a position to offer paid sick leave to COH employees for certain."

"In principle, YES. However, each of the cities noted have different guidelines for employees and employers."
Greg Travis, District G:
"As a former owner of a law firm, I always favored and had sick leave for my employees. I think its essential due to the fact you don't want one employee's illness possibly shutting down the entire firm. You also want the employee to get better asap and it's in their best interest to rest.

However, I also saw it misused.

I think any responsible employer should and will offer it. However, I don't think one size fits all and each employer needs to make that determination for itself. I am not a fan of government regulation for the sake of regulations. Further, the formula proposed is too generous in light of the usual vacation time, etc. that most firms offer in addition to the sick leave. Therefore, I would not be in favor of a similar ordinance.

It should be noted, if one of my employees legitimately was ill and had used up all of their sick leave, we still paid them. It was on a case by case basis, but I don't remember ever docking anyone because they were sick. I would hope all businesses operate similarly as it's in their best financial interest."
Karla Cisneros, District H:
"Council Member Cisneros would support a paid sick leave ordinance, but given the fact that all three of the previous ordinances have been sued by the State as being pre-empted by State law and lost on appeal it does not seem like a route that will yield any meaningful results without changes made first at the State level."
Robert Gallegos, District I:
"No proposal has been presented to the council and, to my knowledge, no proposal is being considered at this time. And like the mayor said, the councilman would be open to a conversation with stakeholders regarding the benefits of paid sick leave and to better understand the possible implications."
Edward Pollard, District J:
"At the moment the CM needs more information in order to make a well informed decision."
Martha Castex-Tatum, District K and Vice Mayor Pro-Tem:
(Did not respond to requests for comment.)
Mike Knox, At-Large 1:
"We don't have a position on it right now."
David Robinson, At-Large 2:
(Did not respond to requests for comment.)
Michael Kubosh, At-Large 3:
(Did not respond to requests for comment.)
Letitia Plummer, At-Large 4:
(Did not respond to requests for comment.)
Sallie Alcorn, At-Large 5:
"I am open to supporting a paid sick leave policy that has broad stakeholder support, especially in light of the struggles hourly workers may face due to the coronavirus threat. However, the Texas Supreme Court has yet to make a decision on the legality of the Austin paid sick leave ordinance, which will have implications for the Dallas and San Antonio ordinances. I believe it's probably smart to wait until a decision is handed down before pursuing a similar ordinance in Houston."