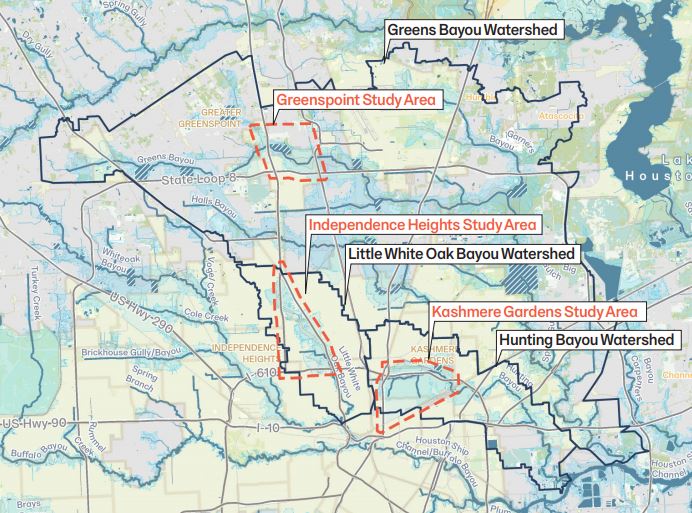 With six federally-declared flooding disasters in the past five years, Houston is working on a global approach to preparing for the next storm. Some of the city's goals are outlined in a new report, "Living With Water."
Houston is one of many cities across the world studying flood risk as part of an international group called 100 Resilient Cities. Houston joined the collaboration in August 2018, one year after Hurricane Harvey, Houston's chief resilience officer Marissa Aho said.
"Through the same time frame, the city and many partners have been developing the Resilient Houston strategies that will be released soon," Aho said.
Some of the mitigation strategies they're studying include widening and expanding bayous, federal detention projects and retrofitting parking lots to store rainwater. The report also takes a closer look at flood risk in three Houston neighborhoods — Independence Heights, Kashmere Gardens and Greenspoint.
In Kashmere Gardens, strategies outlined in the report could more than double the amount of rain storage. But even with all of the proposed improvements, the neighborhood will be able to handle only half the rainfall in a 500-year storm.
"Even when we do all of these things," Aho said, "there's still a residual risk that we need to work towards mitigating."
Independence Heights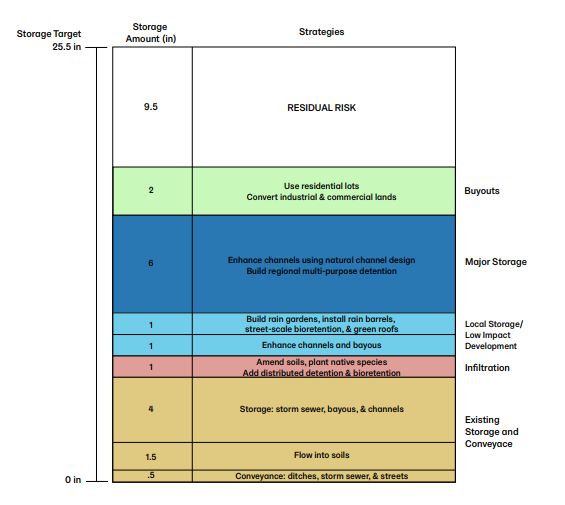 Kashmere Gardens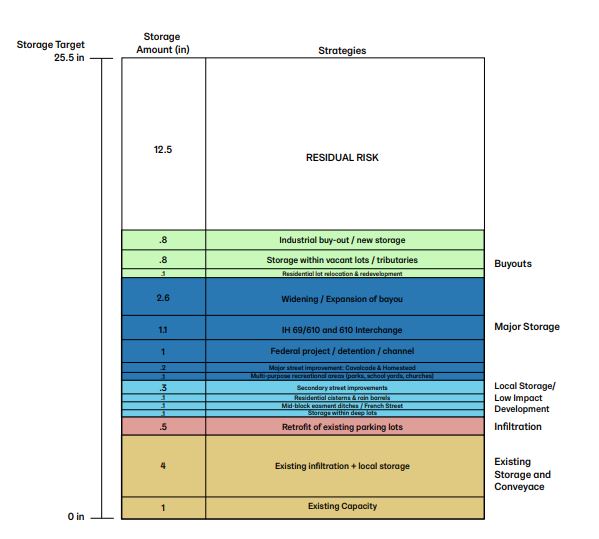 Some top priorities in the "Living With Water" report:
Prioritize safety first. Critical Facilities and access corridors should be elevated or retrofitted. Development should be incentivized to build in flood-safe areas.

Hold water where it falls. Holding runoff closest to where it starts lessens downstream impact. Once water enters the bayous, it enters another scale of infrastructure and is more difficult to control.

Educate public & private sectors about water. Especially in areas where flood risk is not immediately apparent, outreach on flood risk, the location of flood-prone land, the function of the bayou system, and the causes of flooding can shape public and private commitment toward water resilience. Solutions and advocacy at every scale require a similar public outreach.

Align transportation system to waterway functions. In certain cases, improve choke points where transportation crossings (road and rail) obstruct water flows only when upstream downstream areas will not be impacted. Major transportation corridors should manage their own runoff and take on additional detention if possible. Retrofitting parking lots and other paved areas to have plantings and pervious paving lowers the impact highly impervious surfaces have on the speed and volume of runoff entering the drainage system.

Make Space for Bayous. Constriction in the bayous must be resolved, whether it is in the form of choke points at bridges and culverts or properties located in the floodway. Water must be given space in a way that does not harmfully displace people or amplify downstream flooding. Working in tandem with the Bayou Greenways 2020, new bayou space can become a recreational amenity and the front yard of Houston.

Bring back the prairie. Prairie conservation efforts in the greater Houston region reduces runoff, preserves a recreational and ecological amenity and lowers the urban heat island effect.

Increase water storage ambition over time. Climate change, updated storm data and ongoing development makes water storage goals a moving target. Developing water-aware development culture and increasing water storage ambition helps to keep up with increasing future risk.
Read the full report here.