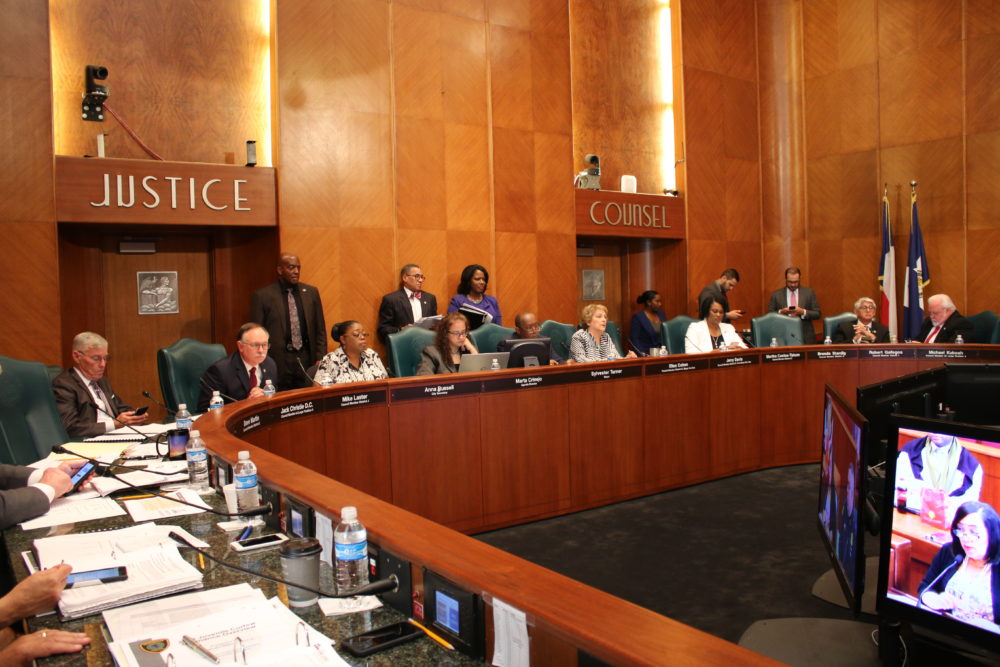 The City of Houston has been lowering the property tax rate for years, ever since voters passed a revenue cap in 2004 requiring the city to collect less tax revenue. This year, that means the average homeowner will save around $49, costing Houston around $43 million in lost revenue, according to the city.
In 2016, the city tax rate dropped to 58 cents on each $100 of taxable home value. In 2017, the rate dropped again. In 2018, the rate rose slightly. This year, the rate will decrease to 56 cents.
Mayor Sylvester Turner said he supported the tax cut in order to comply with the revenue cap, though he opposed cutting revenue at a time when firefighters are demanding pay raises and he said the city needs more police officers.
"Until the voters decide to do something else, I will adhere to it," Turner said, "but the reality is, when you're asking for more, there are expenses associated with more."
District D Councilmember Dwight Boykins, who is running for mayor, voted against the tax rate cut, along with District C Councilmember Ellen Cohen.
"There are a lot of poor people in this city that count on city services," Boykins said. "We can't continue to talk about cutting, cutting, cutting unless we're receiving federal and state funding to make up the gap."
Meanwhile, this week Harris County commissioners have proposed an increase in the county's property tax rate. The proposal will be subject to public hearings before commissioners can take a vote.
Precinct One Commissioner Rodney Ellis said that's in response to a new statewide revenue cap that goes into effect next year limiting the county's ability to raise taxes in the future.
"Given our growing population and the major challenges we face, Harris County must be able to fund its operations," Precinct One Commissioner Rodney Ellis said in a statement. "This proposal is a protective measure against the revenue cap that will impact our ability to govern for years to come."
Before the city council vote, District E Councilmember Dave Martin, who chairs the Budget and Fiscal Affairs committee, said even though the city's tax rate would be going down by 3.5 percent, taxpayers may not notice the change.
"At the same time, Harris County is raising their tax rate 3.6 percent. So when constituents look at their tax bill, understand that the function of the tax bill, being appraised value and tax rate, goes directly to Harris County and their 3.6 percent increase," Martin said.
District A Councilmember Brenda Stardig said the county's tax increase negates the city's tax cut.
"I don't know where the net gain is for the taxpayer, the property owner, and that's my concern," Stardig said.
In response, Harris County Judge Lina Hidalgo said in a statement, "We are exploring an option that will allow the county to prepare ahead of SB 2 coming into effect, so that we can better keep up with growth while protecting against a potential economic downturn or catastrophic natural disaster like Harvey."
The city council vote was a decisive 14-2, though some councilmembers who voted for the cut said they didn't want to support it, like District B Councilmember Jerry Davis.
"I don't want to vote for this. I really don't," Davis said. "Especially this summer when I had to go out and beg and get certain things done at certain parks."
He said the tax cut comes at the expense of city services like public pools and libraries.
"There's an old saying that said you get what you pay for, and right now, we're not paying for a lot of things," Davis said. "We're getting pretty much nothing."
Mayor Sylvester Turner said the police department needs to hire another 600 officers, and the lost revenue from this year would cover half the cost of those officers.
At-Large Councilmember Jack Christie supported the tax rate cut, but said he would like to see voters approve a public safety exemption that would allow the city to raise more taxes than the revenue cap currently allows.
"I just hope and pray that we put it on the ballot to have public safety exemptions and put some into the firefighters and the police salaries through taking that out of the revenue cap," Christie said. "And I think it'll pass. The citizens understand that."
In response, the mayor said a public safety exemption is no longer an option because of recent changes in state law.
"The Legislature, by virtue of its action during the last legislative session, has pretty much preempted the City of Houston by imposing a revenue cap on all cities and counties across the state," Turner said in a statement.