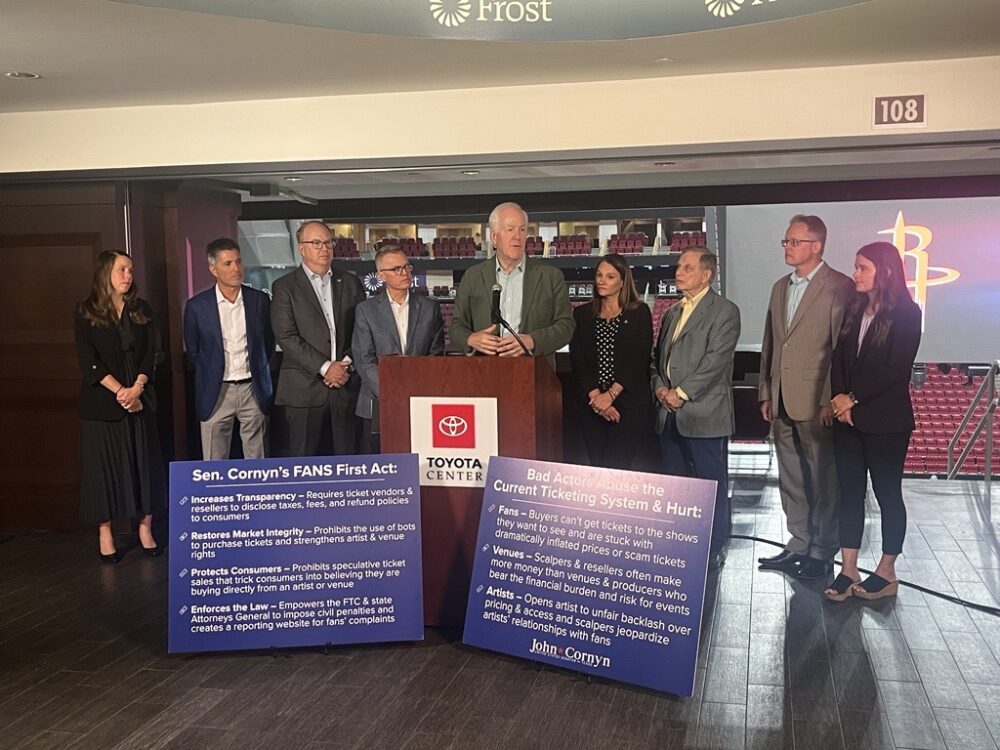 U.S. Sen. John Cornyn, a Republican from Texas, is proposing bipartisan legislation aimed at reducing predatory ticket sales practices. He met Wednesday at Houston's Toyota Center with representatives from the Astros, Rockets and Texans to discuss ways to increase transparency and fight price gouging.
Cornyn's proposed FANS First Act was prompted by consumer demand after Ticketmaster's fiasco last fall ahead of pop star Taylor Swift's Eras Tour. Some buyers were locked out of ticket sales and others later paid exorbitant sums for tickets on the resale market.
"That doesn't go to the benefit of the artist or the team or any of the people who are actually creating the event," Cornyn said. "It goes to the people who are frankly just in it to make money and scalp the consumer."
He cited computer-generated bots that buy up tickets and later resell them to fans for many times the original value. Some fans are even sold tickets for seats that do not actually exist, which Cornyn called "outright consumer fraud." While there are some state-level regulations on bots, Cornyn said federal legislation is needed.
"The states can pass individual laws, but without the federal government's resources and the interstate commerce aspect of this, which is not just a single state, you're not likely to be successful," he said.
Cornyn is creating the bill – which is still a work-in-progress – along with U.S. Sen. Amy Klobuchar (D-Minnesota) and said it would increase price transparency, fight consumer fraud and use the Federal Trade Commission for enforcement.
"Folks who are getting wealthy off of the status quo are pretty resourceful, and they're going to try to evade whatever integrity measures we put in place," Cornyn said. "That's why we need some flexibility that an organization like the Federal Trade Commission can actually respond to."
Cornyn said he hopes to get the bill passed in time for the next World Cup in 2026, when Dallas and Houston will both be hosting games.