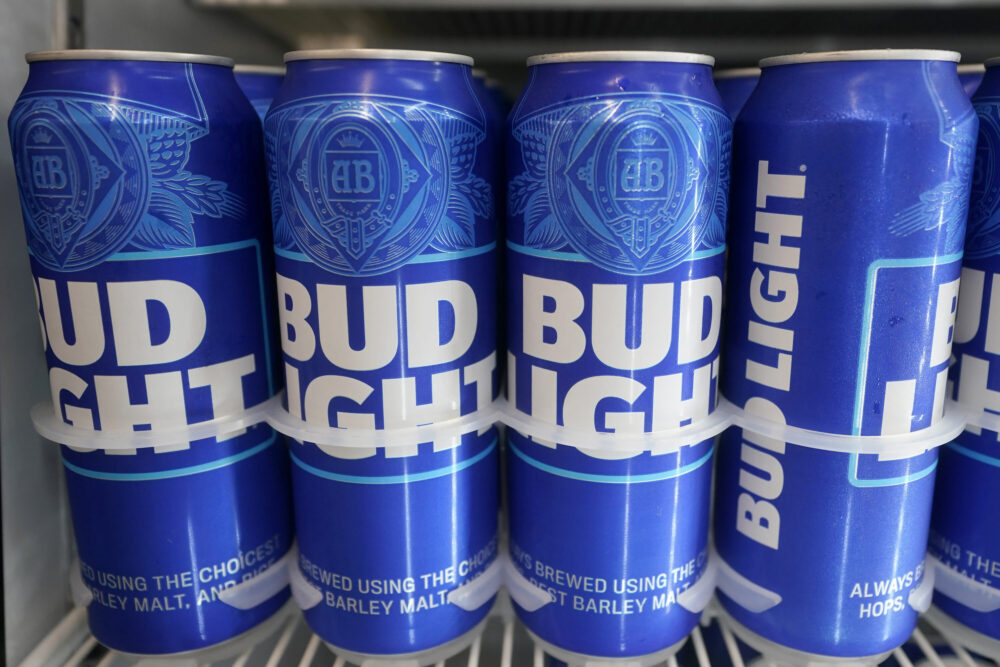 As Bud Light sales steadily declined across the United States this spring after the beer brand's marketing campaign with a transgender influencer, which sparked backlash and boycotts among socially conservative consumers, the Houston market was one of a few that had been holding strong. Bud Light sales in the region had not seen significant dropoffs as of May, according to beer industry expert Bump Williams, who said the same was true in Des Moines, Iowa, and Las Vegas, Nevada.
Now, though, what has long been the best-selling beer in America is seeing negative trends in Houston and everywhere else.
According to the latest national NielsenIQ data for retail beer sales in grocery, liquor and convenience stores, which Williams shared with Houston Public Media, Bud Light's market share for the four-week period ending June 3 was 7.3 percent, second to Modelo Especial's 8.4 percent. It was the first time since 2001 that Bud Light did not top the list, according to Williams, also also said the Des Moines, Houston and Las Vegas markets joined all the others in terms of sales declines.
"Every market in the country is suffering negative declines on the Bud Light brand," said Williams, of Connecticut-based Bump Williams Consulting.
Bud Light remained the nation's top-selling beer in terms of sales volume, according to the NielsenIQ data, and continues to lead in both sales dollars and volume for the year 2023. But Williams said the Anheuser-Busch InBev product has seen steady declines since April 1, when transgender influencer Dylan Mulvaney made an Instagram post featuring a customized Bud Light can that included her image.
The post triggered outage and calls for boycotts among right-leaning politicians, pundits and consumers, including Republican Congressmen Dan Crenshaw and Ted Cruz of Houston. Cruz recently called for an investigation into Bud Light's ad campaign with Mulvaney, claiming it violated industry standards by targeting underage consumers.
Anheuser-Busch backed off from the campaign after the initial outcry and did not denounce the criticism, which also upset consumers in the LGBTQ+ community. Anheuser-Busch CEO Brendan Whitworth suggested in a Thursday statement that the company would avoid similar marketing campaigns moving forward.
"We recognize that over the last two months, the discussion surrounding our company and Bud Light has moved away from beer, and this has impacted our consumers, our business partners, and our employees," Whitworth said. "... Our summer advertising launches next week, and you can look forward to Bud Light reinforcing what you've always loved about our brand – that it's easy to drink and easy to enjoy."
Williams said Anheuser-Busch has experienced a "negative halo effect," with its other brands such as Budweiser, Michelob Ultra, Busch Light and Natural Light also seeing sales declines since April 1. But the most recent data shows that consumers are returning to some of those brands, he said.
The steady growth in popularity of Modelo Especial also was a factor in its unseating of Bud Light as America's top-selling beer, according to Williams, who said that brand has "great support from retailers, great advertising, great consumer demand." Modelo Especial is a Mexican lager brewed in Mexico and sold in the U.S. by Constellation Brands. Outside of the U.S., it is distributed by Grupo Modelo, which is owned by Anheuser-Busch InBev.
With Bud Light and some of its sister brands seeing sales declines, Whitworth said in his statement that Anheuser-Busch is "providing financial assistance to our independent wholesalers to help them support their employees." Along those lines, Williams said he worries about the impacts on local distributors such as the Houston area's Silver Eagle Distributors and Del Papa Distributing Company, which he said have "great people" and are two of the biggest Anheuser-Busch distributorships in the U.S.
Both Silver Eagle and Del Papa declined to comment when contacted by Houston Public Media.
"It's negatively affecting every single Anheuser-Busch distributor in the country," Williams said. "The employees, the salespeople, they get paid incentives for the cases they sell. They use those incentive dollars to pay their mortgages, pay their children's college bills or pay their electric and gas bills. When that money goes away, they're the ones hurt the most. They're the ones paying the price for something that was completely out of their control."