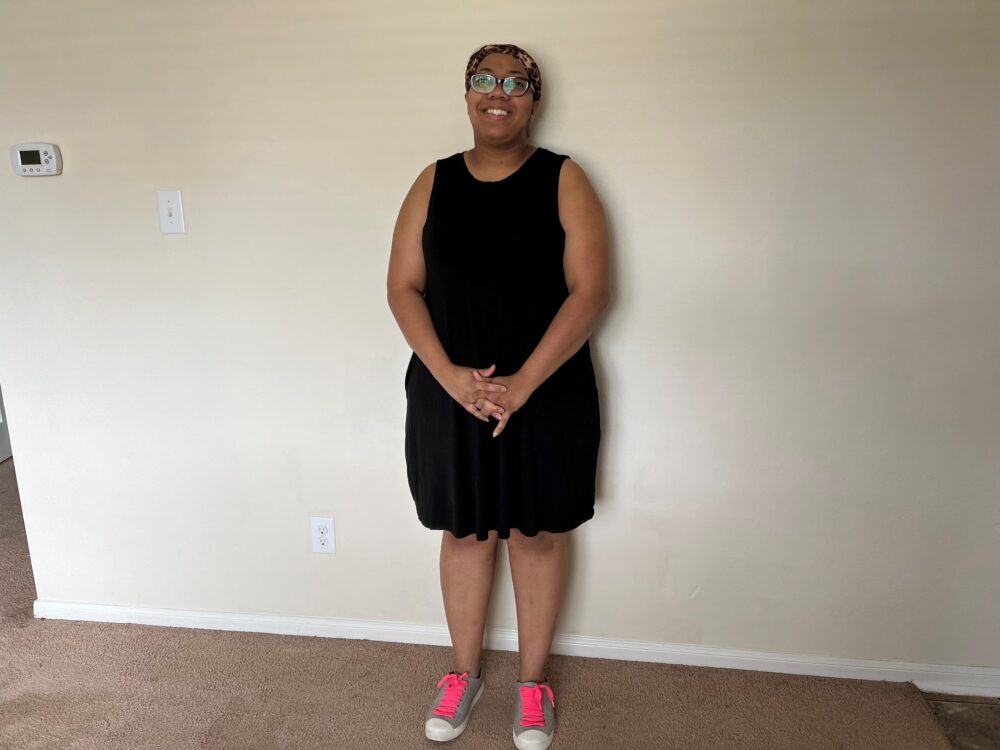 How have you adjusted your spending habits in response to rising prices over the past year? Email Andrew Schneider at andrews@houstonpublicmedia.org or contact him on Twitter @aschneider_hpm.
The latest Household Pulse Survey conducted by the U.S. Census Bureau revealed roughly four out of five Houstonians are stressed out about recent price increases. This raises the question of whether Houston still deserves its long-held reputation as one of the most affordable large cities in the country.
Housing is typically the largest expense any Houston-area resident faces and is the key factor in determining affordability. For this reason, changing homes can be an extremely stressful event, right up alongside changing jobs. Manda Rogers recently did both.
"I literally got the keys for this house on Friday," Rogers said, standing in the bare dining room of her new home in Southeast Houston on a recent Sunday afternoon. The power hadn't been turned on yet. She and her two children had just moved from an apartment in the Alief area, where Rogers is a first-year teacher.
"I was looking for a house that I can afford," Rogers said. "I wanted the kids to have their own bedroom and stop fighting over space in one. And I grew up in this area, many, many moons ago."
While Rogers was able to afford the mortgage, her new home came with a tradeoff that pushes her budget to the edge affordability.
"I was working with some counselors on trying to get into a house that was 30% of my income," Rogers said. "Right now, I think I'm sitting at like 40-45% with the taxes and stuff included."
That's still a smaller portion of her salary than Rogers was paying to rent her former apartment. "Actually, my rent just went up in Alief to $1,100," Rogers said.
So, Rogers is saving money, but she's still paying at least 40% of her income on housing. The U.S. Department of Housing and Urban Development (HUD) defines as "cost burdened" anyone who spends at least 30% of their household income on rent, mortgage, or other household needs. Plus, Rogers took on a new expense when she moved.
"I was spending about $50 a week commuting back and forth to work," Rogers said. "Now it's probably going to be close to $70, because the commute is a little bit longer."
Rogers owns her car outright, but it's getting along in years, and she worries she'll have to replace it at some point. Meanwhile, there are many other transportation-related bills to pay. On top of gas, oil, and tolls, there's the monthly insurance premium and regular maintenance expenses. She estimates all that adds up to 20% of her income.
And what happens when the electricity in her new home is turned on?
"My lights have been about $300," Rogers said. "I have an estimate of the gas and water, and that'll be about another $100." That's another 10% of her income for utilities.
As a teacher, Rogers' health insurance is deducted before she even sees her paycheck. For her and her two children, that's another 5%. And they haven't eaten yet.
"I have been utilizing food pantries and other resources to kind of cut down on costs for food," Rogers said.
All told, we're looking at more than 75% of Rogers' household income spoken for, leaving little for emergencies or future purchases. As a homeowner, though, she's in a relatively good position.
"Renters are twice as likely to be burdened by housing as homeowners," said Nadia Valliani, director of community philanthropy at the Greater Houston Community Foundation. "And specifically in Harris County, one out of every two renters spend at least 30% of their income on housing alone. That's about 400,000 households. And half of those spend at least half of their income on housing."
Renters are at a disadvantage not only here but in other major cities across the country.
"If you're a renter from some of the top metropolitan areas that I pulled like Los Angeles and New York and San Diego, Houston is right on up there with the median cost ratios for these larger cities," said Molly Cromwell, a demographer with the U.S. Census Bureau's Housing Statistics Branch. "However, for homeowners, Houston is a little bit cheaper than some of these other big metropolitan areas."
Homeowners have another burden to cope with, though: property taxes. An April 2022 study conducted by the Government of the District of Columbia ranked major U.S. cities in terms of the estimated, combined tax burdens for hypothetical families at various household income levels. In each case, Houston ranked relatively low on the list. But that's cold comfort to people living in Houston who have watched their tax bills rise in recent years.
Kimberly Lee bought her home in East Houston in 1996. The educational diagnostician lives there now with one of her daughters and her granddaughter. Her rising property tax bill is one of her biggest worries.
"For me, I have seen, definitely, I would say at least a 50% increase within the last couple of years," Lee said, "and prior to that, it had jumped a significant amount as well."
And what people like Lee save by owning their own homes, they often pay in travel costs.
"I do a lot of driving to get to my job," Lee said. "It takes me at least 35 minutes one way." Like Manda Rogers, Lee estimates that gas, oil, insurance, and car repairs collectively absorb 20% of her earnings.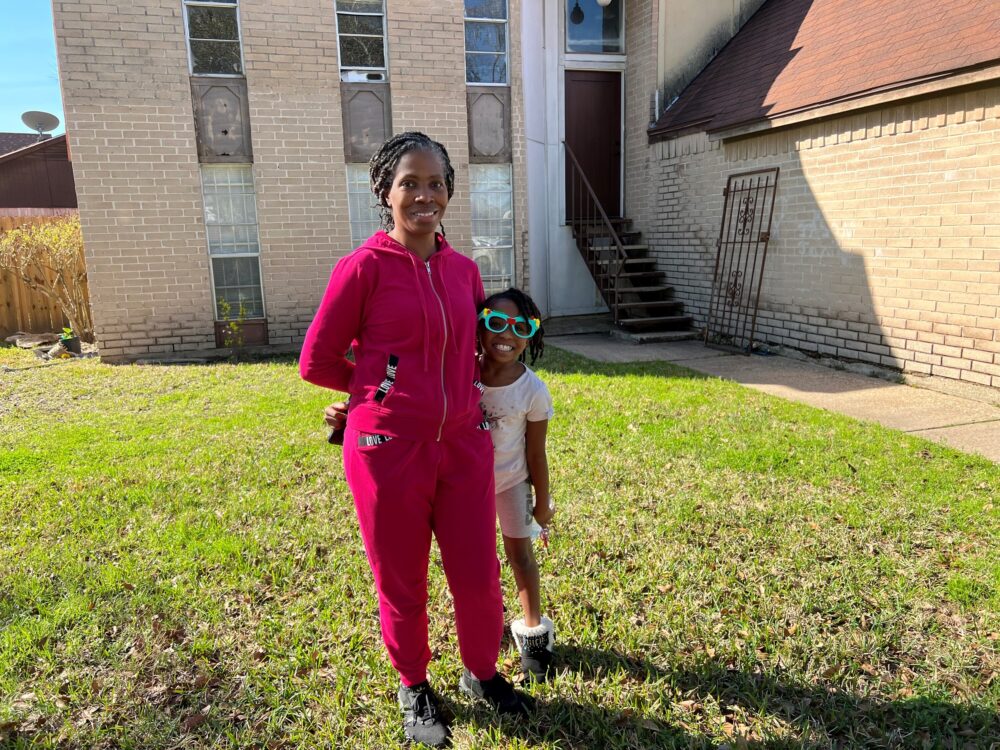 Moving out to the suburbs used to save you money on a less expensive home, but Nadia Valliani of the Greater Houston Community Foundation points out that transportation costs can eat that up. She said the combined costs of housing and transportation for a Montgomery County household are about 53% of their income. For Fort Bend County, it's about 58%.
Those combined costs for suburban Houston counties are well above the threshold of 45% recommended by the Center for Neighborhood Technology's Housing and Transportation Index. "And it's actually a larger share of income than residents in Los Angeles County spend, a place that's infamous for its expensive housing market and brutal traffic," Valliani said.
Telecommuting can ease that burden, as Deborah Jackson can testify. A virtual private tutor, Jackson recently moved to a house in Kingwood from an apartment in Sugar Land.
"How about this? I don't have a car," Jackson said.
Jackson had been paying $600 a month on her car note when she decided to move.
"I was at that point where I owed much less than the car was worth," Jackson said, "and back then dealerships, and they probably still are, desperate for clean, used cars. It was a 2019 car that I had. So, I was able to sell it, and I used that for my down payment."
Jackson admitted she's an unusual case. Her son customizes cars, and if she really needs a set of wheels, he'll lend her one. She has her groceries delivered and walks to the post office. If she has to go farther from home, she'll usually use a ridesharing service like Uber or Lyft or have a friend drive her.
"When I compare it to a $600 note, plus all the driving I did, about 25,000 miles per year," Jackson said, "why do I need a car?"
Jackson said that she could afford a used car if she needed one, but she'd have to prioritize. It would, for example, mean putting off repairs to the house.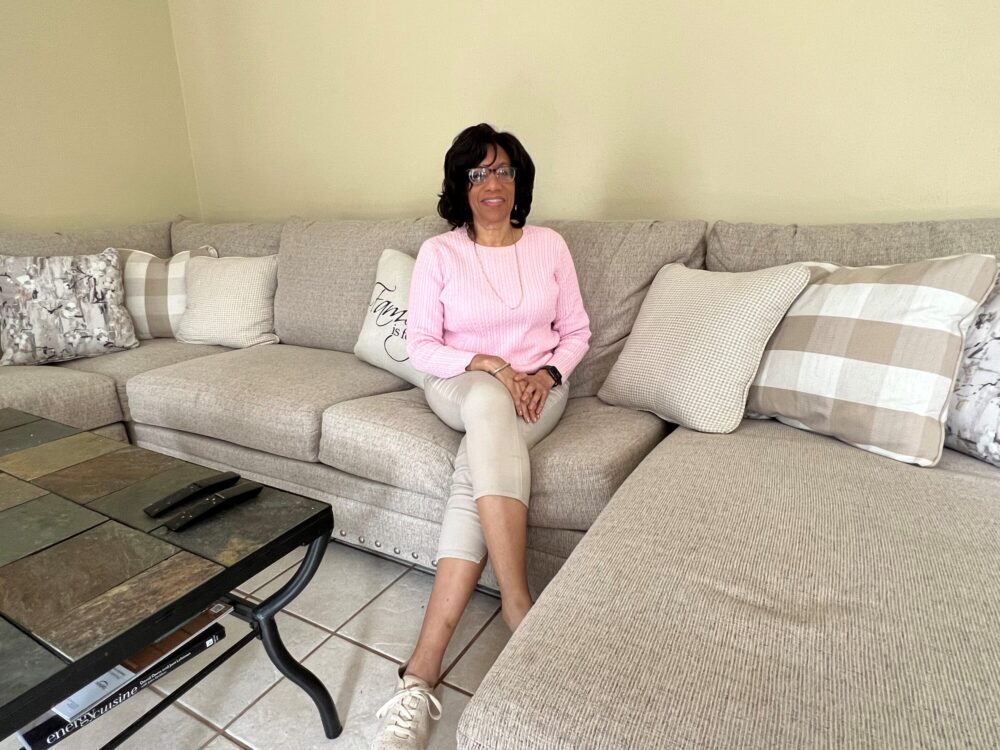 For every Deborah Jackson, though, there are many residents for whom telecommuting just isn't an option. Michael Burrows, a survey statistician with the Census Bureau's Journey to Work and Migration Statistics Branch, said that office workers who have been telecommuting since the start of the COVID-19 pandemic may not be able to count on that arrangement lasting much longer.
"At this point," said Burrows, "many public health protections have been dropped, and I think employers are increasingly excited about getting workers back into the office."
Burrows also said that telecommuting is far less likely to benefit lower income workers than middle or upper income workers.
"Working from home has benefitted a certain class of people," said Burrows, "Cleaning houses, working in fast food restaurants, those are unlikely to benefit from remote work policies."
Arguably, those lower income workers carry a bigger burden from a global phenomenon that's hit all families over the past year: inflation. The federal government measures inflation using what it calls the Consumer Price Index. In the Houston metro region, that rose more than 14% over the past four years. That's less than the average for all U.S. cities over the same time, which rose by 18%. We can get a feel for this by comparing the prices of certain key goods and services.
Back in 1986, The Economist magazine created what it called "the Big Mac Index." It compared the purchasing power of different currencies by charting what a McDonald's Big Mac costs in different countries. We can make a similar comparison between Houston and other U.S. cities by using the Cost of Living Index prepared by the Council for Community and Economic Research (C2ER).
According to the C2ER, the national average cost of a hamburger is $5.13. In Houston, that average cost is $4.38. In Atlanta, it's $4.54. In Dallas, it's $5.46. In Chicago, it's $5.57, and in Washington, D.C., the average cost of a hamburger runs $6.79. That cost advantage carries over for most goods and services across most major metro areas, with the exception of Saint Louis.
So, does Houston still deserve its reputation as one of the most-affordable large cities in the United States? Compared to the rest of the country, yes – at least by some measures. But compared to its own history, not so much. The cost of living in Houston is still more than 10% higher than it was just a few years ago, and that's hard for residents like Manda Rogers.
"It's definitely going up," Rogers said, "and it's hurting single-parent families, like myself, and I'm sure several others in this neighborhood."