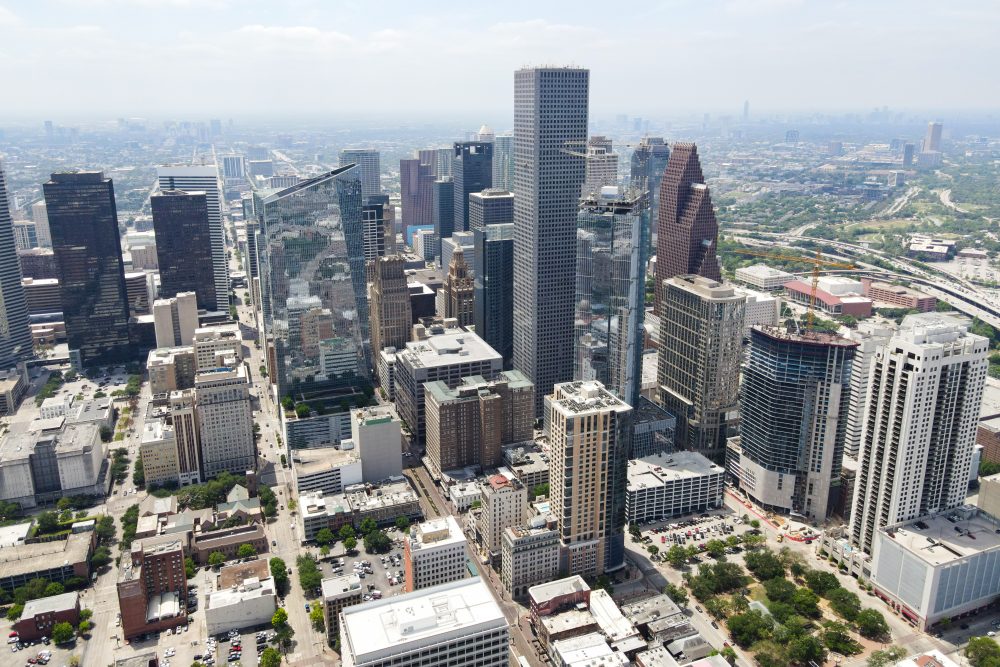 Houston ranked near the bottom of the country's major metro areas when it came to GDP growth in 2021, according to data produced by the U.S. Bureau of Economic Analysis (BEA). The city's oil and gas sector dragged down overall growth, even as other sectors boomed.
Houston registered 1.9% GDP growth in 2021, placing it 335th out of 384 U.S. metro areas for the year.
"The GDP for oil, gas, and mining in Houston fell by 51%," said Ted Ballantine, director of the nonprofit CivMetrics, which analyzed the BEA numbers. He said the downturn was largely due to the pandemic. "So, it was worth about $40 billion, and then at the end of the year, it was about $20 billion."
Depending on the year, the oil and natural gas sector accounts for between 5% and 10% of Houston's economy. But the plunge in that sector had knock on effects elsewhere.
"For example," Ballantine said, "manufacturing in other big cities grew in 2021 by 5-10%. Houston's manufacturing sector grew by essentially 0% in 2021, and that is because of energy, because much of the manufacturing is related to oil equipment, pipes and valves. When energy is down, manufacturing in Houston is down as well."
That Houston managed any growth at all was largely due to its financial sector, which jumped 16.7% over the course of 2021. That outpaced the financial sectors of most other major cities, including New York. Other sectors that grew included professional, scientific, and technical services, real estate, and retail trade.
"Houston has spent the last 20 years diversifying their economy. So, they're less reliant on energy than they have been in the past, but still very, very reliant, so there's still diversification to do," Ballantine said.
By comparison, several Texas metro areas that depend more heavily on oil and natural gas than Houston saw their economies contract. Odessa's 2021 GDP registered -2.9%, the Beaumont-Port Arthur region's was -3.2%, and Midland's was -3.5%.
Patrick Jankowski, senior vice president of research at the Greater Houston Partnership, told Houston Matters that the region's economy will continue to diversify, but it will always rely on energy for growth to some extent.
"We're seeing growth in aerospace and digital tech, transportation, logistics, headquarters relocation, life sciences and biotech," Jankowski said. "So, oil and gas is always going to be important to Houston, but it's not going to be the driver of the economy that is has in the past."
But Jankowski questioned whether the BEA numbers accurately reflected the strength of Houston's economy in 2021. He noted that the agency is notorious for revising its data over time, and he suggested that it might wind up doing so when it releases its growth statistics for 2022.
"The (2021) GDP number doesn't align with other data that's out there," Jankowski said. "It showed us as having a very weak GDP growth, but (2021) was the best year on record for job growth for Houston."