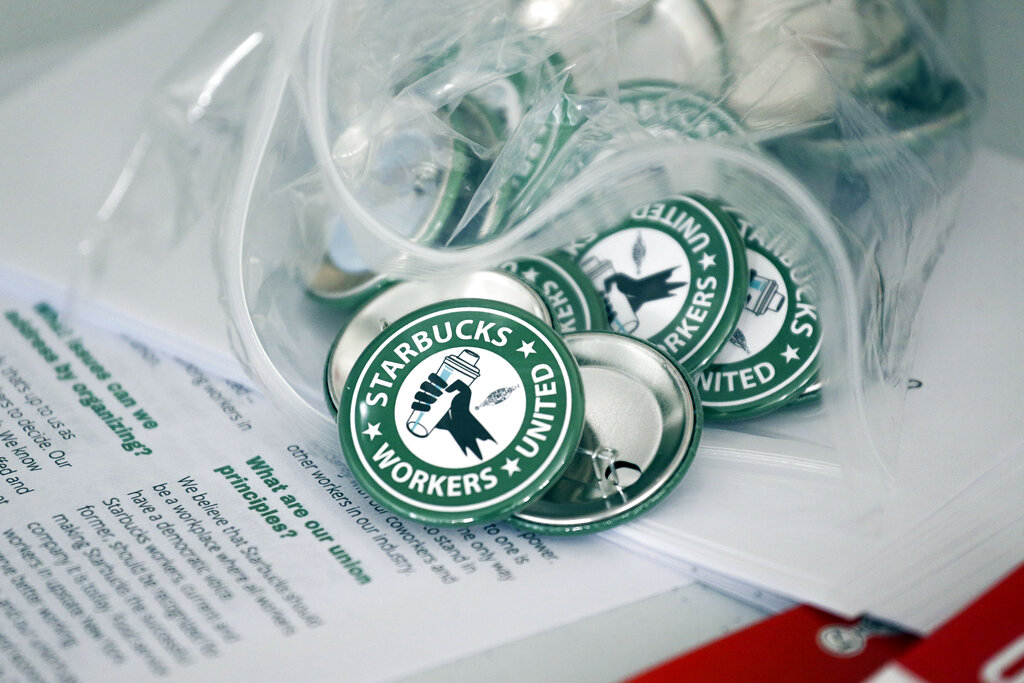 Workers at a Houston Starbucks are hoping to become the chain's first unionized shop in the city — part of a national trend that has helped drive union participation in the U.S.
Starbucks employees at the Shepherd and Harold location say they're frustrated with low pay and working conditions at the store. On Monday, the workers announced that they would petition to become unionized in a letter to Starbucks CEO Howard Schultz.
Workers said they've been without stable management and are juggling multiple responsibilities at a time because of short staffing. For shift manager Josh DeLeon, he said having a full staff makes the job easier on everyone.
"It is nice to have a really good shift (where) things are just running really smoothly and it seems like we're prepared," he said.
DeLeon's been working for Starbucks for nine years, and started at the Montrose-area location at the end of 2019. The store has had several temporary managers, DeLeon said, — one reason he's in support of being unionized.
"Once the store becomes unionized, I hope it will bring more structure to the workplace," he said.
Workers are asking for a full staff on each shift, management to be more attentive to its workers, and for better pay for all the work that the staff is doing. Many workers say they've voiced their concerns to management in the past.
In a statement to Houston Matters, the company said it would respect the workers' rights and follow the National Labor Relations Board process for ratifying a union.
"We're listening and learning from the partners in these stores as we always do across the country," the statement read. "From the beginning, we've been clear in our belief that we're better together as partners without a union between us and that conviction has not changed."
But DeLeon pushed back on that statement, telling Houston Matters host Craig Cohen the company has only starting working with their employees because of a growing movement across the U.S.: Starbucks Workers United, the national organizers, says there are more than 180 stores unionized.
"I think close to 200 stores across the country that have become public in their petition to unionize is the reason they're able to say they're learning now," DeLeon said. "I don't have anything against their goals in the company, but that's what we're all here for and it's what's happening."
The workers first reached out to Starbucks Workers United in mid-June to help them with the process of becoming unionized.
Nicholas Hankins is one of the workers who helped get the unionization effort started.
"I sent them a little email just saying, I'm from this kind of small store, but we're a pretty tight knit group of employees." Hankins said.
Hankins has worked at the location for more than a year. This year, he cut his hours down to two shifts a week because he picked up another job that pays more and offers more hours. Hankins said the company has started cutting hours and changing schedules without notifying the employees.
"My schedule recently changed. I worked today, and they changed it from noon to 2:30 p.m. without telling me, just out of the blue," he said.
The last store manager left abruptly, according to the workers, and its been more than a month since the store has had permanent leadership. Instead, the workers say Starbucks has brought over a manager from a nearby location who now splits his time.
Madeline Gierkey, a barista at the store who has worked there for more than a year, says that she's had promising conversations with the company in the past that nonetheless didn't lead to material change.
But despite what she said was unresponsiveness and substandard working conditions, she loves being a barista.
"I genuinely do enjoy my job," she said. "I know that whenever we have shifts where we're fully staffed and we're covered, I think it's fun. And I also just, I like the environment and the customers too. I mean, we have great customers."