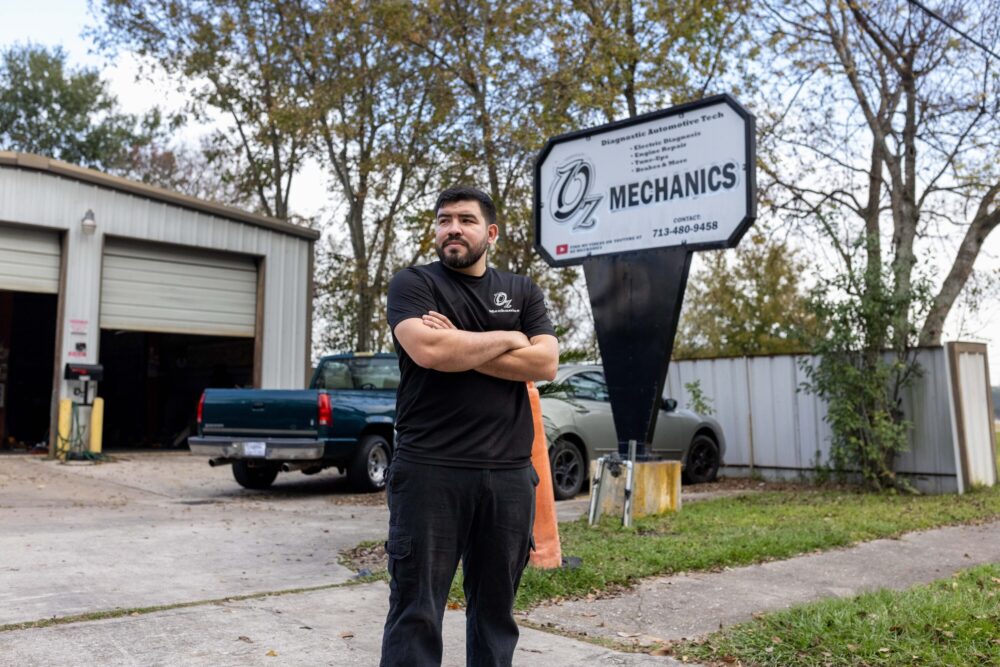 The owner of a small auto repair shop in Pasadena sued the city on Thursday over a new parking ordinance.
The lawsuit speaks to an ongoing complaint in the Houston region about how much space is set aside for parking.
Azael Sepulveda started off his shop, Oz Mechanics, by leasing space in a small business center, then moving to an automotive shop with four parking spots.
Tired of leasing, Sepulveda then purchased an old garage with five parking spaces.
But under an ordinance passed by Pasadena City Council in January, auto repair shops must have at least 10 parking spaces per 1,000 square feet of floor space.
"I really wanted to own my own business, so that's when I took the leap to purchase the building I have now," he said. "But the city has been giving me a hard time."
In Sepulveda's case, he would have to build a lot with 28 parking spaces, which he said would cost $40,000 — nearly half of what he spent to purchase the entire property and well outside what he could afford. That's on top of renovations on the building itself.
"I don't know if my business will survive at that point," he said.
Complicating matters further: Sepulveda's wife is expecting their first child in March.
Under the ordinance, car dealerships only need to provide five-and-a-half spaces per per 1,000 square feet, nearly half of what garages like Sepulveda's have to provide.
That's despite having similar parking needs, according to Tori Clark, one of Sepulveda's attorneys and a law a liberty fellow at the nonprofit Institute for Justice. Clark said that dual standard violates the Equal Protection Clause of the Texas Constitution.
Sepulveda tried to come to terms with Pasadena short of a lawsuit but was stymied at every turn, Clark added.
"The city itself recommended that Azael should follow a specific procedure for asking for an exception from the parking requirements," Clark said, "but when Azael tried to follow that recommendation, the city refused to even consider his request. We as his attorneys followed up with the city to ask for the city's reasons or to ask for a meeting with the city, but the city has refused to speak with us as well."
Under the lawsuit, Sepulveda is asking for a declaration that Pasadena's parking requirements for auto repair shops are unconstitutional. His lawyers are seeking an injunction that would allow Sepulveda to open his shop in its new location.
The Pasadena chief of staff did not respond to requests for comment.
The lawsuit comes amid ongoing controversy across the region over parking requirements for businesses. In 2019, the Houston rolled back its own minimum parking requirements in parts of Midtown and downtown, instead allowing businesses to decide how much parking they need.
"Other similarly sized cities in Texas (to Pasadena), like Mesquite and Killeen, only require two parking spots per 1,000 square feet," Clark said. "They do have a five-space minimum, but the point is that Pasadena's new 10 spaces per 1,000 square feet requirement is several times what other cities in Texas require."
Read the lawsuit below: