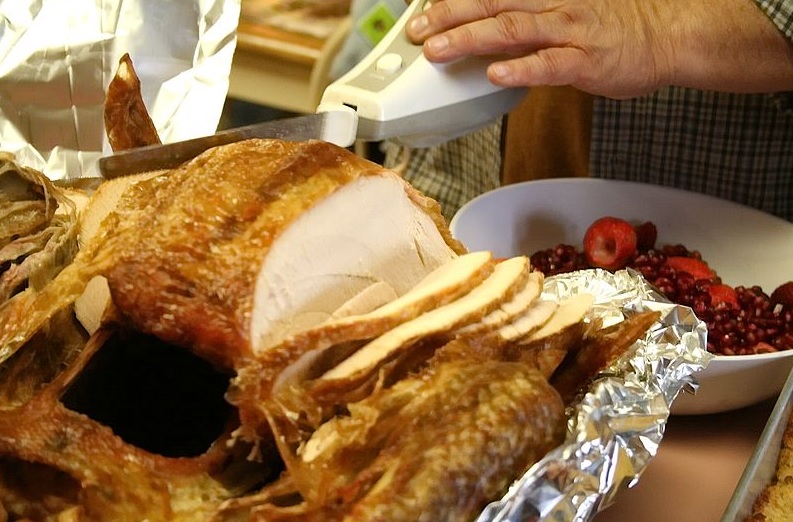 Thanksgiving dinner prices are on the rise, making it harder for Houston-area restaurants and food banks to serve turkey this Thursday.
According to a survey from the American Farm Bureau Federation, turkey costs 24% more this year compared to 2020. That means a 16-pound turkey costs $23.99, which is around $1.50 per pound.
The price increase is forcing local restaurants, like Truth BBQ, to limit the number of Thanksgiving meals they serve and urge customers to pre-order their meals for the holiday. The Houston and Brenham barbecue restaurant had to cap the number of turkeys they're smoking for customers in Houston at 120, said Leonard Botello IV, the owner and pitmaster of Truth BBQ.
"We could've taken more orders, but we can't actually get any more turkeys," Botello said. "It's just supply chain."
Those looking to serve something besides turkey on Thanksgiving will also struggle to put meat on the table, since supply chain issues and rising prices are impacting all kinds of meat, not just turkey. According to a recent study conducted by the U.S. Department of Agriculture, beef prices are predicted to rise up to 7.5% this year, and poultry prices could rise as much as 4.5%.
Botello said Truth BBQ is at the top of their meat supplier's list, so they're not having trouble getting beef. Other restaurants aren't as lucky.
Sheerice Garner, who owns SouthernQ BBQ and Catering with her husband, said they're having trouble getting meat.
"We'll order it, and when the shipment shows up, we'll get half of it," Garner said. "It'll say on the invoice 'we're out of stock.'"
Garner said it's a challenge to balance raising their prices to keep up with the price of meat while also keeping their prices low enough to stay competitive. At one point, SouthernQ took a loss on smoked oxtail — a favorite at the restaurant that has seen a major price increase.
Garner added that she's grateful that the customers at SouthernQ understand why she and her husband have to raise their prices.
"We're all on the same page," Garner said. "We're all feeling the effect of the inflation and the economy."
Inflation is also impacting the Houston Food Bank, according to Brian Green, president of the Houston Food Bank. He said food acquisition costs are up by 10% and the cost of boxes and transportation are also on the rise.
Green said the food bank will serve 18 to 19 million meals this November — a decrease from last November's 25 million. Despite the decrease, Green said the amount of served meals is more than what they distributed before the COVID-19 pandemic.
The food bank gets products that food companies can't sell. If there's a demand for certain items, like meat, there's less leftover for the food bank. This means the Houston Food Bank won't be distributing many turkeys this year, but Green said that filling out a certain menu isn't the goal of food banks.
"We're just trying to help where there's a gap, where the family's not making enough income" Green said. "We try and help them with as much food and other grocery supplies as we can to kind of make up that gap."
Green recommended donating a supermarket gift card in order to help a family in need have turkey on Thanksgiving.