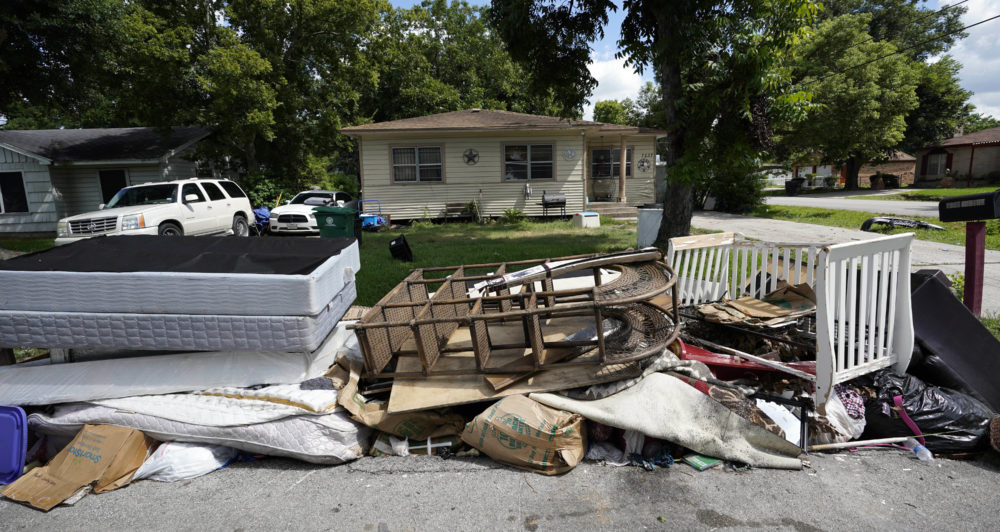 The Texas General Land Office is providing inequitable relief to vulnerable communities with its Hurricane Harvey home rebuilding program, Houston homeowners say.
The GLO-led program aims to repair and rebuild homes that were damaged by the storm, as well as storm-proof and elevate the newly constructed homes to avoid future flooding, according to GLO's website.
But some homeowners say the program has failed to provide families with a home comparable to the one they had before the storm.
"I got in to get my home repaired," said Barbara Johnson Lark of Studewood Heights. "It was very demeaning for them to tell me I couldn't have my three bedroom home, I only can get two."
Johnson Lark was one of a handful of homeowners who joined Mayor Sylvester Turner Monday to call on the GLO to change their approach.
The affected families have received homes without a garage and a reduced the number of bedrooms, Turner said. He added that some of the new homes are being elevated using a pier and beam foundation, which leaves the bottom of the home vulnerable to infestations.
"I don't think it's unreasonable to request that they get back at least what they had," Turner said. "When they fail to do that, it diminishes the value of their home, and in return, it also diminishes the value of their community."
For the homeowner in Kingwood with 4 bedrooms damaged by Harvey, State GLO later built a 7 bedroom home. For people in Studewood, Sagemont, Pleasantville with 3 plus bedrooms damaged by Harvey, GLO is offering them 2 bedrooms. This is wrong. st

— Sylvester Turner (@SylvesterTurner) July 27, 2021
Many of the affected families are located within communities of color, such as Pleasantville — a historically black neighborhood that is protected by deed restrictions, Turner said. Those restrictions guarantee that a home will be built on solid concrete — not beams — and also guarantee that the home will include a garage.
The downgraded homes would be violating those protections, but homeowners who attempt to back out of the construction process may face legal repercussions, according to Pleasantville Civic League president Mary Fontenot.
"They're saying 'guess what? If you back out, we're gonna sue you,'" Fontenot said. "You're ripping apart our community."
The Pleasantville Civic League has been in communication with the GLO, she added, but the agency claims the league does not have proper authority since it isn't a homeowner association.
"I didn't think that an entity could come in — that being the state, the GLO, whomever — and systemically take apart the fabric of a community's deed restrictions," Fontenot said.
Brittany Eck, a GLO spokesperson, said the U.S. Department of Housing and Urban Development, which has jurisdiction over the GLO, bases the funds on family size and not on the home's specifications.
"It unfortunately is not insurance, so it is not a replacement value program," she said. "It is an optional program for those who are still in need."
Eck added that the program adheres to local ordinance requirements, such as deed restrictions, as long as they are mandated by a documented homeowner association.
During the Monday press conference, Turner urged HUD to step in and ensure that Harvey-damaged homes are rebuilt to their previous size.
"The storm already hit them once," Turner said. "The government shouldn't have to hit them twice."
Additional reporting by Florian Martin.