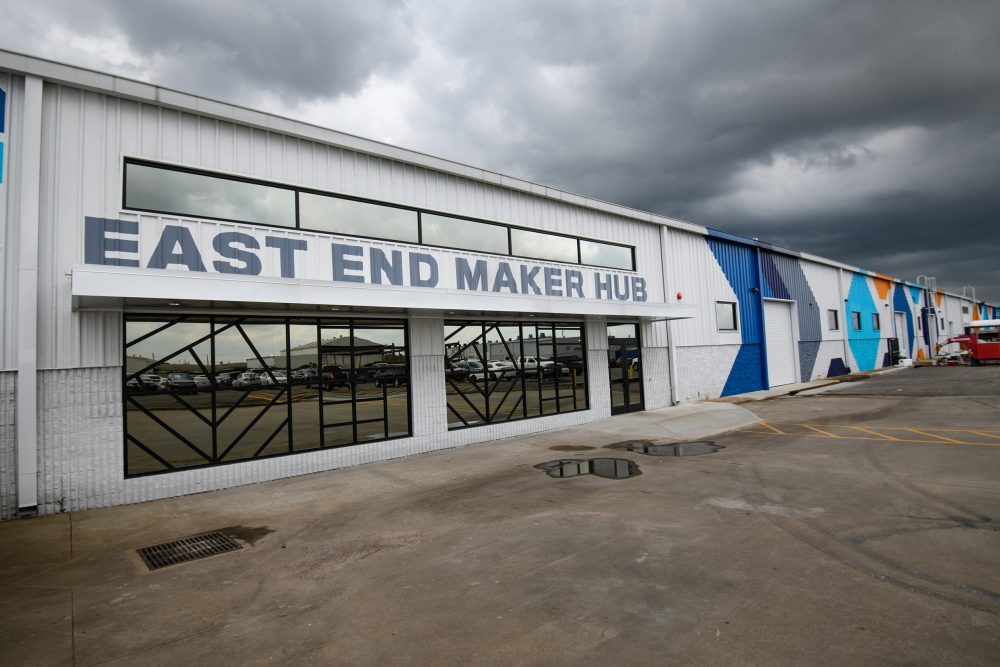 A new East End innovation hub that aims to turn the Houston neighborhood into a national manufacturing epicenter opened its doors Thursday.
The 300,000-square-foot East End Maker Hub will serve as an incubator for high-tech manufacturing, medical and fabrication companies, officials said.
The facility's developers aim to create 1,000 new companies over the next five years, which could potentially bring thousands of new advanced manufacturing jobs into the East End — an area that was once booming with a wide array of industrialized work.
The $38 million facility was mostly paid for with federal funds, distributed through the city of Houston. It was developed in partnership with tech incubator TXRX Labs and Urban Partnerships Community Development Corp.
At an official unveiling Thursday morning, TXRX Labs President Ron Von Kurnatowski said the facility would not only bring innovation into the area, but would also have a large focus on equity.
"While we can be both successful entrepreneurs, innovators, developers, we can also work on and solve the social and economic challenges of our time," he said.
The facility is just the latest technology and innovation hub to pop up across the region, the most notable being the Ion in Houston's Midtown, which is scheduled to open later this year.
The Ion, which is being developed by Rice Management Company, would become the heart of the city's new Innovation District, and be home to several startup companies and thousands of tech workers.
The developers of the East End Makers Hub said 25 companies have already signed leasing agreements, and Houston Mayor Sylvester Turner said the facility would create 400 jobs for residents living in the East End.
"(The hub) provides an opportunity to reclaim our history of innovation and manufacturing, and to ensure that process of innovation is equitable," Turner said. "The maker hub will provide development for the sake of the East End, and all of its residents."
Of the $38 million raised to construct the facility, nearly $37 million came from federal loans, grants, and tax credits, according to U.S. Rep. Sylvia Garcia, D-Houston.
Garcia added that the facility may receive more than $500,000 in additional federal funds thanks to a Community Project Funding request she submitted to the U.S. House Committee on Appropriations.
She said the hub will provide an important service to the region: access to jobs in emerging industries.
"It's about making sure we're ready for the next economy," she said. "Because it's not just about the jobs (of) today, but the jobs of tomorrow, for our children and our grandchildren. "